…to Son-of-a-Gun. Stew, that is.
But what I like about this episode is that it exposes Spike as the assjack I always kind of suspected he was.  Don't get me wrong – I've grown quite fond of him over the course of this series.  But when I go back and read my initial assessment of his character, it find myself saying, "Huh, that's still all basically true.  I guess he is kind of horrible."  We put up with the mopeyness, the hostility, and the irresponsibility, though, because he comes through in the clutch, and besides, he's so damn cool it hurts.  Well, "Cowboy Funk" is the episode where he loses his cool.  Head back to that climactic fight scene again:   we've seen Spike get beat up before, most notably by Pierrot in episode 20.  We've never seen him made to look like a fool, though, which is what happens here when this totally bitchin' jumpkick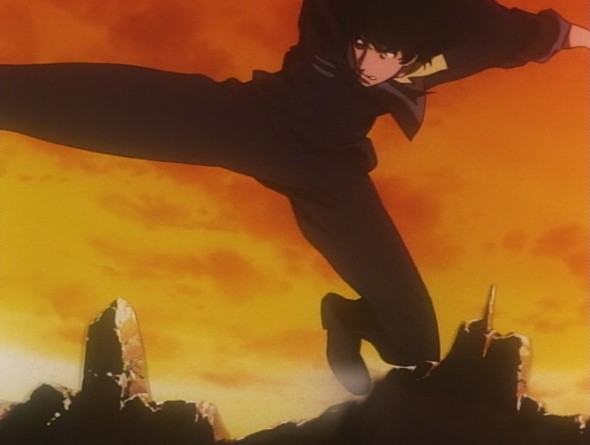 utterly fails to connect, and sets Spike up for the girder-to-groin action we saw further up the page.  Even more damning is just how annoyed he is at Andy for biting his whole badass-bounty-hunter-with-a-pointy-nose-and-improbably-poofy-hair schtick.  A big part of being cool is not seeming like you care about being cool, right?  Well, with Andy around, suddenly Spike cares about being cool a WHOLE lot.  And this makes him lame.  Finally, there's the end of the fight.  Here, look at some more purty pictures – they'll set the scene better than I could.  (By the way, this awesome orange color scheme is used nowhere else in the episode.  In fact, the rest of it is pretty much blue, making it the extended version of that one obnoxious high-contrast color scheme they use in every single movie poster nowadays.  Bebop did it before it was lame, though.)
Yeah.  So Spike doesn't actually fall to his death here, but he's lost the fight.  Infuriated, he punches a wall… causing a major section of the building to collapse onto Andy.  (Just in case this isn't clear, this is a freak coincidence, not a clever use of the terrain.) But Andy doesn't know that, so he surrenders, acknowledges Spike as the better man, swears that his days of dressing like a cowboy are over now that he's met the real thing, hands Spike his hat, and literally rides off into the sunset.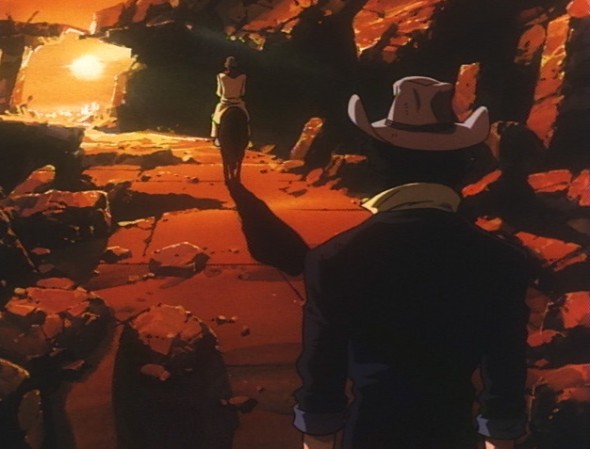 Spike's final act of lameness is to try to pass this off as an honest win:  in a few hours, he's laying back on his couch with a plate of Son-of-a-Gun Stew (which before this, mind you, he had refused to eat), and explaining to Jet and Faye how Andy was never really in his league.  (And never mind that he's talking and eating around a bandage on his jaw, from where Andy basically punched it off.)
Interestingly enough, although this is quite clearly an instance of Spike being a self-satisfied asshole, it's also one of the most recognizably human – and therefore, one of the most sympathetic – moments that he's had on the show so far.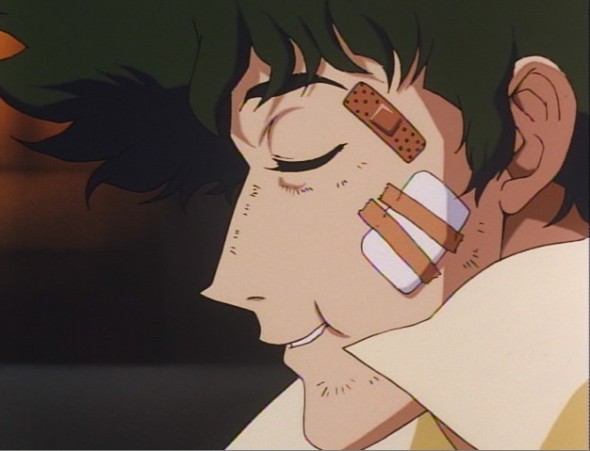 Heartwarming, innit?  Now let's talk about death.