Let me make something clear: not only do I own Call of Duty: Black Ops, I've stayed up until four a.m. twice in the past week, blasting my way through the jungles of Vietnam and Laos until my eyes stopped focusing and I staggered off to feverish dreams of endless spiderholes. So when I make the case that there's something inappropriate about this game, it's kind of like a guy wandering around a bbq talking about how inhumane modern slaughterhouse conditions are, while chomping down on a giant burger. I'm a big hypocrite, and I would be grateful if someone in the comments could convince me that these shooters are totally wholesome fun.
It was this commercial that got me thinking:
There's a really fascinating perspective trick at play here. Notice that we don't see anybody get shot. There's no blood. But from the POV of a Call of Duty player, which all these people are meant to be, all you are focused on is the enemy being ripped apart by your bullets. So in the commercial, we see the blissed-out expressions of people in the act of committing unseen acts of violence. It's a celebration of bloodlust. Believe me, I know how those guys feel. There's something deeply, disturbingly satisfying about crushing your enemies, seeing them driven before you, and hearing the lamentations of the women. But while first person shooters are a pleasure, maybe they're a guilty pleasure.
I'm going to propose that it is Wrong to derive pleasure from the virtual killing of other human beings, especially when it's simulated with a maximum of realism. I'm not saying it's wrong because it makes us more violent; that may or may not be true, and I really don't want to start linking to psychology journals here. So pretend for a minute that it was a scientific fact that first person shooters had no effect whatsoever on your real-world behavior. I'd still say it's Wrong to enjoy simulated killing. I'm not saying that first person shooters should be banned and I'm not saying I don't indulge, a lot. I'm saying that intellectually, assembling a highlight reel of your greatest headshots seems like a questionable way to get your kicks.
I know that statement deserves a thousand words of intellectual defense which I'm not going to offer today. I'm putting the cart before the horse. Everything that follows should be Part 2, and Part 1 would be proving that simulating something immoral is itself immoral in any way. For now, I will only say that regardless of your feelings on first person shooters, you probably do not approve of certain Japanese videogames in which you get to stalk women.
I'm not saying those games are exactly equivalent to shooters. I'm saying there's probably a line somewhere; not everything that can be simulated for entertainment purposes, should be simulated for entertainment purposes. The questions that remain for another day are:
Where is this line?
How much of our discomfort with these games comes from the feeling that they will negatively impact the behavior of the players, and how much of it is a conviction that this should simply not be fun?
Getting back to shooters, I know there's a big difference between a military scenario and a murder spree. But you have to remember that the large majority of first person shooter hours are logged in multiplayer. In that context, the player isn't role playing some noble defense of democracy. If anything, the player is unleashing bullets at somewhere wearing an American uniform. So I'm not sold on the idea that shooters are okay because you're the "good guy."
Now when I say all this killing is "Wrong," I realize, of course, that I'm indicting the majority of videogames ever made, which all feature enemies to slaughter. I think Grand Theft Auto IV is one of the crowning achievements of Western civilization, and I don't want to concede it's a little Wrong too. But maybe it is. How many times have you started shooting civilians just to lure in the cops, so you can see how many cops you can take out before the helicopter gets you?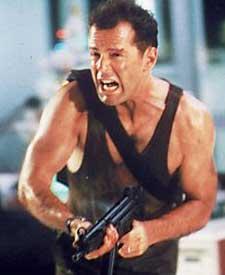 But if getting pleasure from killing is wrong, doesn't that mean a lot of your favorite action movies are wrong? What would Die Hard be without the body count? But Die Hard has characters, a plot, and dialogue. If Die Hard is opium, than a first person shooter is heroin. The killing is front and center, and everything else is a skippable cutscene.
In all honesty, I need to point out that I'm making this argument intellectually, not emotionally. My gut says violent games and movies are harmless fun. But my gut also tells me that my five-year-old son should not play Black Ops for another ten years. Doesn't that say something?
Like I said, I'm casually skirting around some very complex philosophical issues at the core of all popular entertainment. But I would rather discuss videogames than Kant today, so I'm moving on.
Not all first person shooters are created equal. It seems to me that even if simulated killing is wrong, there are different levels of wrong.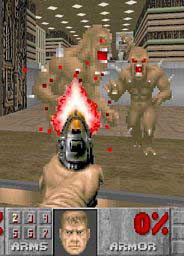 LEAST WRONG: The games where you're not supposed to be killing real people. In Halo, it's aliens. In Resident Evil and Left 4 Dead, it's zombies. I'd even put Team Fortress is this category, since the characters are cartoony.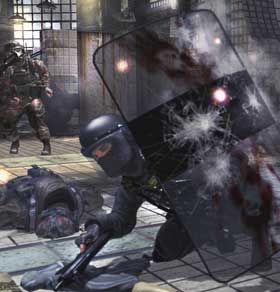 MORE WRONG: Games which attempt to make the killing as realistic as possible, but create a fictional conflict for the killing to take place in. The big one here (in my apartment, at least) is Modern Warfare 2. The developers obviously took tremendous care in making the enemies act like real people, both before they are shot, and while they attempt to drag their bleeding bodies to safety before sprawling on the ground dead. Anyone who has played the infamous "No Russian" mission knows how disturbing this can be.
MOST WRONG: Games in which not only are you killing real people, you're recreating a real war. In Modern Warfare 2, Russians invade Washington DC. You have to fight your way into the White House to call off a bomber attack. The killing looks real, but the story is not only fake, it's a purposefully implausible Red Dawn homage.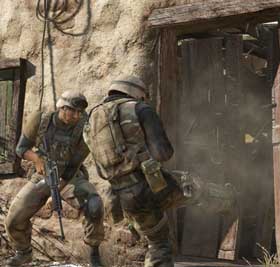 But consider the recent game Medal of Honor. This game takes place entirely in Afghanistan, set in 2002. In other words, this is a piece of entertainment based on a war that's still going on. You were supposed to watch the commercials for this and say, "Oh, the war in Afghanistan looks awesome!" If you heard about the game's questionable decision to let you play as the Taliban during multiplayer, than you can understand my concern.
It's actually even weirder than that. The makers of Medal of Honor obviously labored mightily to make this the most realistic depiction of the Afghan War possible. They consulted with real Special Forces soldiers, and may have inadvertently worked real military secrets into the game. In other words, this is a depiction of an ongoing war that's so accurate, it may actually be endangering the soldiers actually fighting the war.
Now obviously, people like Tom Clancy make a lot of money writing novels about ongoing conflicts, while working in lots of fetishistic detail about weaponry and technique. I have no problem with this. I am arguing (and feel free to disagree in the comments) that there is a big difference between reading stories about things other people do and actually stepping into a simulation, even if that simulation is placed in the context of a story.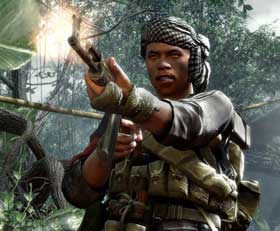 Now of course, Black Ops isn't meant to teach people about the Vietnam War, just as Super Mario Brothers wasn't meant to teach you about plumbing. But consider: with its first 24 hours, the game sold more than 7 million copies. That's easily more copies than The Things They Carried, Tim O'Brian's classic collection of Vietnam War stories. A lot of people are learning about the Vietnam War from this game, and Black Ops has its own take on things. The game doesn't capture any of the moral ambiguity of the war. For instance, the quintessential Vietnam cliché is the squad of men patrolling the jungle, looking for Charlie. But in the first Black Ops Vietnam mission, it's the NVA that's the aggressor. You're driving around a military base, catching up with an old friend, and suddenly the enemy is closing in from all sides; it's a bold, broad-daylight sneak attack. By placing the first mission during the Tet Offensive, the makers of the game couch the war in a little Pearl Harbor righteousness. If the Vietnamese are going to storm your trenches, you don't have to feel bad about using that 50 cal on them, right?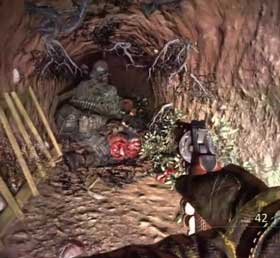 Black Ops isn't going to teach you much of anything about WHY the Americans got into Nam in the first place. But you do learn, if the game is to be believed, that the Vietnamese are pretty much puppets of the Soviets. It's the Russians who are pulling all the strings over there, providing equipment, intel, and even supervising the POW camps. And elsewhere in the game, you learn that the Russians are plotting to unleash a horrible neurotoxin all over the United States. So by the transitive property of evil, it is totally okay to kill Vietnamese people, since they're complicit in a plot to kill Americans. Somewhere, Robert McNamara is smiling. (Actually, he's doing it in the third mission of the game, in which he escorts you to the Pentagon.)
If you thought that there'd be a nod to the My Lai Massacre, or a naked little girl fleeing a Napalm attack, or a South Vietnamese general shooting a handcuffed prisoner in the head, you'd be wrong. In fact, Vietnam is apparently a country without women or children – just waves of identical-looking, emaciated men wearing straw hats. At no point does the game even gesture towards the futility and human misery the war entailed.
Rereading that last sentence, I realize how silly I sound. Hmm, this first person shooter does not reflect the geopolitical complexities of the Vietnam War? You don't say. Of COURSE a FPS is going to reduce its scenario to the most black-and-white clichés. But that's my point. The Vietnam War was a real war that really sucked. It sucked for everyone involved. Making a FPS out of it was inevitably going to make it seem exciting and fun. Something inside me says that it should never be fun to pretend you're fighting the Vietnam War.
But in fairness, I have to address a counter-example: what about WWII? There are lots and lots of shooters out there in which you blast away hordes of Nazis (starting with the granddaddy of them all, Wolfenstein). And I admit I don't know what I think about this. I am totally onboard with killing Nazis. But when a game starts trying to recreate the D-Day landings, I get a little uncomfortable. That was a real, historical thing, in which lots of people died. The idea of re-creating D-Day for fun and profit seems wrong. So basically, my gut is telling me:
Vietnam and Afghanistan: general recreations inappropriate
WWII: only recreations of specific battles are inappropriate
And on that note of inconsistency, I'm wrapping for now. I feel like I've barely scratched the surface here, much less come up with a consistent theory about what makes a videogame Wrong or Not Wrong. But ironically, Black Ops has used up all my time and energy this week. So I invite you all to comment, and maybe I'll write more in the future. Should I feel bad about loving this game? As long as a pastime doesn't harm anyone, why should it make you feel guilty?