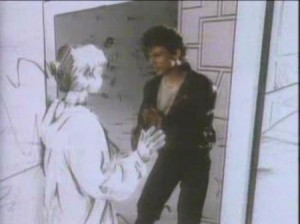 Once upon a time, an 80s girl was reading a subversive comic book in a diner while listening to that one A-ha song everyone likes.  But lo!  Out of one of the comic's frames pops a sketchy hand – the hand of Patrick Swayze-inspired 80s Motorcycle Guy.  80s Comic Book Man brings 80s Girl into the comic book, which seems like fun to 80s Girl at first.  Little did she know that Evil Wrench Guy, Motorcycle Guy's archenemy, is out for revenge!
Motorcycle Guy runs through the comic world with 80s Girl, realizes she is unsafe there, and sends her back out to her world through a portal made of pencil so he can fight dirty with Evil Wrench Guy.  After his victory against Wrench Guy, Motorcycle Guy makes his way into The Real World to live happily ever after with 80s Girl.
We assume.  But what might actually await Motorcycle Guy on Earth?  What happens after the girl decides to take him on?
INTERIOR – GIRL'S APARTMENT – NIGHT
MOTORCYCLE GUY (MG) finds himself in a strange world.  In anguish, he beats himself against the wall of the apartment, not understanding this unfamiliar feeling called "depth."  He falls to the floor in a heap of sobs.  EIGHTY'S GIRL (EG) comes over and puts her arms around him.
EG
It's okay.  We're safe now.  It's okay.
He pushes her away, pained by her very touch.
EIGHTY'S GIRL is confused and upset by his reaction, but, looking upon his beautiful, tear-stained Patrick Swayzesque face, decides to crawl back towards him, slowly.

EG
You saved my life back there.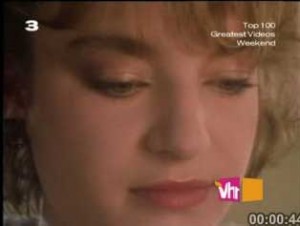 MG looks up at her, stares into her eyes momentarily.

EG
My name is Bunty.  What's yours?
MG opens his mouth but doesn't know how to speak.  He gestures for a pencil and paper.
BUNTY
I don't…  Oh!  A pencil!  Just give me one second.
BUNTY runs across the room, rummages through a drawer, and brings him a sketchbook and a pencil.
BUNTY
Here you go.
MG flips through the sketchbook, which is filled with BUNTY's comic book-style drawings.  He slows down to look at one of BUNTY's self-portraits.  He points at her, questioning.
BUNTY
Yeah, it's me.  I'm taking an art class on the weekends.  I know it's not very useful, but I like it, you know?
MG flips to an empty page and writes on it.  At last he brings to the sketchbook up to near his face, revealing a large speech balloon with the words "It's beautiful" written in it.  BUNTY blushes.
BUNTY
No, it's silly.  I shouldn't be wasting my time with it.  Only so many people can make a living off of art, and I doubt I'm one of them.  Oh, listen to me, blathering on about my life like this!  Here, come sit on the bed.  It's more comfortable.
She offers him her hand.  Gingerly, he takes it.
BUNTY
Sorry my apartment's not that big.  I'd get chairs but there's no room.  Anyway I can't really afford to buy any furniture right now…
They sit on the bed and look into each other's eyes.
BUNTY
(getting up)
I'll go make us some tea.  Or coffee?  I think I have some around here.
Then it dawns on her.
BUNTY
Oh my God!  I forgot to pay for my coffee at the diner!  I was reading the comic…  Well, your comic…  Anyway it completely slipped my mind!
A BANG on the door!  The waitress from the diner is outside!

DINER LADY
(O.S.)
Open up!  I know you're in there!
BUNTY
Oh my God!  It's the waitress from the diner!  What should I do?!
MG gets up and motions for her to stay in the kitchen area.  His eyes are steely as he opens the door.
DINER LADY
Who are you?  Oh, there she is, the little thief!  No one steals a cup of coffee and gets away with it!  Not in my diner!
MG blocks the doorway with his arm.
DINER LADY
You got a problem, buddy?
BUNTY runs up to him and gently pulls him away from the door.

BUNTY
It's okay, honey.
She pulls out her wallet.
BUNTY
I'm so sorry about the coffee.  I don't know where my head was.  It totally slipped my mind.  How much did I owe you?
DINER LADY
$1.75.  And don't let the tip slip your mind, neither.
BUNTY
Oh dear.  I'm sorry; I only have a twenty.  Is that okay?
DINER LADY
What do I look like?  A change machine?  Just give me the twenty.
BUNTY
But it's the only money I have!  I need it to pay for my bus pass to get to work tomorrow!
DINER LADY
That's your own problem, lady.
MG gets back into the doorway.
DINER LADY
You starting something again, buddy?
BUNTY
No, honey.  I can handle this…
DINER LADY
Don't you talk?  Why don't you tell her to give me my money?  Go on.  Tell your whore girlfriend…
MG punches her in the face!!!
BUNTY
Honey, no!
DINER LADY
Oh, that's it!  I'm callin' the cops!  They'll make you talk!
DINER LADY storms away.  MG looks at his hand and sinks to the floor.  His hand is red and bleeding.  He starts to scream.

MG
EEEEEEEEEE!!!!!!
BUNTY
Oh my god, you're hurt!   Hold on; I'll get you some ice.  Don't move.
She brings him some ice and paper towels.
BUNTY
Here, just apply pressure.  Like this.
She applies pressure.  He winces.
BUNTY
I guess you can talk.  I mean, a scream is talking, right?
MG doesn't answer.
BUNTY
Can you move your fingers?
He does.
BUNTY
I don't think your hand is broken.  That's something.
Anyway, thanks for helping me with that woman.  I don't know what I would have done without that twenty dollars.  I mean, I could go to the ATM, but it's so far away, and…
He kisses her!  Sexily!
MG
My name… is Morten.
BUNTY
Morten…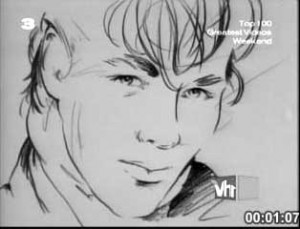 Enter the DINER LADY with THE POLICE!

COP
Is this the guy, Ms. Furuholmen?
DINER LADY
That's him!
COP
Sir, you're under arrest.  You have the right to remain silent…
They cuff MORTEN.
BUNTY
No!  You've got it all wrong!
COP
Please, miss.  Step aside.
BUNTY
MORTEN!!
He looks at her one more time before they drag him away.
BUNTY
No…
INTERIOR – POLICE STATION INTERROGATION ROOM – NIGHT
COP
The report here says your name is Morten.

MORTEN shrugs.
COP
Well?  That it?  Morten what?
MORTEN says nothing.
COP
Silent type, eh?  Evidently not that silent.  The report here says neighbors in your girlfriend's building heard a high-pitched scream just after the incident with Ms. Furuholmen.  Your scream.
MORTEN says nothing.
COP
You're a man with no identity.  No wallet, no cards, no cash.  No name.  You're nothing more than a ghost.  A two-dimensional sketch.  You're nothing.
MORTEN looks somewhat upset.
COP
What?  That hit a nerve?  Little Morten have identity issues?  Well, you'll have plenty of time to think about that.  You're staying here for a long, long time.  We have plenty of time.  We'll make you talk.  Hell, we'll make you fucking sing.
INTERIOR – JAIL CELL – NIGHT
BUNTY rushes in while the other prisoners holler.
BUNTY
Morten, are you okay?
He looks up at her.
BUNTY
I'll get you out of here.  Your bail isn't that high.  I'll get it together.  Somehow.
He shakes his head.
BUNTY
What do you mean, no?  You saved me from that crazy motorcycle guy with the wrench!  If it weren't for you…  No.  I owe you.
MORTEN says something in a very soft voice.
BUNTY
What?
MORTEN
If it weren't for me, you wouldn't have been in there in the first place.
BUNTY
What do you mean?
MORTEN
In my world.  My crazy dystopian motorcycling world.  And I loved it there.  I lived for the danger of it.  At first I raced to make a name for myself.  If you're not born into the upper rungs of society, that's it.  You're nothing.  Unless you're a racer.  Unless you win.
But soon it was for the thrill of it.  I was addicted, a monster.  Me and the pipe wrench guy… we weren't really different at all.  Both… evil.
BUNTY
That's not true!
MORTEN
No.  Not anymore.  Because last night, when I found that portal, that magic frame, I saw a beautiful woman.  Flesh and blood, in color, drinking coffee with a smile on her face.  I said to myself, you have been nothing all along, Morten.  Living life in the fast lane, racing towards your own destruction.  You never took the time to sit and enjoy life.  To drink a cup of coffee over a nice book.  To stop and admire the contours of a beautiful girl.  To write songs for her…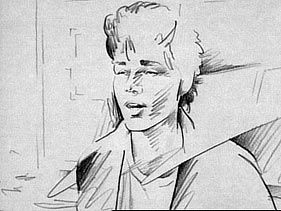 BUNTY
Oh, Morten…
MORTEN
It's true.  Once I was silent, but now I must sing.  Life isn't black and white.  It's beautiful, wonderful color.  And I must sing it.  Sing for you.
That's what I thought, anyway.  But what did I do?  The sight of you broke me out of the prison of my own life, and the first thing I did was trap you.  Bring you into my empty, ever-shifting world.
BUNTY
But I wanted to be there!  My world has color and sound and depth, but it was a prison to me!  That's why I read those comic books.  To escape to a different world…  You helped me have an adventure.  Now I understand that there is more to life than work and bills and school.  I needed to experience that thrill.
MORTEN
It was too dangerous.  I should have known that.  But I couldn't say no…
BUNTY
To who?
MORTEN
To my heart.
BUNTY is touched.  She reaches for his hand.  He doesn't flinch this time.
BUNTY
Please don't feel guilty, Morten.  Maybe bringing me into your world was a mistake, but you saved me.  You made that portal and freed me.  Like I said, I owe you.
MORTEN
No you don't.  What did I just tell you?  You freed me.  You gave me my voice.
BUNTY
Wait, a portal!
She rummages through her bag and brings out her sketchpad and a pencil and starts drawing.  She shows him her picture.  It is of her apartment.
BUNTY
It's my apartment.  Now I'll put a portal here on this wall…
She draws a circle on the wall of her apartment.
BUNTY
Now all you have to do is make a portal in your cell.  Then I'll bring the sketch back to my apartment, and all you have to do is make a portal out of the sketch!  You'll be free!
MORTEN
No.
BUNTY
Why not?  It'll work, won't it?
MORTEN
That's not the point.  You'll be a criminal.
BUNTY
I'm already one.  The diner is pressing charges for the theft of the coffee.
MORTEN
It's too dangerous.  We were lucky last time.  The portal closed before anything else could get out.  If we try it again…
BUNTY
But we have to!  Without a name and identity, the cops can keep you in here forever!  What's the use of your freedom if you spend it in prison?
MORTEN
At least I'll know now that you're real and not just a dream.
BUNTY
No.  Come on.  We're doing this.  Together.  I'm going back to my apartment with the sketch.  You meet me there.
She offers him the pencil.  He stares at it for a moment, then takes it.
BUNTY
See you in a jiff.
She leaves.  MORTEN looks at the pencil.
CUT TO: Later that night.
COP
Lights out, jackasses.
The lights go out.  MORTEN lies in bed.  His eyes snap open.  He takes out the pencil and in the cover of darkness draws a portal on the wall.  Then he steps through.
CUT TO: Sketchy apartment world.  MORTEN tries to speak, but it only comes out in a word balloon.  It says, "Bunty!  I'm here!"
But then who should appear but the pipe wrench guy from the music video!  He is wielding a pipe wrench!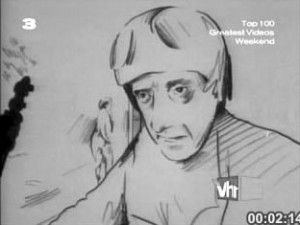 PIPE WRENCH GUY
(in word balloon)
Back for more, you wanka?  I'll break your giblets, I will!
MORTEN
(in word balloon)
Bunty!  Can you hear me?  Are you in your apartment?
CUT TO: Real world apartment.  BUNTY grabs a pencil and starts to write on the comic page, but the pencil breaks!  She rushes to find a new one.  Finally she does.  Now on the page, Morten is trapped in a corner near the portal.  Pipe Wrench Guy waves around his pipe wrench menacingly…
With her new pencil, BUNTY writes, "I'm here!"

MORTEN sees the writing on the wall and jumps through his end of the portal.
CUT TO: The real world apartment.

MORTEN
Erase the portal!
BUNTY does.  She crumples up the paper and throws it out the window.
BUNTY
We did it!
They hug.
CUT TO: The sketchy apartment world.  The dastardly PIPE WRENCH GUY finds a pencil in the sketchy apartment in the same drawer BUNTY originally found hers.  He draws a portal on the wall, considers it, and jumps through.
CUT TO: The street in Oslo where the drawing has fallen.  PIPE WRENCH GUY makes it through the page to the real world.

PIPE WRENCH GUY
(looking around)
What's all this, then?  Bollocks.  Well, I'll find you, Morten!  I'll find you and destroy all you care for!
To be continued…  By you?
What would you write next?  Or would you do a sequel to Take On Me in a completely different way?