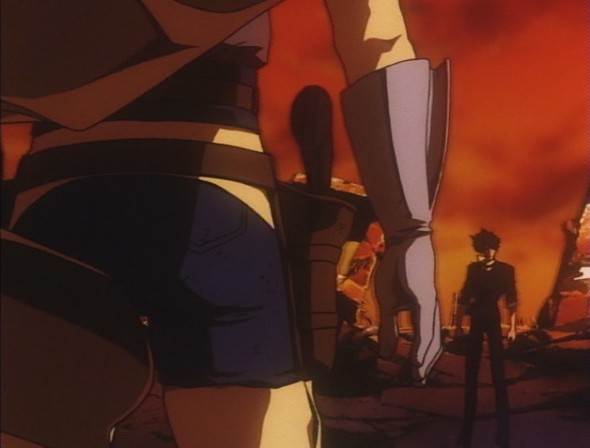 The movie references fly fast and fierce in this episode, and the most notable one right off the bat is to the spaghetti westerns of Sergio Leone.  Andy's leitmotif is a brilliant, loving pastiche of Ennio Morricone's music for these movies, right down to the whistling, the mouth-harp, and the blurring of diegetic and non-diegetic sound (by which I mean, you usually are actually hearing Andy whistle his own theme song before the full orchestral treatment comes in in the background).   It's something of a convention, in this kind of movie, for the most badass characters in the room to constantly be sizing each other up, just in case they ever have to try to take each other down… and no matter which side they're officially on at any given moment, it's understood that their true contest is with eachother:  a contest of manliness, in which badassitude is the prize.  In The Good, The Bad, and the Ugly, for instance, there's no real reason for Blondie not to just shoot Tuco and be done with it, other than the fact that his real target is always Angel Eyes.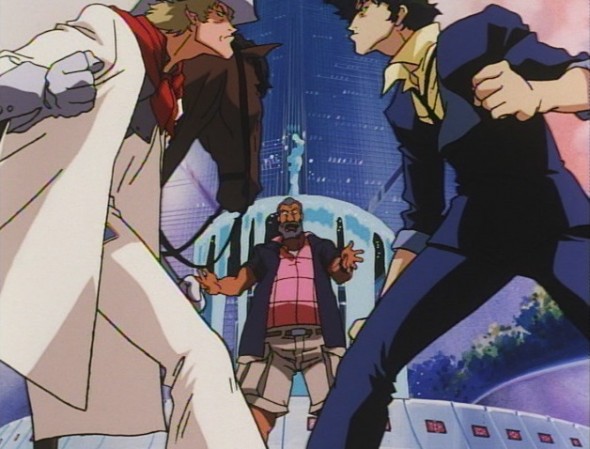 Spike and Andy end up in this kind of relationship from their first meeting, and it pretty much sets the pattern for the rest of the episode.  Twice more, Teddy Bomber tries to blow up a building.  Twice more, Spike and Andy show up, and in each case they're too busy competing with eachother to pay any attention to Teddy.  By the end (pictured above), they're literally telling him to shut up and go away so that they can focus on what's important, and he starts trying to blow the two of them up because he's so tired of being ignored. He traps them in an elevator that's rigged to explode, and while either of them could have gotten out easily on their own, working together… well.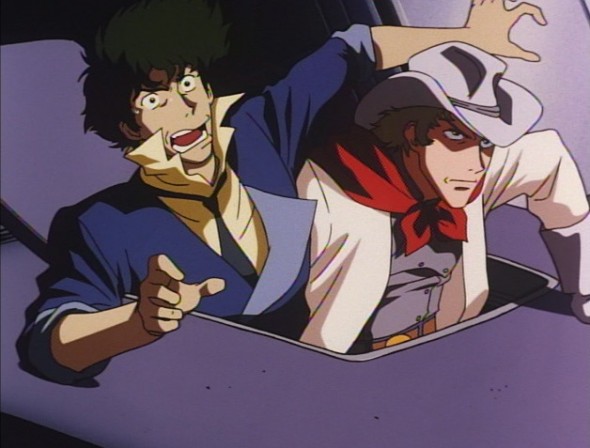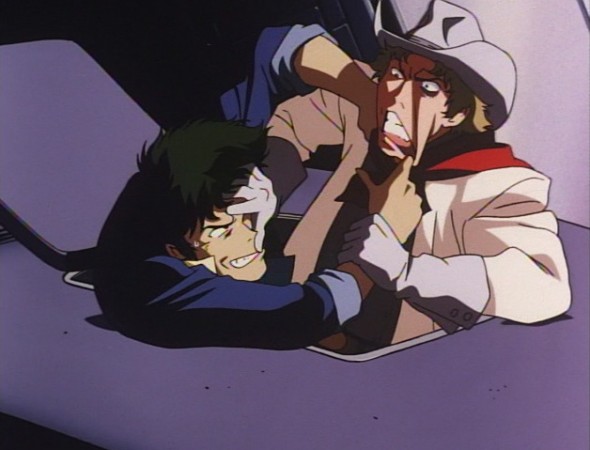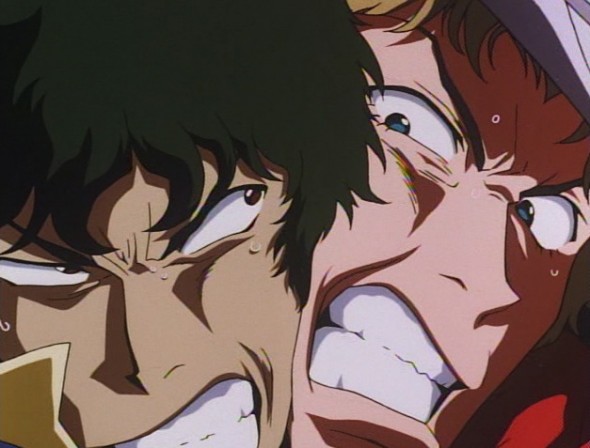 What's the Spike Spiegel death count at, again?
Needless to say, neither of them captures Teddy.  Eventually Faye shows up and captures him in about three seconds flat.  She also successfully turns him in to the police, making him the first and only major bounty that the Bebop crew ever collects.  But all this is incidental to the climax of the episode, which takes place after Teddy has been arrested, with Spike and Andy duking out FOR NO REASON WHATSOEVER on top of a half-exploded skyscraper.
This is a typically awesome fight scene, and there are some interesting things about it.  You will already have noticed that Andy is basically a palette-swapped version of Spike, yes?  Well, they are also equally matched in badassery.  But where Spike is nonchalant while he fights because he has such incredible kung fu skill, Andy either punches like a 19th-century boxer or just flails around like a nutcase.  And this is more effective than Spike's Kung Fu:  Spike basically gets took to school, here.