If I pitched the story for Brain Scratch today, people would probably parse it as commentary on the internet.  Or even more specifically, Facebook.  It works for that pretty well – the idea of social isolates who only live in a cloud of electrons, the idea of video games stealing your life (hey there Farmville!), the ultimate punishment of being disconnected from all network communications… you wouldn't have to rewrite it MUCH.  But you'd probably have to remove the episode's almost incessant references to the idea of television as such.  Which I guess is a kind of longwinded way of saying that, yeah, Brain Scratch is deeply, deeply obsessed with television.  It begins and ends with shots of TV screens, and is punctuated with more of these throughout.  Londes' lair consists entirely of giant piles of televisions.  And when Londes has his confrontation with Spike, he gives a typical supervillain monologue on how terrible TV is — how it rots people's minds, and makes them confuse their dreams with reality.
One wonders very much where the writers were going with this.  Were they biting the hand that feeds them, as it were, and trying to convince their audience to turn off the TV and go outside?  On the one hand, Londes is insane.  Spike tells him as much before he starts blasting away.  So we might see the character as a stand-in for the Tipper Gores of the world, and the episode as a flipping-of-bird to the same.  On the other hand… Spike's rebuttal isn't particularly eloquent.  And the Brain Dream WAS going to fry Jet's mind like an omelette.  And Spike's big heroic effort in the confrontation DOES involve shooting up a whole bank of TV screens.  And Londes DOES get the last word before the credits. There's also some other business in the episode about how the images that we consume can begin to shape our behavior, like this little gag from the early going where Spike watches Ed do this —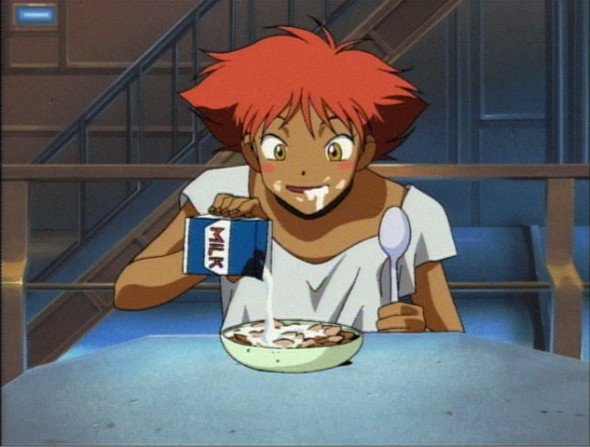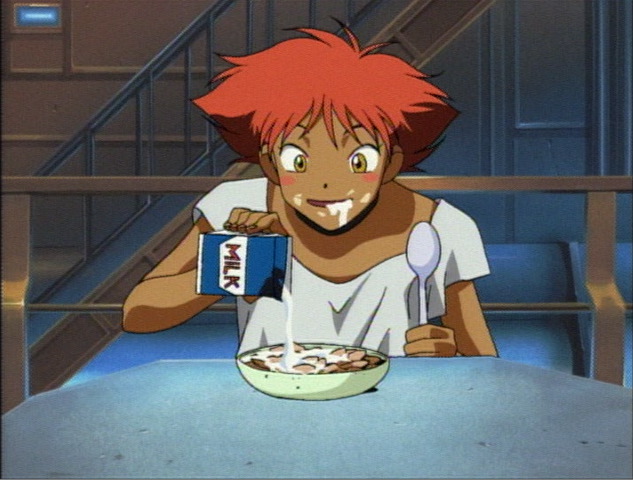 and responds by doing this —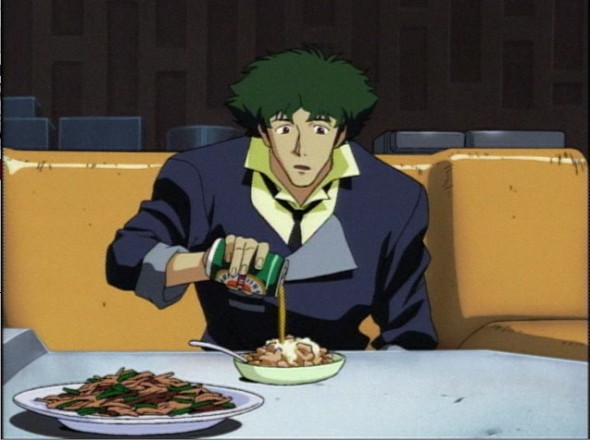 which does not end well for anyone, as you can probably guess.  Actually there's another moment from the opening montage that's pretty critical to the viewing experience, although I couldn't figure out an elegant way to work it in earlier on, which is that Spike and Jet first learn that Faye has joined the Scratch cult by seeing her interviewed on a TV documentary about the movement.  Now, at the time, they have no reason to suspect that she's doing this as an undercover operation.  All they know is that they woke up one morning and she was gone.  They presumably think that one of their closest friends has joined a death cult.  But right before this, they were watching a talk show where an anonymous woman is sobbing frantically about her cult-member son, and the panel's reaction is, well, this —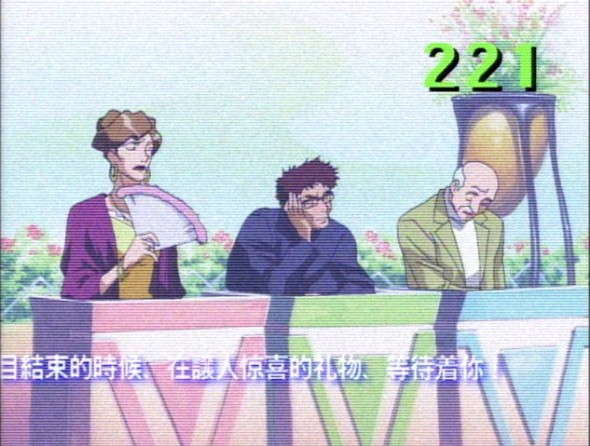 which is pretty much how Spike and Jet react to learning about Faye.  I might be reading too much into this… I mean, neither one of them are much for emotional displays, especially where Faye is concerned.  But it's probably meant as a lesson about how the endless proliferation of media — shades of Teddy Bomber! — tends to result in a de-personalization of tragedy that can even dissociate us from the tragic events of our own lives.
So it's a little hard to know whose side we're supposed to be on.  But when we consider Londes' disintegration, combined with the opening and closing montages… well, I think it probably indicates that it's a mistake to accept the narratives that are presented to us by electronic media as discrete and self consistent messages.  They are, after all, just collections of glowing dots.  We have to be careful about granting them a status they don't deserve.  Maybe the moral of the story isn't even meant to be coherent?
Another thing to consider, of course, is that TV in Cowboy Bebop is already pretty well established by Speak Like a Child as an allegory for things like memory and storytelling.  THAT opens up a whole other can of worms that I'm almost hesitant to grapple with:  What is the relationship of storytelling, religion, and celebrity?  What is the relationship of memory, storytelling, and self-image?  Some of this is even brought up specifically in the episode, although again they put it in Londes' mouth.  "God didn't create man.  Man created god!  And now Television is the new religion!"  And the obvious resonance between the Scratch movement and Scientology only throws this into harsher relief.  (Londes, Ronny, L. Ron?)  Retrospectively, after having watched through to the end of the series, I can say that Cowboy Bebop eventually alights on the following proposition:  our lives are given meaning by the people we are close to.  (Not an astonishingly original message, I suppose, but one that I tend to agree with.)  Brain Scratch plays into this by giving lie to a couple of counterclaims, such as life gaining meaning through religion (false:  the scratch cultists are deluded), life gaining meaning through accomplishment (false:  Londes is fantastically successful by any standard, but his achievement is hollow and he's a psychopath to boot), and life gaining meaning through pop culture.   Because remember, ALL of those voices out there in the sea of electrons, ALL of them, not just the crazy religious cultists, are nothing more than glowing dots on a screen.  And that applies to Cowboy Bebop too.  They're pretty explicit about that last one:  remember, the last image of the whole episode is that extreme close-up on Londes' pixelated (cathode rayated?) face.  Hey, thanks for the warning, TV show!  Maybe I'll stop watching you now.
I kid, I kid.  Why would I go and do a thing like that?
I'm not done with Brain Scratch yet, though.  As an episode of Cowboy Bebop, I'd classify it as slightly middling. Still a joy to watch, but not one of the true greats.  There is however one thing that it does better than almost all of the other episodes, which is:  be science fiction.  This will take some explicating, I suppose.