18)  Speak Like a Child
This is the episode where the "Coming Next Week!" crawl ends with a sheepish admission that the story is kind of pointless.  But if you've been watching the show along with me, you've probably gotten in the habit of never trusting a flippin' THING that the writers tell you.  So if they say that this one is not important, it must be super, super important, right?  Right!  Nothing much happens on the surface, true, but this episode has unplumbed depths.  (HA!)  Don't get the joke?  Well I'll explain.
So, there's a term that pops up in literary criticism, "mise-en-abyme," that has a few interrelated meanings.  It refers to placing something between two mirrors, so that it is reflected infinitely.  From this (possibly), it also refers to images or stories that contain smaller copies of themselves (you know, like "It was a dark and stormy night.  The Captain stood upon the deck and said, "Tell me a story, my son!" So I began:  "It was a dark and stormy night.  The Captain stood upon the deck and said, "Tell me a story, my son!" So I began: "It was a dark and stormy night… etc." etc." etc." etc.").  And from this (again, possibly), it also takes on the more general sense of any story-within-a-story construction, and any aspect of a fictional work which draws our attention to the fact that the work is fictional.
My read on "Speak Like a Child" is that the writing staff decided to make an episode which is mise-en-abymed out the freaking wazoo.  By which I mean that this episode plays with mise-en-abyme the way that the last episode plays with Blaxploitation.  Although in this case, the background texture and the episode's real point are not completely unrelated…  but maybe I'd better get around to explaining the plot.
The episode kicks off with Jet telling Ed the story of Urashima Taro, a Japanese Rip Van Winkle analogue who traveled to the Dragon King's palace on the bottom of the ocean, spent one night, and returned to land only to find that 60 years had passed.  So right off the bat, note the resemblance to Faye, who spent almost 60 years in cryogenic storage (mise-en-abyme count=1).  This is interrupted by the delivery of a mysterious package addressed to Faye, which – we later learn – has been bouncing around the solar system since before she went into cold sleep. Note that it's delivered by the Turtle shipping company – another connection of Faye's past to a nautical symbol, and a direct connection to the Urashima Taro story, which features a turtle heavily.  The connection of the (ostensibly real) main narrative to the (obviously fictional) fairy tale draws our attention to the fact that the main narrative is fictional. Mise-en-abyme count = 2.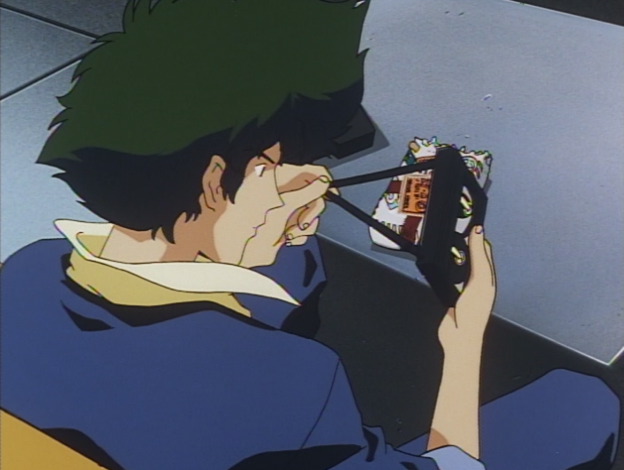 Now, Faye doesn't know what's in the package, so she assumes that it's from a collection agency, and runs off without opening it.  Spike, being a curious sort (although… since when?) opens it anyway, revealing a videocassette, i.e. still the dominant TV recording medium at the time when Cowboy Bebop was being aired.  (Mise-en-abyme count – henceforth MEAC, because boy howdy we are going to be see a lot of that phrase – equals 3).  No wait!  Urashima Taro famously came up out of the ocean with a magic box that he was told never to open, and when he did open it – they always do, in these stories – it turned out to contain all of his lost years.  And here we've got this cassette, which is kind of box shaped, and they can't get at the information inside it, and it contains the secret of Faye's lost past.  So the MEAC is at four already.  At least.
(Incidentally, just to get this out of the way:  Faye spends the rest of the episode gambling on horse and grayhound races, before finally deciding that she misses her friends, and coming back to the BeBop.  The fact that she makes this decision is a crucial, crucial moment for her character arc, even if she doesn't quite admit it to herself yet.  And while we're on the subject of character development, the fact that Jet is telling Ed a fairy tale is also kind of significant, because it marks his transition from someone who is serving in loco parentis by keeping Ed fed and clothed, to someone who is actually trying to be a father.  But both of these important psychological developments are more or less glossed over in the show itself, so I'll give them similarly short shrift here.)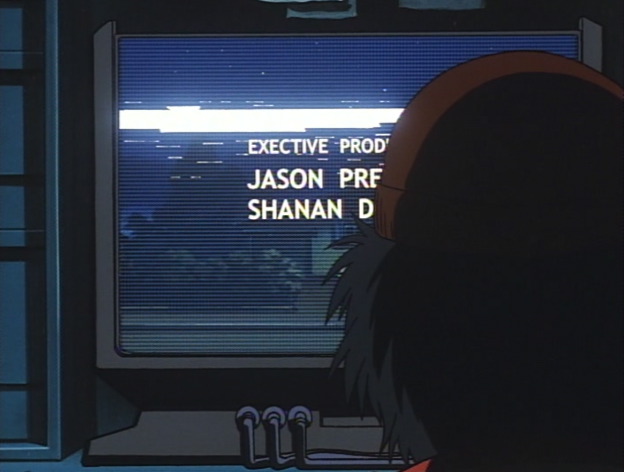 Anyway, Jet and Spike decide that they want to know what's on the tape, so they track down a vintage electronics collector.  And yes, when they come into his shop, he's watching an episode of Beverly Hills 90210.  He helpfully informs them that what they've got there is a beta cassette, and launches into a rapturous description of the rise and fall of betamax.  Now, this guy is pretty clearly supposed to represent the show's own creative team.  He fetishizes dead recording media the same way that Watanabe et al fetishize dead narrative genres.  Remember that a betamax player, in 1998, was already basically junk.  Beautiful junk, sure, but not a viable option.  The same is true for the cultural detritus that makes up the basic fabric of the Cowboy Bebop universe.  (I've gotta say, I find it interesting that the writer stand-in character is portrayed as such a giant flaming nerd.  Oh, and MEAC=5).
They start playing the tape.  Will all the mysteries be revealed? Answer:  have you even been watching this show?  We do get some tantalizing shots of a city (Singapore, according to the all-seeing Internet), and some schoolgirls – is that a young Faye Valentine? – before the tape jams, and Spike tries to fix the player the way he fixes any broken electronic device…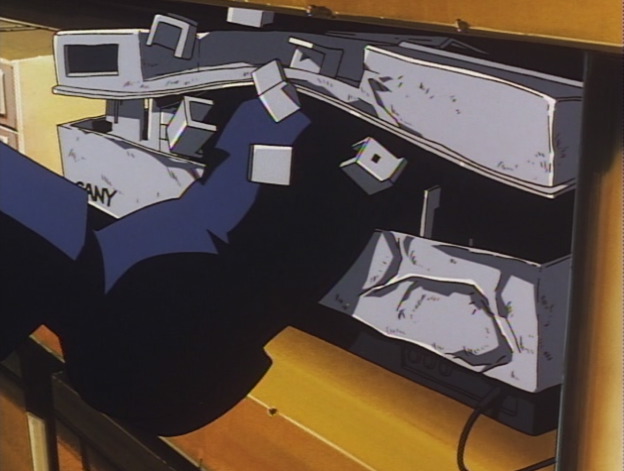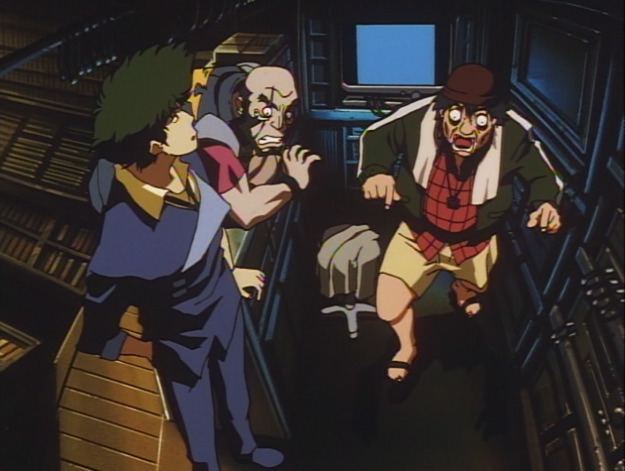 What.  The.  Hell.
Having successfully destroyed one of the two remaining betamax players in the world, Spike and Jet go after the other one, which lies buried in the ruins of Akihabara, Tokyo's famous electronics/nerdly-goods district, which in the world of Cowboy Bebop has sunken into the sea.
• The BeBop travels to Japan for the first time? MEAC=6.
• The characters from Cowboy Bebop head out to the kind of place where fans of Cowboy Bebop might be expected to shop for Cowboy Bebop merchandise? MEAC=7.
• The narrative requires Spike and Jet to literally descend into an abyss?!?!
MEAC meter begins to spin wildly, and explodes in a shower of sparks.  Which could itself be seen as a self-referential nod to the collector's broken Beta deck, and… Oy.  This is making my head hurt.
So yeah, it's that literal trip to the bottom of the ocean that I was referencing in my "umplumbed depths" line.  That and the fact that they do spend a bunch of time literally exploring plumbing.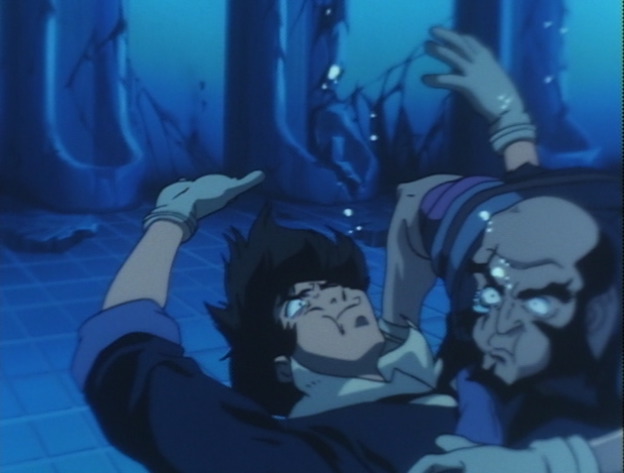 But after a bunch of these "let's go spelunking in an abandoned building" sequences (which accomplish precisely nothing, in narrative terms), Jet and Spike find what they were looking for.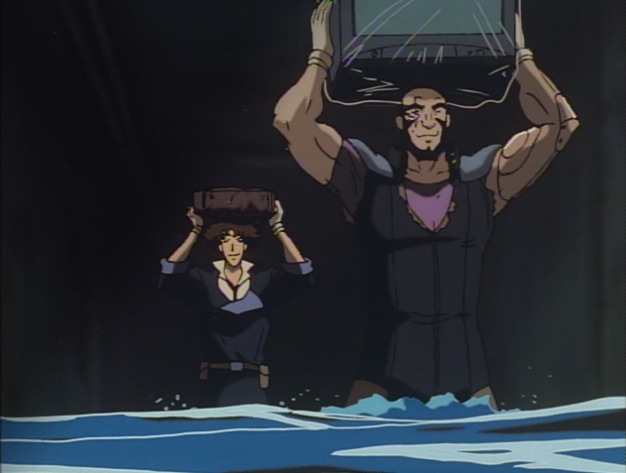 Don't ask me how they're planning to get these back up that bannister slide from the top of the page.  They manage it somehow, because in the next scene we see them returning victorious to the BeBop, where they find…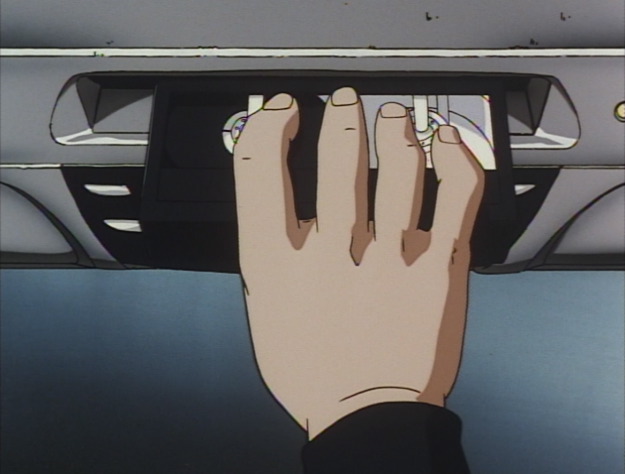 …that they accidentally picked up a VHS player instead.  Bwaaaaa-ha-ha-ha-ha-ha-ha-ha!
And do note that the "much labor for no reward" structure that informs most of the actual bounty hunting is preserved in this episode as well.  The shattered MEAC meter vibrates weakly, making a dull clacking sound.
But then, just as they're about to give up hope, another package arrives, again addressed to Faye, which contains a working Beta deck.  (This one was delivered by the Rabbit shipping company, which for obvious reasons got there much later than the Tortoise shipping company.)  And then the episode ends with everyone watching the movie, which turns out to be a video diary that young Faye made as a message to her future self.
Quite aside from the mise-en-abyme factor, there are a couple of important things to point out about that tape.  One is that Faye's handheld camera work continues the pattern of Faye-POV-shots that was established in "My Funny Valentine."  The second is that it's SUCH a weird, spectral, uncanny moment.  Faye has lost her memory, remember, and watching the tape doesn't bring anything back (at least not yet, although there are a few episodes still to go).  So she's sitting there, watching the younger self she doesn't remember.  And at the same time, the young Faye is delivering this message to an older self that she can never possibly meet.  (So again, it's like facing mirrors – but like I said, let's leave the mise-en-abyme out of it.)  I think this speaks to something very true, and very human, about our experience of self and our experience of time.
Obviously some parts of Faye's particular experience are contrived…  Childhood memories are usually a little hazy, true, but perfect amnesiac breaks like the one that Faye has do not often occur outside of fiction.  And some of the lines that young Faye delivers – things like "I'm not there anymore… but I'll always be here, rooting for you, my only self!" –  are really too perfect by half.  But there's still something recognizable about it.  If I think back to myself at age 14… well, I'm not that guy anymore.  He is gone. Dead and.  (And note the thematic resonance with Chessmaster Hex from "Bohemian Rhapsody.")  Although we can try to trace our personal development from point A to point B, this being to an extent the basic goal of psychoanalysis, there's always going to be a certain black-box aspect to it.  The past, too, is a watery deep.   It shapes us, in a sense it is with us always, but we can no more return to it than Urashima Taro can return to the Dragon King's palace, or Faye Valentine to the Singapore that was.
I love, love, love the fact that this episode ends while they're all still watching the video.  The narrative is basically a series of internments and exhumations, right?  Young Faye's message is buried in the antique technology, then they pull it out with the right player.  Faye goes away from the Bebop and buries herself in the anonymous atmosphere of the racetrack, but then she climbs back out and returns to the BeBop.  Spike and Jet go down to Akihabara, and then come back up.  But then at the end, everyone (the viewers, the characters, all of us) gets immersed in the show-within-the-show of Faye's video… and the episode stops before we can come up for air.  It's a subtle effect, but a powerful one.  More than any other episode so far, you walk away from this one in an altered psychological state.