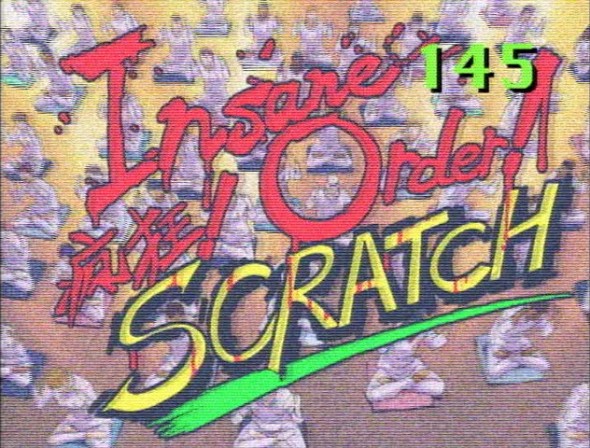 Is Cowboy Bebop a science fiction show?
The answer to this question depends on your definition of science fiction.  In pragmatic, descriptivist terms, stories are sci-fi if they draw on the trappings of sci-fi, and under this rubric Cowboy Bebop obviously qualifies.  It's got space travel, terraforming, cryonics, superhuman machine intelligence, laser guns, arbitrarily advanced levels of body modification, you name it.  There's another popular definition, however, which holds that sci-fi is properly defined as speculative fiction:  it has to engage in a meaningful way with the consequences of a radical technological and/or sociological change to human society.  Works that don't do this – and Star Wars is probably the quintessential offender – are sometimes accused of not being "true" scifi.
Just to continue this little digression, there's a tendency to associate the literature-of-ideas stuff with "hard" scifi, and the "adventure stories… IN SPACE!!!" school with "soft" scifi.  But these ideas aren't really the same.  Hard vs. soft just has to do with how plausible the fictional universe's technology is under our current understanding of the laws of physics.  What I'm looking for here is a distinction between the literature of ideas and the literature of narrative.
The technology in Star Trek isn't really any better worked out than the technology in Star Wars.  If anything, Trek might be worse:  at least Star Wars doesn't allow time travel.   But Star Wars is not concerned with the rigorous working out of an idea.  Rather, it's about telling an adventure story with mythic overtones.  The laser swords and spaceships are purely window dressing.  (Didn't George Lucas actually use stock footage of WWI dogfights for the space battles in some of his test cuts?)  Star Trek, on the other hand, is very much an idea driven show, and therefore counts as speculative fiction:  it's just that the ideas in question are always sociological or psychological.  You could quite easily write truly speculative fiction within the Star Wars universe without changing the franchise's technological "hardness" at all.  For instance you could write military SF that tries to rigorously work out what kind of tactics the trade federation droids would have to apply in order to take down a Jedi.  Or you could write political SF about how Palpatine's rivals in the galactic senate try to use arcane procedural rules to limit his power in the interval between his election to chancellorship and his dissolution of the legislature at the beginning of A New Hope. Or you could write socioeconomic SF that explains how Jabba the Hutt's criminal enterprise fits into the broader society of Tatooine.   ("It ain't like that.  See, the Hutt stay the Hutt.  Everthing stay who he is.  Except for the droids.  Now, if the droid make it all the way down to the other dude's side, he get to be Twi'lek.  And like I said, the Twi'lek ain't no bitch.")  The point is to take some idea, any idea, as a starting place, and then work out the consequences in rigorous detail.  By the same token, it would be possible to write science fiction that is diamond-hard, but utterly unconcerned with working out the consequences of anything at all.  Like, do a version of Death of a Salesman where all the characters have robotic arms, and Biff has a big monologue in act II where he explains the technology behind their robotic arms.  Nobody HAS written Death of a Salesbot to the best of my knowledge, and there are some pretty obvious reasons why it wouldn't tend to happen. But there's no reason to discount the possibility.
Anyway, Cowboy Bebop.  In one of my earliest posts, I categorized this show's approach to science as semi-hard.  In retrospect, I feel like semi-soft would be a better description.  Usually soft SF has lots and lots of technology:  replicators instead of microwaves, lasers instead of handguns, etc.  Bebop doesn't do this, which is why I assumed what I assumed.  But as I run down the episodes in my head, there's just too many things that are implausible, and perhaps not even meant to be plausible.  The genetically engineered virus that turns people into chimpanzees, the demonically preserved harmonica player, the incredible leftover seafood monster, the magical fortunetellers of one kind or another that pop up in various episodes…  But hardness and softness aside, it's also pretty hard to make the case for Cowboy Bebop as a piece of speculative fiction, because hard or soft, the sci-fi elements don't MATTER most of the time.  A virus that turns people into monkeys would actually have FASCINATING consequences – do the victims still have legal rights?  What happens to their property?  But as far as Cowboy Bebop is concerned, it might as well just be Ebola. Well, that's not true:  the monkey thing matters because of the symbolic weight of a man transforming into a beast.  Similarly, it would be inaccurate to claim that the Red Eye drug in the first episode might as well be PCP.  It needs to give the dealer superhuman strength and speed because that makes for a good fight scene in a way that PCP never would.  But the broader consequences of a society in which all junkies have superhuman strength are never raised.  You could argue, kind of, that My Funny Valentine is about the consequences of cryonics… but as it turns out Faye's amnesia is far more relevant than the idea that she's been frozen and defrosted.  And certainly there's no attempt to deal with it in a comprehensive or systematic way — she could have been in a coma for a week.  (Although this might not be entirely true — see below.)
Brain Scratch might not seem at first blush to be more spec-ficcish (spec-ficcan? spec-fickle?) than any other episode of the show.  A cult that advocates straight-up suicide would have worked almost as well as a cult that advocated "migrating to electronics," right?  Except that it would lose its symbolic resonance with real-world humans that "live in electronics" by watching old TV shows and blogging about them on the internet all the time.  The current version also just happens to touch on one of my favorite classic science fiction devices, the idea of the "brain upload," where we can achieve immortality by transferring our consciousness to some kind of electronic device.
Accounts of this technology tend to fall into two camps.  Either brain uploading obviously does work, and is awesome, or it obviously doesn't work, and is horrifying.  William Gibson's Neuromancer, Count Zero, and Mona Lisa Overdrive fall squarely into the latter camp.  Notable science fiction stories where brain uploading "works" are fewer and further between, although Ghost in the Shell might fit here — if so, it's a lot less gung-ho about it than most.  Interestingly, though, there are some real-world futurists who think that brain uploading is the wave of the future.  Cowboy Bebop falls into the pessimistic camp, if only by implication.  No one ever spends any time speculating as to whether the Scratch cultists who seem to have committed suicide have actually achieved immortality, and even Londes turns out to be tragically bound to his physical form.  (Well, unless you interpret that speech at the end as evidence that he did manage to leave his body fully behind after all, which is kind of stretching it if you ask me.)  Now, how you feel about brain uploading depends on how you feel about a philosophical problem called the Persistence Question.  This is typically phrased something like as "How can we tell if a person existing at one time is numerically identical to a person existing at another time?" (Numerically identical, meaning "there is only one of it," is different from qualitatively identical, meaning "it is exactly the same."  We generally assume that people can change over time without becoming more than one person.)  Eric Olsen, writing for the Stanford Encyclopedia of Philosophy prefers "Under what possible circumstances is a person who exists at one time identical with something that exists at another time (whether or not it is a person then)?" arguing that the classic formulation begs the question of whether a person was ever a gamete, or ever will be a corpse.  There are a couple of classic answers.  For instance, you could claim that if person A and person B have the same body, they are the same person.  But this is a little hard to accept:  if you cut my arm off, or transplant my brain into a cadaver, do I stop being me?  You can also claim that identity is no more than a social consensus:  if other people recognize person B as person A, then they're the same person.  But this fails the a whole bunch of common sense tests:  what if I lock myself in a closet where no one else can see me – do I stop being myself?  The most popular and intuitive answer is to appeal to psychological identity.  If a person at time A has a certain set of memories, and a person at future time B has all of those memories, then they're the same person.  And this is how brain uploading seems notionally to be meant to work:  if you scan my brain and then toss it into a blender, and then load the data from that scan onto a toaster, the toaster will have all my memories, personality, etc.  For brain uploading to work as a method of achieving immortality, that toaster would then need to actually be me. And the psychological answer to the Persistence Question would seem to suggest that it would.
It might be obvious from the way that I phrased it that I have little sympathy for this point of view.  After all, what if we repeat that thought experiment WITHOUT the blender?  Scan my brain, load it onto a toaster, and let us both go on our merry ways?  I have no problem with the idea that both of us would be "people," who should probably have nearly identical legal and moral rights.  But I'd like to think that I would still be me, and the toaster would still be a toaster.
Okay, one might argue, what if we do it slowly?  Look, if I reach into your brain with an electrode and burn out one neuron, you're still you, right?  By the same token, if I supplement your existing brain with a single electronic neuron, you're still you.  Same if we make it two neurons.  So what if we replace your whole brain, one neuron at a time, until finally it's entirely mechanical?  You probably wouldn't even notice it happening.  Then you'll have a completely mechanical brain, which can leave your body and flit around the internet at ease, and still is obviously "you."  This of course is similar to the famous Ship of Theseus and Sorites paradoxen.  How many parts of a ship can you replace before it becomes a different ship?  How many grains of sand can you take out of a heap before it stops being a heap?  My answer is that it doesn't matter how fast or slow you do it.  When we argue about the ship and the heap, we're really arguing about what something is called. Assuming that I am more than merely that-which-I-am-called, the slow transformation is really no different from the fast one. You'd wind up with something that thinks its me, and that people who know me would recognize as me. Nevertheless, I would be dead, and what was left would be a toaster only dreaming it's a Jordan.  The hypothetical counterargument to my counterargument is a doozie, though, because this same process of killing and replacing cells is apparently happening in our cerebral cortex all the damn time, except that the new cells are biological rather than electronic.  Either the reasoning I gave above is flawed – and I don't see how – or else my impression that I am the same person I was when I was ten, or even the same person that I was when I went to sleep last night, or even the same person that I was when I started typing this sentence, is not really correct.    The answer to the Persistence Question, in that case, is quite simply that we never can and never should consider two people at different times to be numerically identical:  that all that persists are memories and the illusion of identity, not identity itself.
And once we've followed the chain of reasoning around that far, we realize with a shock that this is something Cowboy Bebop has been about all — the damn — time!  In what sense can we claim that Faye Valentine is the same person that was cryogenically preserved after her unspecified accident all those years ago?  She DOESN'T have the same memories that she used to.  She doesn't really have the same physical body anymore, or much of the same personality — that betamax tape proved that.  And at this point in the series, there are no other minds that recognize her as the same person (although that changes in the next episode, Hard Luck Woman).   By the same token, is the Gren who fought alongside Vicious on Titan the same person as the Gren who shows up playing sax in Jupiter Jazz?  They don't have the same body, exactly.  Their goals and opinions are pretty radically different.  Does Radical Edward, who seems to spend most of her time in a permanent schizophrenic break, have any kind of moment-to-moment continuity of selfhood?  Is Spike the same guy that he was before his unspecified traumatic event?  Is Jet the same guy that he was before he lost his arm?  It might seem like all of these questions are confusing numerical identity (is there only one of it?) with qualitative identity (is it exactly the same?), but I would argue that one of the lessons of applying the Ship of Theseus to consciousness is that a sufficiently radical qualitative change constitutes a numerical change as well.  Looking at Wen, the harmonica player from Sympathy for the Devil, we could argue that here we have an  example of an identity which truly does persist.  Since he doesn't age, we can assume (or argue, at least) that he's immortal right down to the cellular level:  nothing of him that doth fade, period.  And as a result of this, he's twisted and evil.  What are we to take from that?
That brings up another point about brain uploading.  It's pretty common, in any kind of speculative fiction that deals with ANY kind of immortality, to suggest that seeking immortality corrupts, and achieving immortality corrupts absolutely.  (TV Tropes — damn the siren call of their cleverly alliterative titles! — calls this "Immortality Immorality.")  Very often the corrupt and twisted half life offered by, for instance, something like brain uploading, is contrasted with the sane and healthy attitude of accepting and embracing death.  Cowboy Bebop does this too – check out this earlier post for the series' take on the ars moriendi.  But if we're willing to go down the persistence-of-identity rabbit hole for a minute, the ideology of the show as a whole suddenly gets a lot more coherent and broadly applicable.  Cowboy Bebop is about a whole bunch of things, but one of the themes it comes back to over and over again is how important it is to let go.  This is true for the way one approaches death:  it's important to let go of life.  But it's also true of how one approaches living.  One must let go of pride.  One must let go of money.  And perhaps one must be willing to let go of one's own self image, because that previous self is no longer present in any meaningful way.  More on this next time, when we get to Hard Luck Woman, far and away my favorite Cowboy Bebop episode ever.  As for me, I'm going to let go of any pretense that I'll deal with more than one episode per post, or that I'll get through the end of the series by the end of the month.  I WILL keep the posts coming, though, and as quickly as I possibly can.  A huge thank you to everyone who has been prodding me to keep continue the series, by the way — I'm more touched than I can say that y'all care enough to complain.