That's about all there is to the story.  Bebop has never felt much need to explain the falling action of its plots, but the ending to this one is particularly elliptical.  Faye wakes up to find Spike sitting next to her, and they share what passes for a tender moment, for those two.  Jet and Ed leave Londes – er, Ronny – handcuffed to his hospital bed.  Do they turn him in and get the bounty?  It was thirty eight million!  That should by all rights be huge for them!  But we never get to know.  Instead, the show ends with a montage of Londes' face talking to us out of a variety of different TV screens.  This isn't quite like the opening montage.  Where that one gave, like, fifty different takes on a single story, all shown on the same screen; this one shows one single broadcast of Londes' talking head, with continuous audio, seen on a dozen different screens of various kinds, from various angles, and with varying degrees of static and distortion.  So did Londes get hooked up to the web again?  Or is what we're just seeing Ronny's dreamscape, in his own private internet heaven?  It's far from clear.  But clarity is not what this is supposed to be about.  Rather, the end of the show gets its work done through imagery and mood.
Consider:  this is the way we've seen Londes through most of the show.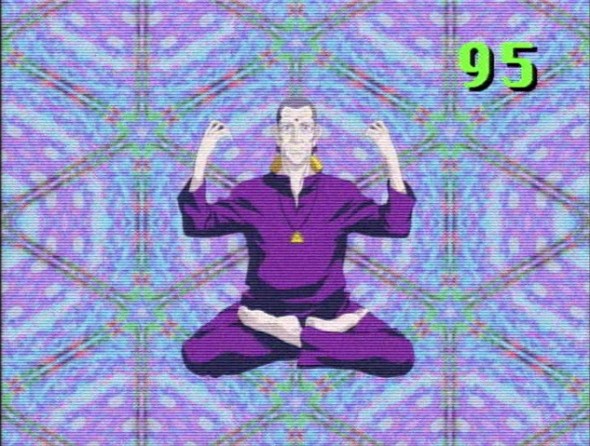 This is what we see when they unplug his modem.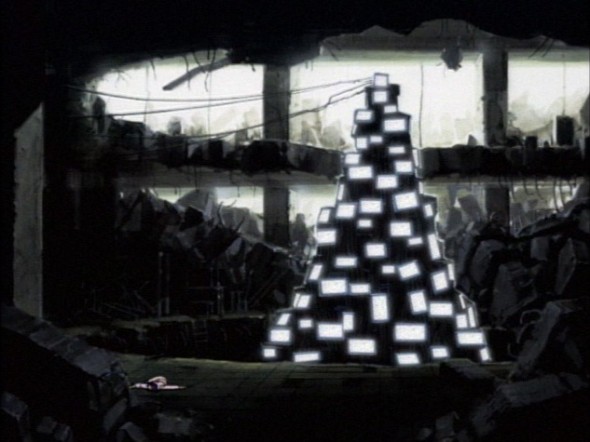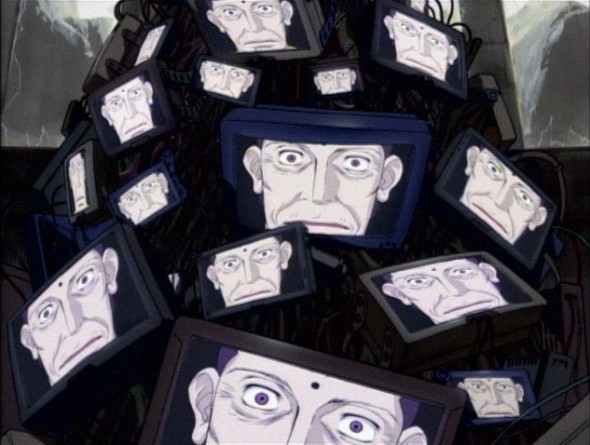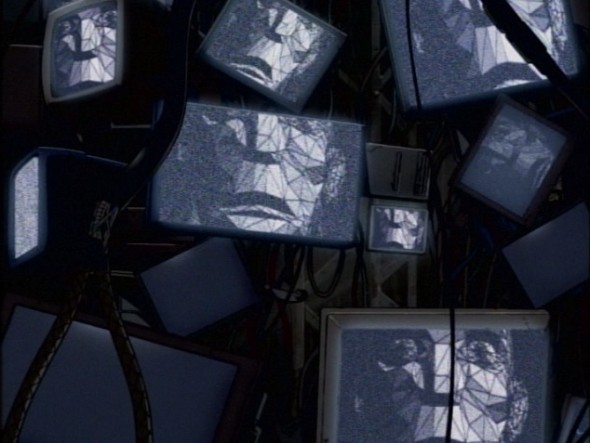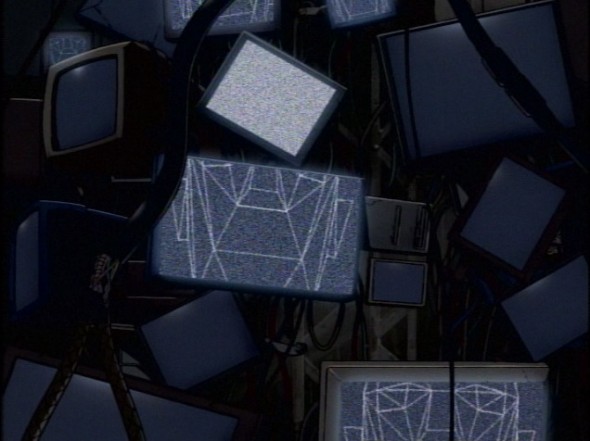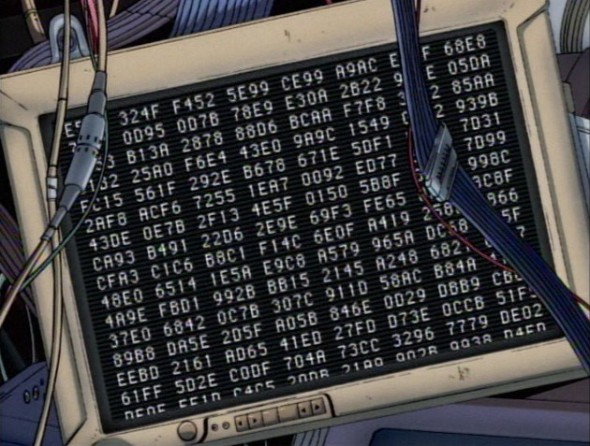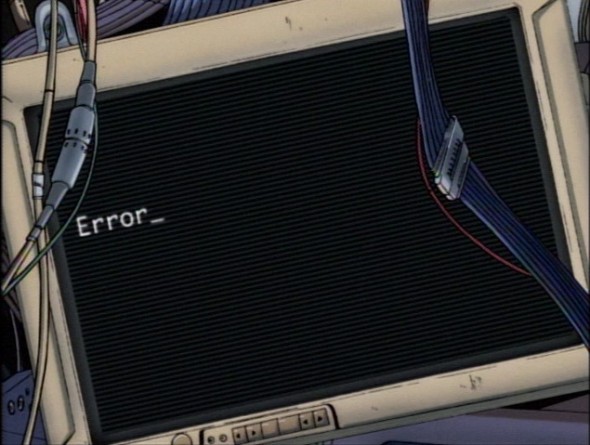 So over the course of the episode he goes from a broadcast of a unified, speaking, apparently biological subject, to a fragmented pluralized talking head, to a complex wireframe model, to a simple wireframe model, to machine code, to nothing.  The VERY last image of him we see, at the very end of the show, is a super-extreme close up of the corner of his mouth, where all we can see really see are the individual luminescent flecks of a CRT television.  While this isn't properly part of his disintegration in terms of the plot, it obviously plays into the same symbolic complex.
It hardly seems worth pointing out that internet connections don't actually work that way, right?  If you unplug an ethernet cable, data transfer goes from normal to zero in no time flat.  Similarly, if I go out and shoot a chicken, it doesn't devolve into an archaeopteryx, a trilobite, and a blue-green alga before dissolving into a random pile of protein.  It just dies.  That said, if you put that chicken sequence in a movie, you would probably be trying to communicate something to the audience, specifically, the not un-interesting idea that what we see as a chicken is not actually a chicken at all, but rather a blob of protein in the shape of a chicken.  So what's being communicated here is that what we see as a CGI face is actually a string of machine code, and what we see as a television image is a collection of glowing dots.  (It's interesting, though, that the middle steps of these transitions – while cool to look at, and probably necessary for getting the point across – are harder to accept philosophically. Television images ARE glowing dots.  Chickens ARE proteins.  But it's hard to claim that the archaeopteryx inheres and persists in the chicken… and unless I've misunderstood something about the process, a rendered CGI image doesn't typically contain the wireframe data that it was rendered from.)  In short, the sequence is supposed to show us what was hiding behind Londes all the time.
On the level of the plot, of course, we already know that:  it's Ronny.  But here we're dealing with imagery and symbolism. Which means that before we say what Londes' disintegration means on those levels, we should consider what he meant on those levels BEFORE they blew him up.