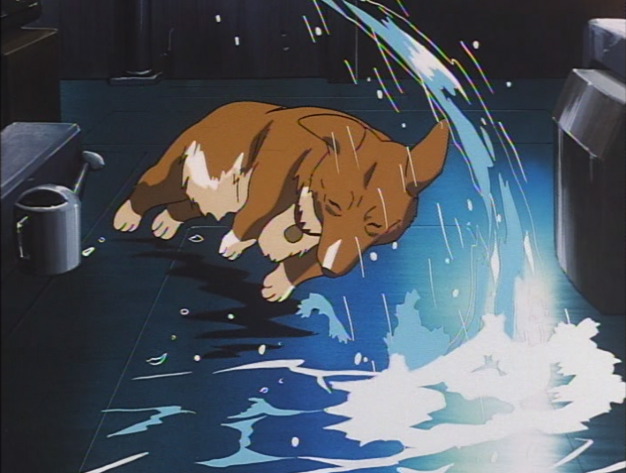 (Continued from the previous post.)
16) Black Dog Serenade

"My Funny Valentine" was in many ways emblematic of the new direction that Cowboy Bebop seems to be taking:  a story that's basically about character, with strange, kicky dramatic beats, and a pervading sense of quiet surrealism.  (The same could be said of #14, "Bohemian Rhapsody," for that matter, which is why I say that it's a new direction rather than one atypical episode).  By that standard, "Black Dog Serenade" is kind of a throwback, because it is BAD-ASS.
And it is an awful lot of fun, I've got to say. Fad, Jet's old partner from his police days, pulls him back in for one last score (more of a drug dealer trope than a cop trope, but whatever), in order to track down an escaped convict who just happens to be the guy that shot off Jet's arm.  It is noir as all get out – in the visuals,
in the score, which is mostly a muted trumpet version of Jet's signature tune, "The Singing Sea," and in the narrative, which muddles betrayal, and fate, and revenge, and professionalism, and machismo, and honor, and cigarette smoke into that rich, black, frothy cocktail which is the stuff that dreams are made of.   Like, there's a point where the assassin gets the drop on Jet and almost shoots him in the head, but Jet is able to block the bullet with the robotic arm that the assassin saddled him with.  It doesn't come much more noir than that.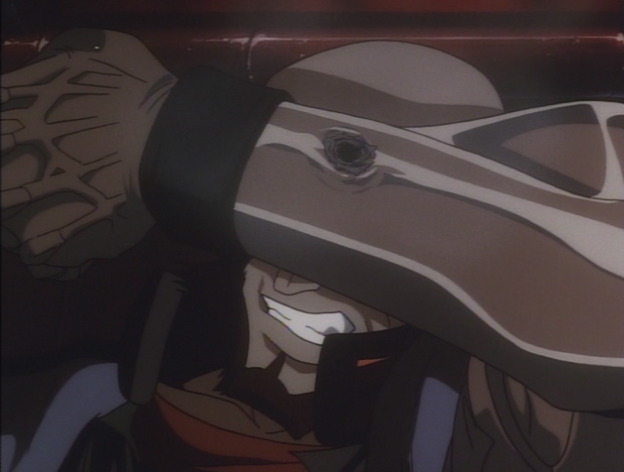 Oh, and of COURSE it turns out that Jet's old partner is corrupt, and was the one who shot his arm off in the first place.  I mean, that's almost obligatory, right?
But fun as this episode is, there isn't that much to say about it.  So although "My Funny Valentine" seems like a smaller episode in a lot of ways, it's actually a lot more robust.  There is one interesting character moment here, though.  If we look at the Bebop's crew as some kind of messed up family unit, it's pretty clear that Jet is the father.  He's always the one who tries to be responsible, he's always the one who scolds the other crew members and holds their feet to the fire, he's always the one who tries to make sure that the kid and the dog get fed on time.   (Also, he has some seriously stone-age sexist attitudes that he brings up in public every now and then, which the people who care about him seem to do their best to ignore.  He's not just the father-figure:  he's the patriarchy!) What's interesting is that when he's part of the Jet+Fad team, he plays the same role that Spike plays in the Jet+Spike+Faye team: running off half-cocked, pointlessly risking his life, taking on an unspeakable badass in a close-quarters knife fight more or less just for the hell of it.  The way that Fad dies in his arms at the end of the episode even has some resonance with the way that Rocco and Gren each died in Spike's arms in their respective episodes.  So if "Black Dog Serenade" explains anything about Jet's character, it's his weird co-dependent relationship with Spike.  He never actually comes out and says "You remind me of myself, when I was your age," but after watching this I'm not sure he even needs to.