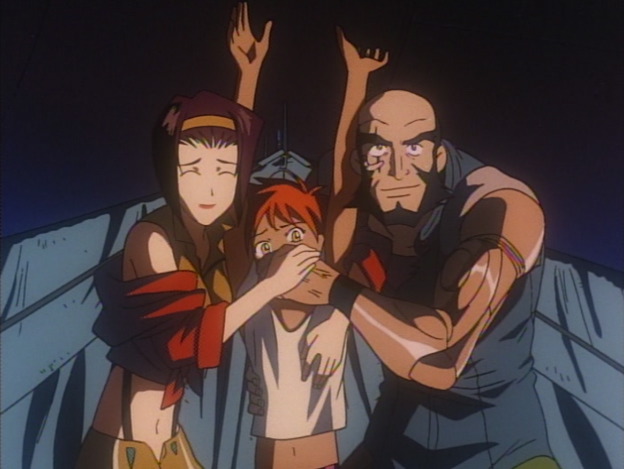 17)  Mushroom Samba
And now, the Radical Edward episode.  Back when Mlawski was trying to sell me on the idea of Cowboy Bebop, she mentioned the "crazy blaxploitation episode," and as a result I was not caught completely flatfooted by this one.  Still, I was not entirely prepared for just HOW crazy it would turn out to be.
This is another one of those Cowboy Bebop episodes that turns on the fact that the crew never has enough to eat.  (Other episodes which hit this note include #1, #4, #6 and #11, although none of the others hit it quite this hard.)  After establishing that the crew is hungry enough that they seem to be considering eating Edward,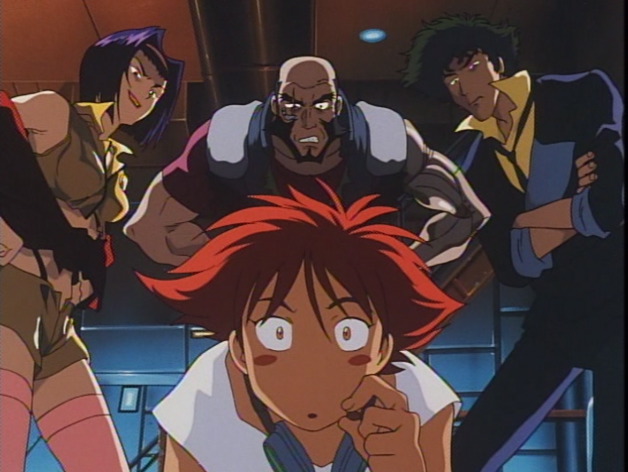 the writers arrange for the BeBop to be sideswiped by a hit and run driver, resulting in a crash landing on a desert planet.  While Spike and Jet try to fix the ship, and Faye battles a case of explosive diarrhea (seriously, that's what happens), Edward is sent out to find some food.  As you might imagine, this is not a great idea.  The crew seems to be in danger of literally starving to death – you'd think that food would be enough of a priority that they would assign the task to someone who is mentally competent.
Anyway, Ed pulls an electric scooter out of the hold (which is to say:  out of the writers' collective ass), and peels off into the desert in search of sustenance.  Through a wacky set of coincidences, she ends up first dosing the rest of the crew with magic mushrooms, and then deciding to play bounty hunter by chasing down Domino, the psychedelic mushroom smuggler.  Domino is being chased by two other people as well.  One is a bounty hunter named — you know, I'm not sure if we even ever hear her name, but let's call her Pam Grier, because I mean, well, obviously, right?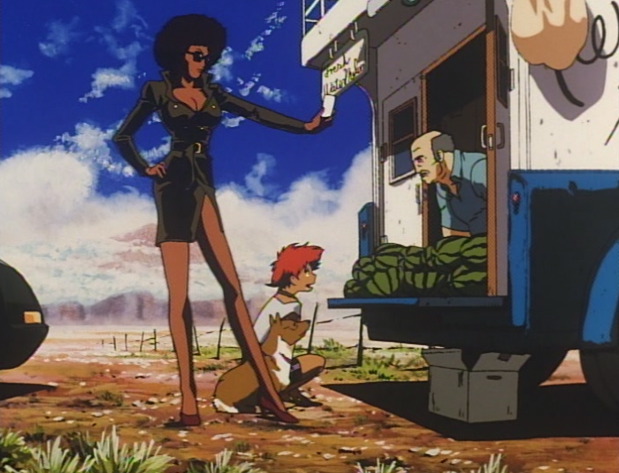 The other – not a bounty hunter, but a man pursuing personal vengeance – is named Shaft.  And I don't mean that's what we're going to call him:  I mean that's actually the character's name.  Eventually they all end up in a massive, convoluted action/chase set-piece (set over a literal samba tune about mushrooms, making this the most literal episode title yet), on and around a speeding train.  There's no way to do this awesome sequence justice in words, so I'll just give you a big string of pretty pictures to look at – these pretty much convey the sense of it, although it's well worth watching for yourself so that you can savor the comic timing and that wonderful music.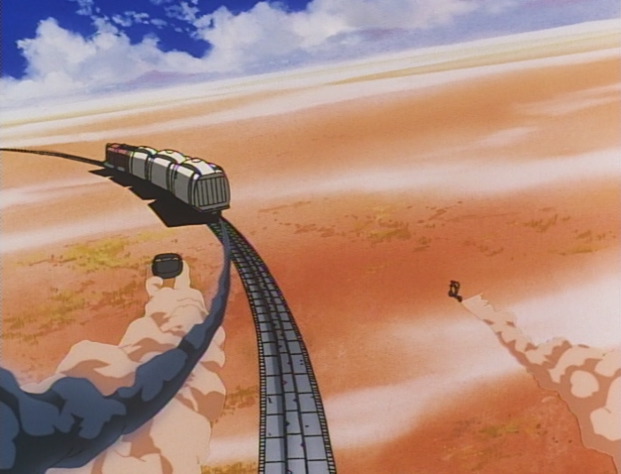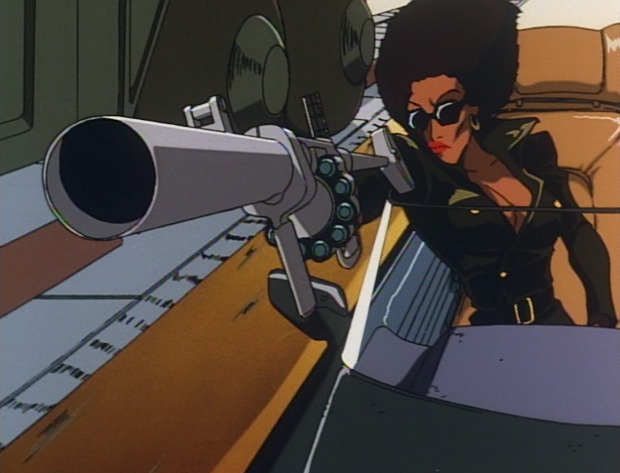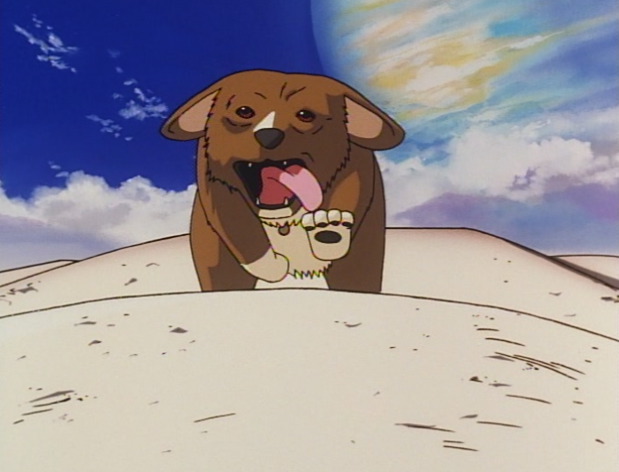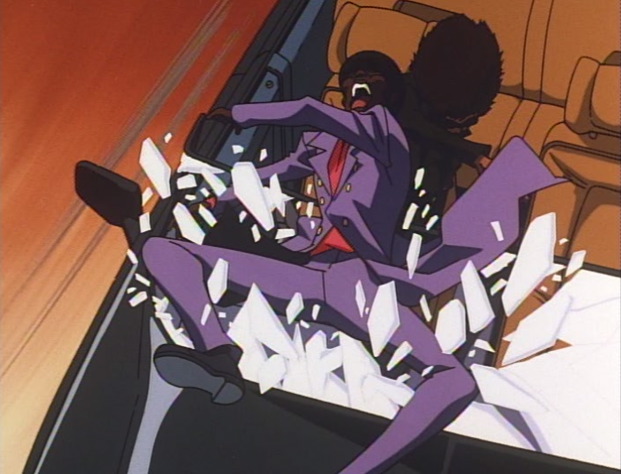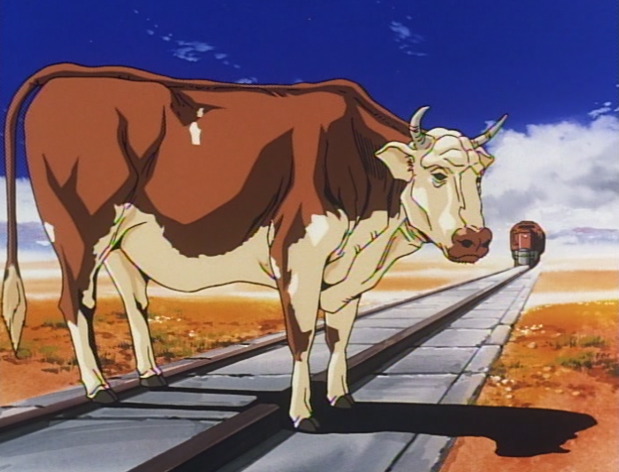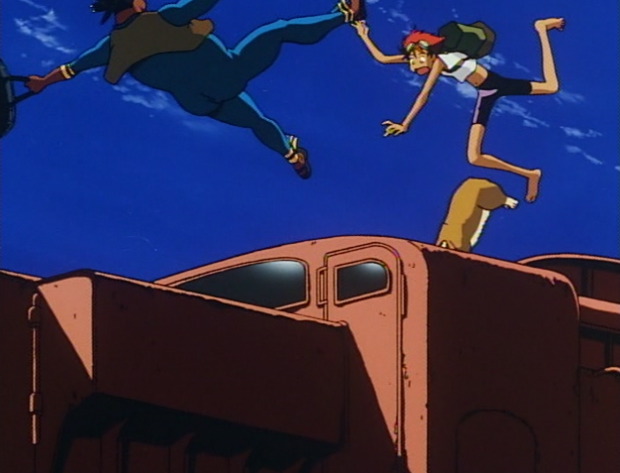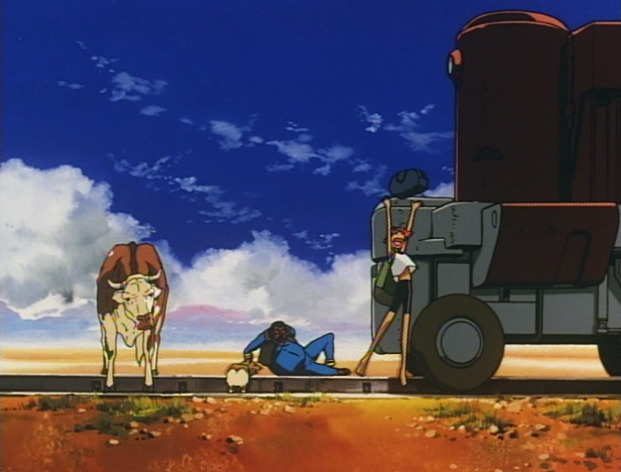 Now, what's interesting is that once Ed catches the guy, he offers her his stockpile of magic mushrooms in exchange for his freedom, claiming that they're much more valuable.  She accepts without even pausing:  bringing in the criminal is not something that she cares about even a little.  So that's shoe-drop number one.  Shoe-drop number two comes when the police raid the BeBop crew's camp and test the mushrooms… only to find that they are ordinary, and relatively valueless, Shitakes.  And the episode ends with the crew eating a massive mushroom banquet.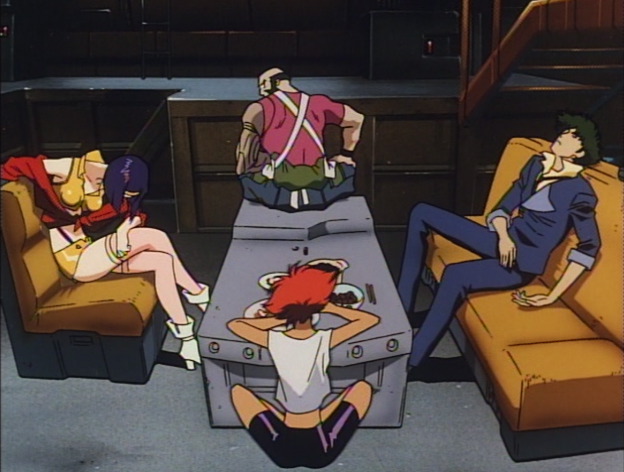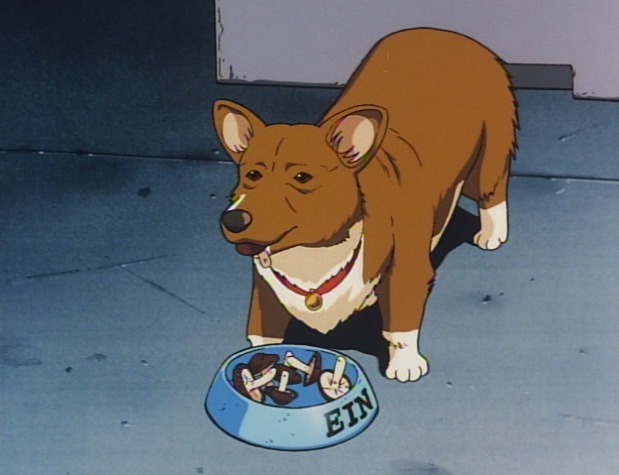 Ed is overjoyed:  they have food!  Delicious food!  And Ein, who also gets mushrooms, is pretty much fine with it.   Everyone else goes right back to moaning and groaning about the lack of variety in their diet, and never mind the fact that Edward's fungal bounty has literally saved them all from starving to death.  In the English dub, Jet has a great line – it's hard to capture the delivery on the printed page, but let me see if I can give you the gist:
Jet (defeated): "Shitake stir-fry, shitake stew, shitake salad and SHIT –