"-ake on ice."  Where the censors were on that one, I don't know.
This episode is fascinating, fascinating to me, and here's why:  Ed is clearly better at bounty hunting than anyone else on the BeBop's crew.  Oh, we have seen them capture people before.  And technically, she didn't get the bounty on Domino.  But she does bring home the mushrooms. The idea of having enough food has been a constant leitmotif in Cowboy Bebop:  Character after character complains about not having food, or fantasizes about the food they're going to buy once they finally do have money.  The whole point of bounty hunting is that if you do it enough, you get to have a banquet.  Ed brought home the mushrooms! This is the only episode so far where they do get to have a banquet.  Even in the episodes where the crew successfully captures someone, you never, EVER get to see them enjoying the reward.  (Faye's banquet in "My Funny Valentine" took place in flashback, and was unrelated to bounty hunting anyway.)  So when I say that Ed is better at bounty hunting, I don't mean that she's better at getting the job done:  I mean that she's better at getting the end-benefit which is the ostensible purpose of doing the job to begin with.
Now this could just be a cute little gimmick.  It's not unusual, in shows with a mooncalf character, for said mooncalf to be preternaturally gifted or lucky at everything that he/she does.  But I think that it's actually part of a broader pattern that this silly episode uses to drive home a very serious message.  To wit, "You've got to quit all that 'giving a damn' nonsense, because it's just going to get you killed."  Ed's success doesn't really come from luck.  It comes from her ability to live in and for the now, rather than getting hung up on some idyllic and fully consummated future state.
Two examples from the episode itself make this point clear.  When Ed ambushes Domino in his hideout, she pulls out a gas gun and shouts "Stink Bomb Attack!"  From the picture, you can see that she hasn't quite thought this through.  You could say that this shows an absence of planning.  I say it shows a difference in priorities.  Yes, tossing a stink bomb at Domino is not going to be as effective as, say, tasing him, if your goal is to capture him.  But Ed's goal is simply "stink bombs are hilarious!"  And in that case tasing him is going to be decidedly suboptimal.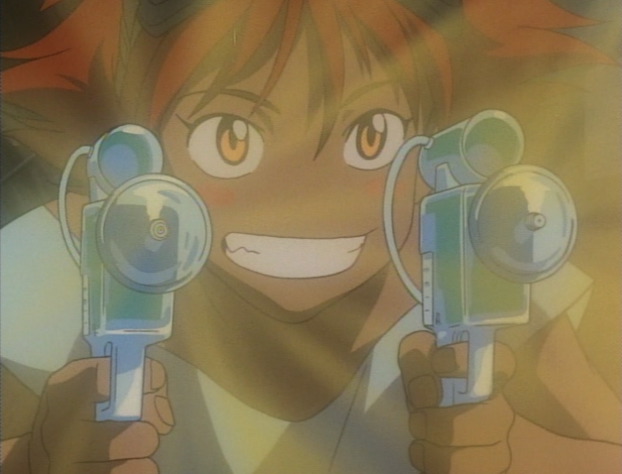 Contrast this with Shaft's motivation.  Shaft's brother died from eating a tainted mushroom that Domino sold him.  Since that day, Shaft has been walking the earth dragging a coffin behind him, waiting for the day that he could track Domino down, kill him, and stuff his body in the coffin.  That's a pretty epic plan, in its grim and terrible way.  But here's the thing about those epic plans:  the universe doesn't care about your dead brother.  Or your plan. Or your fancy coffin.
Now, the image of someone dragging a coffin around with them is pretty obviously drawn from Moby-Dick (which is also the name of the cafe where Shaft goes to drown his sorrows in ice cream after his coffin gets smashed), and this makes a lot of sense too.  Because the message of Moby-Dick is basically the same as the message of Mushroom Samba:  all that "giving a damn" nonsense is only going to get you killed.  What, after all, is Captain Ahab, but the giver of the greatest possible damn?   What is Radical Edward, but a jovial Stubb trapped in a world full of madly tilting Ahabs?  And this is also the message (or one possible reading of the message) of all those earlier episodes where people have to dig up and relive the traumatic events of their pasts.  There's a line near the end of "Black Dog Serenade" where Fad complains that Jet couldn't let go, couldn't just leave well enough alone.  Jet's response – the whole episode's response, really – is that of course he couldn't, because that's not what a Man does.  He keeps digging until he finds the truth, even if it kills him.  This is a very standard noir trope, maybe the noirest trope there is.  But although the noir hero's behavior is generally held up as brave, it's actually thoroughly conventional.  Mushroom Samba, on the other hand, dares to suggest that one might want to think about actually… letting… go!
(Incidentally, this is not unheard of within noir itself.  The book version [spoilers ahead] of The Maltese Falcon pretty much comes to the decision that taking the noir hero route makes Sam Spade a giant asshole, and the hero of The Glass Key (also by Dashiell Hammett), gets to live happily ever after because he's willing to walk away from a fight.  But it's not very common.  When the Coen brothers remade The Glass Key as Miller's Crossing, they decided to change the ending to a typical noirish downer.)
So, what else.  That's pretty much it as far as the main plot goes.  But isn't it interesting that this episode, where there is literally nothing at stake at all, is so much richer for analysis than the "weighty" Black Dog Serenade?
We should also take a minute to analyze the three main characters' acid freakouts.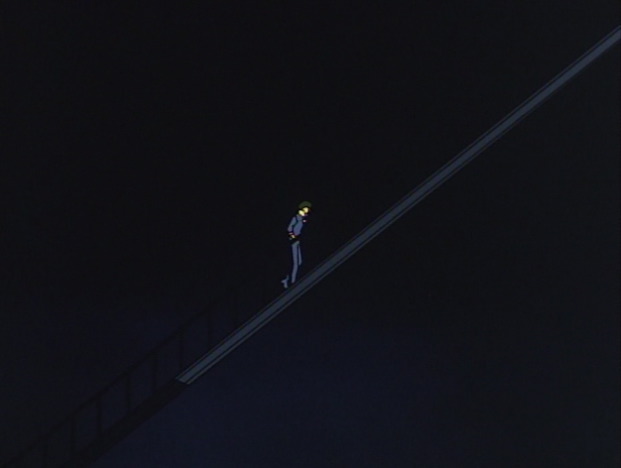 Spike finds himself climbing an infinite staircase, which we're told is "The Staircase to Heaven."  I take this to mean that he has a death wish.  Pretty obvious, really.  Although it is funny that he wakes up in the morning on top of the BeBop, looking around like "How did I get up here?!"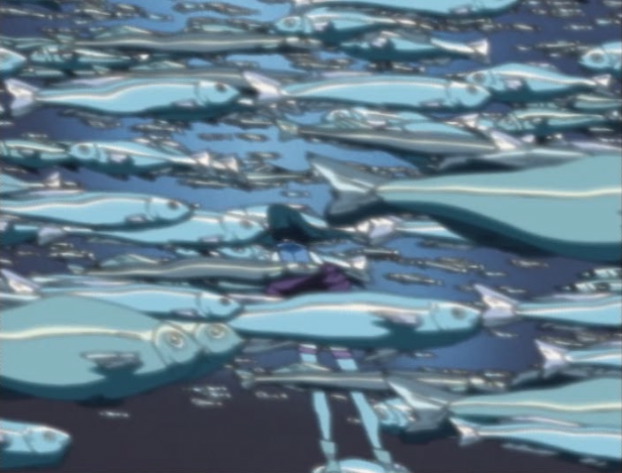 Faye goes into the bathroom and imagines herself in the kingdom of the fishes.  This isn't meaningful as such — but there's a pattern of images at work here, where Faye and things from Faye's life are shown to travel into and out of some kind of watery abyss.  In "My Funny Valentine" we had an editing juxtaposition of Faye being pulled from cryo storage and Jet pulling a package of frozen fish out of the BeBop's freezer.  The insurance company that froze her in the first place is called "Tortus," i.e. turtle.  We'll get into this more in the discussion of the next episode, which is all about Faye. Her morning after shot is also kind of funny, although for some people the idea of putting toilet paper in your mouth is too gross to even laugh at.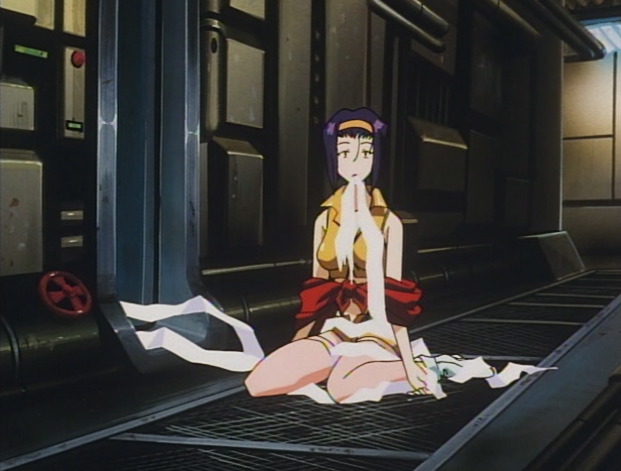 As for Jet… Jet is an interesting case, because we never get to see what he sees.  He seems to have a really good time, yukking it up with his pet bonsai trees, but we only see his delusion from the outside.  I think this might mean that the writers are pretty much done giving him any character development.  He's made his peace with the woman what done him wrong, he's gotten revenge for his busted arm, he's beginning to establish emotional ties with the people around him… maybe there's nowhere else to take him.  But as for his morning after shot…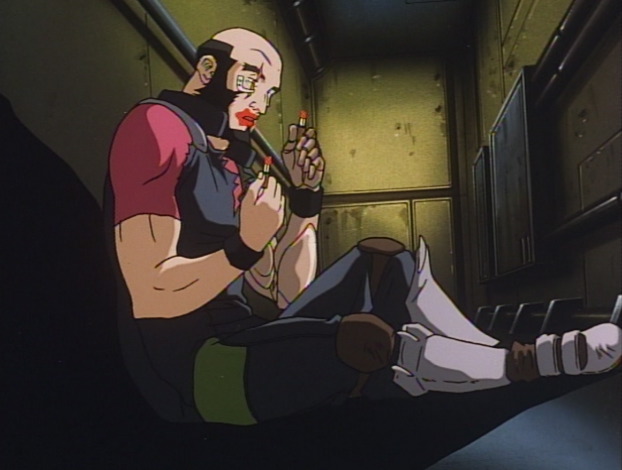 Okay, yikes.
While it's probably a given that any "crazy blaxploitation" episode is going to have its share of uncomfortable racial moments, this one stapled my eyebrows to my hairline, as did all the business with the watermelons.  Granted, Jet wasn't actually putting on blackface.  Granted, the only character who really shows any interest in the watermelons is Edward.  Still, it's VERY uncomfortable, and needs a little explanation.
Cowboy Bebop tends to rework earlier pop culture in a way that is, for want of a better word, cubist.  You see lots of individual facets — symbols, images, themes — of Kung Fu movies (in "Stray Dog Strut"), or the Alien franchise (in "Toys in the Attic"), or Film Noir (passim) or whatever it might be, but the individual facets aren't connected to eachother in the way that you would normally expect.  The other thing to note is that these exploded pop culture artifacts are never really the main point of the episode:  they're just a backdrop for some completely unrelated story.  "Mushroom Samba" is no exception.  The backdrop is a cubist reworking of "Hollywood's depiction of African Americans, from the 1920s to the present."  The main point of the story, which I covered at length above, has nothing to do with this.  And to an American audience, this is really hard to take, because to an American audience a lot of these individual symbols are straight-up Unclean Things that can only be handled while wearing the narrative equivalent of a hazmat suit.  An episode of Cowboy Bebop that was about race relations would be one thing.  An episode where Shaft, and watermelons, and giant painted-on lipstick grins are just sort of casually floating around the background for no good reason? Is quite another.  Before we get too offended, we should remember that Cowboy Bebop was produced by and for Japanese culture.  The racial traumas that shaped our society did not shape theirs, and this means that the standards for what constitutes "racism" in art have to be a little different.  But if it's a Japanese show, I'm still an American audience, and I don't think it's responsible (or really even possible) for me to slip on some special Japan-o-Specs and try to watch this episode from a place where these symbols are not disturbing.  Like the gender/sexuality stuff in "Jupiter Jazz," or the disability stuff in "Waltz for Venus," or the little whiffs of misogyny that keep on popping up all over the place, it's something that you have to confront and deal with if you're planning to really enjoy the show.