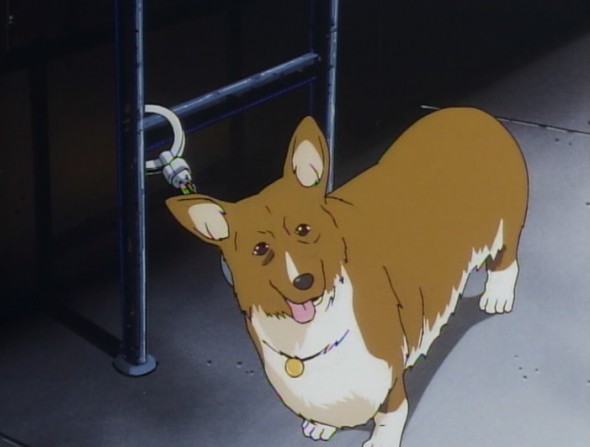 Howdy, y'all!  It's good to be back, it really is.  Hope you missed me.  Since it's been almost a month since the introductory installment, you might want to give it a quick once over, especially if you don't really know the show. And a quick reminder:  while you can say anything you want about episodes 1-5 in the comments now, don't go spoiling the later ones.  At least not much.  Like I said last time, I'm not totally sure that Cowboy Bebop is a show that the concept of "spoilers" really applies to.
In typical "Overthinking X" fashion, I'm going to begin with a quick plot summary a long plot summary of the particular episodes in question.  And actually, for the first one, I'm going to go into some pretty extensive detail.  A problem that I can see myself having to deal with a lot, writing about this show, is that a lot of the important stuff is in the details, and it's hard to talk about the details in isolation.  We could be looking at some mammoth posts here, people.  I'll try to keep a lid on it in the future.  For today, just settle in.  You might want to get a snack.

1:  Asteroid Blues
Before the credits, we get our first tease of the Mysterious Tragic Past of Spike Spiegel.  This is atmospheric as hell:  a silent montage of breaking glass, dripping blood, rose petals, birds, dudes standing back to back with guns, all jumbled up in a montage set to a haunting and melancholic celesta melody.  The overall effect is like John Woo sneezing into a music-box.  While it's pretty hard to tell what's going on, it is fairly clear that the battle ends with our boy Spike getting shot to death.  Before the credits.  Of the first episode.  But apparently he got better, because after the title sequence, and a leisurely montage of spaceships coming out of hyperspace near a terraformed asteroid, the camera makes its way inside the good ship BeBop (sic), where we find Jet Black sauteeing some mushrooms and peppers, and Spike practicing kung-fu in the dark.
Jet calls Spike to dinner, offering him "special beef with bell peppers."  Spike screams bloody murder over the fact that there isn't actually any beef in it.  Jet explains that they can't afford beef, because they spent all the money they made last time fixing the damage to their equipment.  In most shows, this would be throwaway dialogue, but here I think it's kind of important.  Not having enough food, or not having good enough food, or not being happy enough with the food that you have – because Jet's vegetable stir fry actually looks pretty appetizing, for a drawing – is a leitmotif that Cowboy Bebop will continue to lean on for the duration of its run. Also, the fact that the crew of the Bebop is caught in a sharecropper-like cycle of debt has a symbolic value that will become clear later on.  (Interestingly, the soundtrack here is sharecropping music, all slide guitar and mournful harmonica.  This might be accidental, though… it's not the most obvious connection to make, especially for the a non-American audience.)
Meanwhile, in the plot proper, we are introduced to renegade drug dealer Asimov Solensan and his pregnant girlfriend Katerina.  Solensan has stolen a massive cache of drugs off his mafia associates and is trying to unload the merchandise so that they can start a new life on Mars.  So let's see, he's a drug dealer trying to make one last big score before leaving the game for good, and she's hoping to leave an impoverished dust bowl for the deep space equivalent of a farm where they can raise rabbits and live offa the fatta the lan', AND she's pregnant… yeah. This will end well.
A classic story.  But here's the little wrinkle:  the drug dealer isn't just peddling cocaine, or even Space Cocaine™.  He's got a load of eyedrops that give you crazy superhuman reflexes and strength.  His mafia bosses keep sending squads of hitmen after him, but he just dips into his stash, hulks up, and mops the floor with them.  When Spike first bumps into Solensan, he declines to take him in because there's no challenge in it.  But once he learns that his target is an unstoppable roid-fueled juggernaut, well, that sounds like a job for Spike Spiegel!  (This would feel more heroic if he hadn't spent the entire first act bitching his partner out for not having enough money to buy steak.  Dude. If you're going to turn your nose up at the easy money, don't complain about being poor!)
Spike tracks Solensan down again, and they have what turns out to be a pretty awesome fight, if you like over the top slow motion bullet-time kung fu (and really who doesn't?)  It's not clear to me whether Spike prevents Roidy Mcgee from taking his magic eyedrops, or whether Spike is just so badass that it doesn't matter, but either way, Spike is winning when the Mafia shows up with machine guns and scares everyone off.  Solensan's pregnant gal pal Katerina lays down suppressing fire, catches a round, and turns out not to be pregnant after all.   And then the awesome kung-fu battle segues into awesome flying car chase.  Eventually, Katerina realizes that they're not getting away – Spike is overtaking them, and there's a huge police roadblock at the hyperspace gate, which I guess is the equivalent of the Mexican border…IN SPACE!! – so she makes meaningful eye contact Spike, and then shoots her boyfriend in the head, seconds before their spaceship explodes in a hail of gunfire.
The epilogue finds Spike and Jet back on the Bebop, practicing kung-fu and cooking bell peppers.  Cut.  Print.
Something very interesting happen here, that set a pattern for the rest of the episodes.
1) The things that feel the most badass, usually don't make a lick of sense.  Why did Katerina shoot Solensan?  It's framed as a mercy killing, but I don't see how his death is any less painful (or honestly, any different) from her own death, like, two seconds later.  Why doesn't Spike take Solensan in when he first finds him, strung out and vomiting in a gas station bathroom?  I'm not really complaining about this — I have nothing against things that feel badass — I'm just pointing it out.
2) Everything works out for the worst for everybody.  Spike and Jet don't get their bounty.  Solensan and Katerina don't get to go to Mars.  The gangsters don't get their drugs back.  I guess the police were able to successfully blow up an escaping fugitive?  Wooooo-hoooooo.  There's a lot on the surface of Cowboy Bebop that screams Fun! Cool!, but right under the surface there's a sense of futility that borders on nihilism.  When people say that the show is influenced by film noir, I think this is what they're really talking about.  If anything, it's closer in tone to the deconstructed neo-noir of the 1970s — you know, Chinatown and the like.  And the soundtrack during the car chase sequence, with a meditative saxophone noodling over a bed of moody synths, is very evocative of the Chinatown soundtrack, which I don't think is a mistake.
3) Speaking of the music, something really interesting happens at the beginning of the fight scene.  The deconstructed delta blues that's dominated the soundtrack so far turns into a high energy big band tune, more or less in the style of the opening credits song, and as a result, the fight scene is disconnected from the rest of the episode.  And this is how the action scenes (fight, chase, what have you) in Cowboy Bebop usually work.  In fact, this is arguably the way that any action sequence has ever worked, in anything.  They're sort of like the songs in Glee, or the slapstick in a Chaplin movie, in that they are completely disconnected from the story but at the same time they're pretty much the reason to watch the story in the first place.  As with much else, Cowboy Bebop takes this narrative trope and makes it obvious and self-conscious.  Every episode I've watched so far has had at least one extended action sequence, and regardless of whether they have any bearing on the plot, they're always carefully bracketed on the soundtrack.
Whew!  Okay, now a much shorter recap of the other episodes.