1. "Tears in Heaven" by Eric Clapton, from Rush (1991)
Yes, everyone knows Clapton wrote this about the tragic death of his son Conor. But it was first released as part of the movie Rush. Jason Patric and Jennifer Jason Leigh (double the Jason!) play undercover cops trying to bring down drug kingpin Will Gaines, who is played by Gregg Allman of The Allman Brothers for some reason. Clapton was hired to compose the movie's score – mostly instrumental stuff. Months before, he'd written "Tears in Heaven," as a form of therapy. From his autobiography: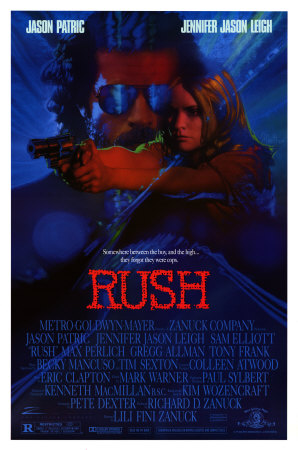 Originally, these songs were never meant for publication or public consumption; they were just what I did to stop from going mad.

Clapton, p. 250
Incidentally, yes, I did actually go to a library and look at an actual book to write this.
I remember at some point playing "Tears in Heaven" to [producer Lili Zanuck] and her insistence that we put it in the movie. I was very reluctant. After all, I was still unsure about whether or not it should ever be made public, but her argument was that it might in some way help somebody, and that got my vote.

Clapton, p. 252
So here's how the song gets used. Jason and Jennifer Jason put together their case against Gaines. But before it can go to trial, Jason is shot. Jennifer Jason quits the force, and as we dissolve to her running along the beach, we hear the saddest guitar riff in rock:
http://www.youtube.com/watch?v=4dJpvK0n-uo
"Tears In Heaven" won three Grammys, and Clapton's Unplugged album which featured it sold seven million copies (and counting). Rush, on the other hand, grossed only seven million dollars.
Bonus: "Us and Them" by Pink Floyd, written for Zabriskie Point (1969)
"Us and Them" is one of the tracks from Dark Side of the Moon. It was originally written for this Michelangelo Antonioni film about an idealistic young couple that has lots of sex. However, the director rejected it as being "too sad." Pianist Richard Wright hung onto it, and a few years later it found a place on one of the trippiest albums of all time.
Since it wasn't actually IN Zabriskie Point, it doesn't technically belong on the list. But still – honorable mention.