3. "New York, New York" by Kander and Ebb (later popularized by Frank Sinatra), from New York, New York (1977)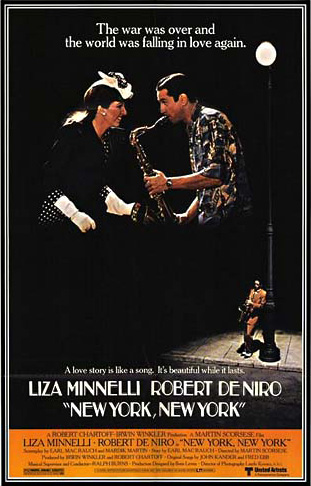 It's hard to believe that "New York, New York" didn't exist until 1977… the same year as "Staying Alive." Technically, this song isn't even called "New York, New York." It's "Theme from New York, New York," and it was written for Martin Scorsese's follow-up to Taxi Driver. The movie was supposed to be a throwback to the golden age of Hollywood musicals, but Marty seems to have left the spirit of breezy fun on the cutting room floor. Basically, saxophonist Robert De Niro emotionally abuses singer Liza Minnelli for 160 long minutes. Busby Berkeley this ain't.
Kander and Ebb (the team behind Chicago and Caberet) wrote the music. Early in production, they played the songs to Scorsese, De Niro, and Minnelli. The numbers all went over well… except the title song, which De Niro didn't think was strong enough. Kander and Ebb were understandably annoyed, since they were freakin' Kander and Ebb, and Robert De Niro has never been known for his musical ability.
But the songwriters grudgingly went back to the drawing board and wrote a new "New York, New York"… and karaoke singers around the world are damn glad they did.
The song is worked into the plot of the movie, with De Niro's character writing the music and Minnelli's character writing the lyrics, bit by bit over the years:
http://www.youtube.com/watch?v=XDLmcGEvXY0
We hear snippets of the song throughout the film, but Minnelli doesn't actually sing it until the final reel:
http://www.youtube.com/watch?v=rqFPdN4pX0I
The movie tanked in theaters, and the song didn't even get nominated for an Academy Award. (You know what won the Oscar that year? "You Light Up My Life.") But three years later, 65-year-old Frank Sinatra decided to record it for his triple album Trilogy. It became his last big hit, and now pretty much everybody in the world knows it and loves it. Sinatra's recording is played at Yankee Stadium when the team wins. When they lose, they play Liza Minnelli's original.