7. "You Light Up My Life" by Joseph Brooks (popularized by Debby Boone), from You Light Up My Life (1977)
In the 1970's, Joseph Brooks was a top composer of advertising jingles (like this one). But what he really wanted to do was make movies. You Light Up My Life, a dramedy about a young woman who dreams of being a songwriter, was his first effort. Brooks' writing and directing left something to be desired (4.2 out of 10 on IMDB). But he put his jingle-writing skills to good use on the movie's title track, earning a Grammy and an Academy Award.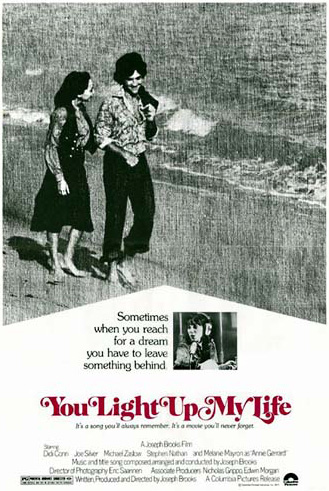 The lead role, Laurie, is played by Didi Conn (a year away from immortalizing Frenchie in Grease). Early in the movie, she has a one night stand with a film director named Cris Nolan. (Very much not to be confused with this guy.) During the tasteful makeout scene, we first hear "You Light Up My Life" swelling on the soundtrack. But over breakfast Laurie reveals that she's getting married in a few days, and takes off without giving her number.
Laurie goes to audition for a movie. The producers tell her they're uphappy with their lead's singing voice, and they're looking for someone to dub her. (Mildly ironic, since Didi Conn herself was dubbed by a singer Brooks knew from his jingle days, Kacey "Have you driven a Foooord… lately?" Cisyk.) Laurie's ready to go, until she meets the film's director – none other than Cris Nolan (once again, not the Memento guy). Laurie seems understandably freaked out, but Nolan's so happy to see her he insists she audition not on guitar, but backed by a full orchestra. Luckily, she apparently carries around 50-part arrangements of her songs, just in case:
http://www.youtube.com/watch?v=qj66UIEnOh4
By the way, the bearded conductor in that scene was none other than writer/director/composer/all-around-polymath Joe Brooks.
For a while it seems like Laurie is destined for a starring role in Nolan's movie, and in his pants. She even dumps her fiancee. And that's when Joe Brooks hits us with a twist worthy of Chris Nolan (the Memento guy, this time). Nolan (the other one) decides to cast a blond in the movie instead of Laurie, and blows her off with the comically brutal: "Friends? Bye bye." And it dawns on us that despite the poster with the couple walking on the beach, You Light Up My Life isn't a love story. A piano version of "You Light Up My Life" fades in during the movie's climax, as Laurie tearfully muses:
I learned that I've got to depend on myself. I can't depend on anybody else. And that's okay. You know why? Because I'm a really good person to depend on.
In other words, "I light up my own damn life."
Anyway, when it came time to release a single from the film, Joe Brooks did his own backstabbing. He thought that he needed a bigger (and easier to spell) name than poor Kacey Cisyk. So he got up-and-coming star Debby Boone to rerecord the song. That version spent 10 weeks at number one, making it the biggest hit of the entire decade.