2. "I Just Called to Say I Love You" by Stevie Wonder, from The Woman in Red (1984)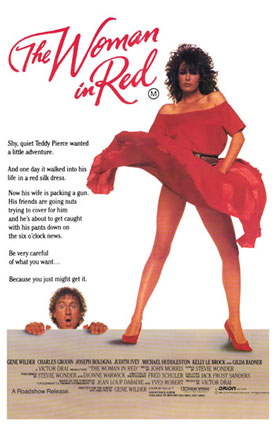 This is another one where the song is used in a completely unexpected way. It's not as unexpected as "That's What Friends Are For" popping up during a sex scene, but it's still unexpected.
The Woman In Red is about a San Francisco ad exec (Gene Wilder) trying to cheat on his wife with Kelly LeBrock (aka the girl from Weird Science). Surprisingly (or not surprisingly, if you consider that Wilder also wrote and directed), LeBrock is totally attracted to him. The problem is logistics – the entire movie consists of Wilder trying to set up dates, and having them always fall through. If that doesn't sound too funny, gold star for you.
About halfway through the film, LeBrock invites Wilder to spend the night in Los Angeles. Wilder tells his wife that he has to go to a conference in San Diego, and gets on a plane for L.A. But because of fog, the plane is forced to land in… San Diego.
Of course, San Diego is a mere 90 minutes from L.A., and if traversing that distance meant I got to have sex with Kelly LeBrock, I'd steal a car if necessary. But all Wilder does is trudge across the terminal to call his wife, and that's when we hear "I Just Called to Say I Love You." Yup – one of the most painfully sincere songs ever written was actually first used sarcastically. And in case you didn't get the irony, during the phone conversation we find out Wilder's wife is apparently cheating on him… with their teenage daughter's boyfriend.
http://www.youtube.com/watch?v=_xO7r066yrI
So when I saw how the song was used, I got excited. As Jack Black said in High Fidelity, it is indeed "sentimental tacky crap." But maybe it was supposed to be. Maybe Wilder said, "Stevie, there's a scene where I call my wife to cover my cheating ass. Can you write me a cheesy love song I can use as a joke?" But since way more people heard the song than saw the movie, "I Just Called to Say I Love You" was taken at face value. If anyone runs into Gene Wilder, can you ask him about this for me? Also ask him how they made the river of chocolate in Willy Wonka.