5. "Knockin' on Heaven's Door" by Bob Dylan, from Pat Garrett and Billy the Kid (1973)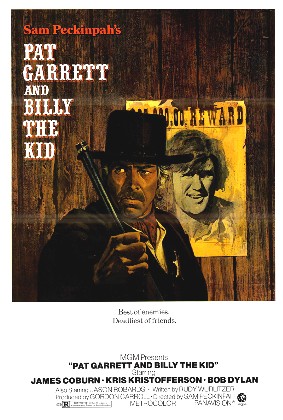 Sam Peckinpah was almost constantly drunk when he made this Western. In fact, when screenwriter Rudy Wurlitzer brought Bob Dylan to Peckinpah's house to meet him, they found the director naked, holding a bottle in one hand and waving a gun with the other. But obviously the meeting improved from there, because Dylan was hired to write the movie's entire score, and he even got to make his film acting debut. (He's a very Dylanesque mysterious cowboy who calls himself "Alias.")
What's really cool about "Knockin' on Heaven's Door" is, when you see it in context, the lyrics were clearly written for the specific scene. Basically, Pat Garrett (James Coburn), an outlaw turned sheriff, is going after some of his former friends with the help of another sheriff (the always-welcome Slim Pickens). As Slim prepares to saddle up, he asks his wife, "Mama, where'd you put my badge?" In the gunfight, Slim is shot. And as he wanders off towards the sunset to die, followed by his weeping wife, Dylan's song fades in:
Mama, take this badge off of me
I can't use it anymore.
It's gettin' dark, too dark for me to see
I feel like I'm knockin' on heaven's door.
The echo of the earlier "mama" line can't be a coincidence. So basically, "Knockin' on Heaven's Door" is sung from the perspective of Slim Pickens, which is pretty mind-blowing.
http://www.youtube.com/watch?v=2fMJfv5Ns7g
The film's pretty good, by the way. At one point, Dylan lassos a turkey.