4. "That's What Friends are For" by Burt Bacharach and Carole Bayer Sager (later popularized by Dionne Warwick and Friends), from Night Shift (1982)
Night Shift was an early film by Ron Howard, not to be confused with Graveyard Shift, which is about giant rats.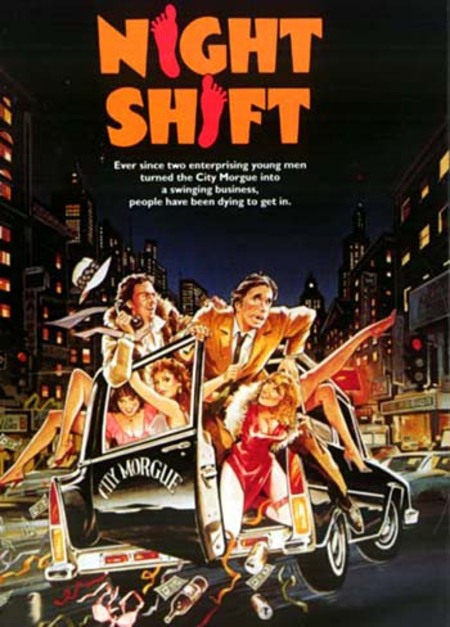 Howard's Happy Days co-star Henry Winkler plays a shy morgue attendant, Chuck. His fiancee bullies him, delis always make his sandwiches wrong, and a scary dog chases him everytime he steps outside his apartment. To make matters worse, he's forced to take the night shift and paired with a Wacky (note capital letter) partner, Billy "Blaze" Blazejowski (Michael Keaton, in his very first film role). But Chuck's luck changes when he befriends his next door neighbor, hooker-with-a-heart-of-gold Shelley Long. She's in desperate need of a pimp, and Chuck is so sick of his terrible life he decides to team up with Blaze to turn the morgue into a brothel. (To me, this all seems suspiciously similar to Risky Business, which came out the very next year.)
Chuck and Blaze start off as a total Odd Couple knockoff, gradually come to like each other, and end up best buds. So you'd expect "That's What Friends Are For" to pop up during one of these bonding scenes, right? Nope. Astoundingly, the song is used entirely for Winkler and Long's scenes together, and it becomes increasingly weird as their relationship becomes less and less like "friendship," and more like "making love in an empty bathtub":
I see two possibilities:
The songwriters didn't understand how the song was going to fit into the movie.
Ron Howard has sex with all his friends.
As the end credits begin, we finally hear "That's What Friends Are For" with lyrics, performed by Rod Stewart. (If you do watch this boring video to hear the song, you get to see one of the earliest screen credits for both Kevin Costner and Shannen Doherty, at about 2:55.)
http://www.youtube.com/watch?v=KM_1wMgyMig
"That's What Friends Are For" originally peaked at 23 in the UK, and didn't even chart in the US. But in late 1985 Dionne Warwick decided to cover it to raise money for AIDS research. The charity version became the number one single of 1986, and Bacharach and Sager won the Grammy for Song of the Year, even though the song had actually been written four years previous.
Am I the only one who digs the irony that a song originally written for a movie about prostitution became famous as a song about AIDS?