I was probably a little more optimistic than I should have been about We're the Millers. I dunno, the concept is funny, right? A drug dealer hires a bunch of rejects to pose as a wholesome family on a road trip, to avoid getting searched at the border? But really, I should have known. About half of the trailer was devoted to a Jennifer Aniston striptease, and although she's a fine comic actress, the last movie to market itself primarily on her anatomy, The Break-Up, has a score of 34% on Rotten Tomatoes. (We're the Millers clocks in at a relatively healthy 42%.)
But anyway, I'm not really here to talk about We're the Millers, which I haven't even seen yet. Rather, I'm here to talk about its poster…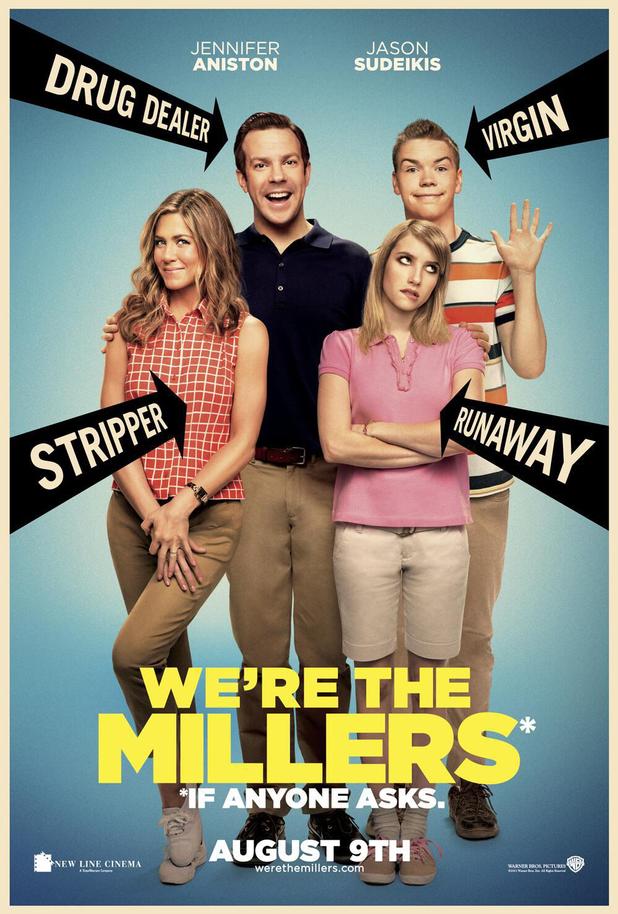 …which confuses the hell out of me.
Okay, so Jason Sudeikis, the "dad," is actually a drug dealer. Jennifer Aniston, the "mom," is actually a stripper. Emma Roberts, his "daughter," is a runaway gutter punk. And Will Poulter, his "son," is actually… a virgin? Wait, what?
The whole concept here is that each of them is pretending to be something they're not. And for Sudeikis, Aniston, and Roberts, this makes sense, because our concepts of "dad," "mom," and "daughter" are incompatible with our concepts of "drug dealer," "stripper," and "runaway." This is already kind of hilarious, because drug dealers and strippers are certainly capable of having children, and every female runaway is somebody's daughter. But logical or not, that's what these concepts mean in our culture. So the joke works. But the concepts of "son" and "virgin" are not opposed in the same way. Kids that age are supposed to be virgins! Aren't they?
And note that the "virgin" thing isn't just a weird wording choice on this one poster. There's a whole integrated marketing campaign based around the idea that he must be only posing as a son, because, as we all know, every real son has hella sex. That makes no sense at all, prolific L.A. design firm Cold Open! What the hell, prolific L.A. design firm Cold Open?
I can think of two obvious explanations for this.
The people at Cold Open had the most messed up childhoods imaginable.
Poulter's character in this film is so thinly sketched, so weakly and poorly conceived, that "virgin" is his only distinguishable character trait.
Probably the second one, right? And yet there's a third, slightly less obvious possibility, which is that "virgin," in this context, doesn't mean quite what we think it means.
Okay, so as mentioned above, the trailer contains a sequence where Jennifer Aniston shows off what a lot of people have been calling her "stripper body" (where by "a lot of people," I mean style columnists churning out all of those faintly gross "how Jennifer Aniston got her stripper body" articles, which I guess are aimed at women who already look like Jennifer Aniston normally does, and want to kick it up yet another notch?) Anyway. The punchline of that scene, such as it is, shows Poulter staring slack jawed at her routine and rubbing his crotch. Sudeikis rebukes him with a swat to the head. "Have some respect, that's your mother!" Call this data point number one.
Data point number two is that there's apparently a scene where Poulter has to make out with both Aniston and his "sister" Emma Roberts. I'm sure that within the world of the film, this has some justification… maybe they're trying to convince some third party that they aren't really related. Maybe they just smoke the whole Winnebago-full of weed, and get carried away. But whatever the pretext, the real reason to put a scene like this in is to present us with the sin-free version of a very sinful spectacle. It's the, like, Olestra, "I Can't Believe it's Not Incest!™" version of Jaime and Cersei Lannister.
So it's not quite correct to say that Poulter's character has no defining trait other than virginity. He's kind of a giant horndog, right? Or perhaps it's better to say that the hollywood version of male virginity is defined not by the mere fact of not having had sex, but by an all-consuming and thoroughly indiscriminate drive to have sex. Like Jason Biggs and Dan Monahan before him, Poulter, in his role as the designated virgin, casts his genetic material about with all the verve and single-mindedness, and all the discretion, of a Bonobo on amyl nitrate. That's what we are to read into the "virgin" moniker — otherwise it makes no sense at all. And clearly, that's what "son" is meant to rule out, because the strictures of the nuclear family are supposed to protect his mother and sister from that seething tornado of lust. But what the film is actually telling us is that, just like some mothers are strippers, and some fathers actually do deal drugs, some sons are… well, virgins, in that very particular, voracious, indiscriminate, Hollywood kind of way.