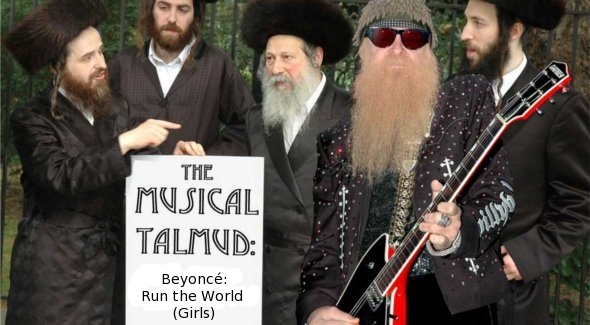 Prominent liberal blogger and frequent OTI podcast guest Amanda Marcotte had an interesting piece up the other day at Pandagon about Beyoncé's new single "Run The World (Girls)."  As she explains, the song, rather than actually celebrating female strength, suggests that women run things behind the scenes "by being very persuasive with [their] vaginas."  It's an appallingly sexist and demonstrably false idea, of course, but a very ancient and persistent one, and one which, as Marcotte suggests, has been used to argue against granting women actual power.  Take a look, it's well worth reading. And then take a look/listen at the song.
One could perhaps defend the song through a close reading of the lyrics, since Beyoncé does specifically give shout outs to "college grads," women who are "on [their] grind" (i.e. working hard),  and women who are "smart enough to make these millions, strong enough to bear the children, and then get back to business."  But this defense doesn't hold water, because the lyrics also say that "My persuasion/ can build a nation/ Endless power/ The love, we can devour/ you'll do anything for me."  The word "devour" in particular raises a red flag, as this is exactly the kind of language that flat-out misogynists tend to use in their version of the "girls run the world" argument.  I would not say that Beyoncé is heading down that road, exactly… but I would say that she's ended up in pretty much the same territory as James Brown's "It's a man's, man's, man's man's world," which is not exactly a powerful feminist text.
Then again.  James Brown never gave a shout out to all the college grads.  Since both sets of lyrics do exist, would it be possible to read the song as supporting both of these models, as embracing actual female strength in addition to the merely "feminine" "strength" that translates into a capitalization on masculine weakness?
Not really.  And this, actually, is why I'm interested in this song, or at least why I'm interested enough to write about it.  Why choose this set of lyrics, rather than the line about college, as the "real" meaning of the song?  As my contributions to this series have already demonstrated, I think, I've never been very comfortable with the idea that the meaning of pop music lies in its lyrics.  Here we have a case where the lyrics are ambiguous, and perhaps flatly contradictory. Which means that the meaning, such as it is, lies elsewhere.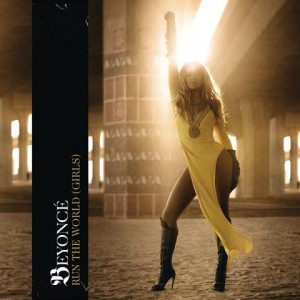 I see four elements at work here.  First is poetic form.  The stuff about actual strength comes up in the verses, one line at a time, and you could be forgiven for missing it entirely.  (There's a lot of other stuff going on in the verses too, so the listener's attention is going to be scattered.)  But the prechorus — that's the "my persuasion" part — is dedicated to that one idea, and you get to hear it all twice over the course of the song.  That naturally gives it more weight.  The chorus, of course, has the most weight of all:  the main idea you get from the song is that of women running the world and/or this mother.  But the whole point of this discussion is to figure out exactly what is meant by that phrase — to accept it as evidence of the song's real message would be begging the question most severely.
The second element inflecting the song's meaning has to do with the culture into which the song has been released.  When we listen to a song, we don't just hear the song.  We also hear all the other songs around it:  songs it sounds like, songs it reminds us of, other songs by the same artists, other songs that are notably different from this song, etc. etc.  We also hear, or at least understand, the specific role that this kind of music, and this particular artist, plays in our society.  It would not quite be true to say that without this context, the song would be meaningless… if the earth gets 2012ed, and for some reason all that survives is this video, alien archaeologists who found it two million years later would still get something out of it.  But the aspects of the song that do depend on context are at least as powerful — if not as durable! — as the "intrinsic" properties of the song itself.  And one of these has to do with the understanding of gender roles that the song's putative audience is going to bring to the table.  Thus:  if we all really believed that girls ran the world, no one would make a shout-along anthem about how girls run the world. It's intended as a counterfactual.  It has to be.  There are a few different flavors this could take, though:
1) The informational:  Although y'all don't realize it, women actually are running the world.  (The video here would need to show people like, I dunno, Golda Meir, Benazir Bhutto, Hillary Clinton, a crowd of Egyptian women facing down police in Tahrir square, and so on.  Do note that it doesn't.)
2) The aspirational:  women can and should run the world, even though we know they don't, so get out there and man defend the barricades!  Fight the power!  Assorted slogans!  (I mock only out of habit, here.  This is an important sentiment, and has inspired some fantastic music over the years.)
3) The gnostic:  Like number one, this is about informing the audience of a truth they are not aware of.  But rather than pointing out that "hey, despite what received wisdom might suggest, women play a very important role in the governance of society," it's making the claim that "run the world" has a SECRET meaning which is not the same as the meaning you are probably thinking of.  Just like the meek don't get to actually inherit the earth.  In this case, running the world involves snaring the actual world leaders (all male, of course) in a web of dark and baleful vaginomancy.
Like I said, it wouldn't be impossible to hear this song as informational or aspirational.  But it would be difficult.  It's not confrontational enough for the second, and it doesn't get into the nitty-gritty enough for the first.  Being a college graduate doesn't make you a world-runner. Buying expensive clothes on credit doesn't either. (And yes, that is one of the groups of women she salutes:  "all my girls up in the club rocking the latest/ who buy it for themselves and get more money later.") Even making "these millions" doesn't really qualify:  millions are nice to have, I'm sure, but they don't put you in Soros or Koch territory. Plus it kind of sabotages Beyoncé's bid for solidarity with women who aren't multi-platinum recording artists. Girls run the world because they are all millionaires?  Please.
As a result, there's a pretty strong tendency to hear the song's message of "female empowerment" gnostically:  girls run the world, yes, but not in a way that has anything to do with, like, running the world.  Even without the rest of the lyrics, the chant "Who run the world? Girls!" has, to my ear, an implied tag of "…but not really."  I assume right off the bat that the song must be making a more complicated point, because the alternative is that it's desperately naive.  To a certain degree I am twisting the meaning of the song by hearing it this way. But my point is that this kind of twisting is something that we all do all the time anyway.  It's entirely possible that in ten years (or even two months) the song will be taken up as a feminist rallying cry by people who ignore the very parts of the song that I'm focusing on… at which point the meaning of the song will change. And that would be fine.  Even great.   But I'm pretty sure we're not there yet.  Look, I know that there are many women engaged in the prosaic day-to-day business of running the world (to the extent that the world is, in fact, run).  I'm sure all of my friends know it too.  I'm not sure I've ever met anyone who doesn't know it.  And yet my idea of the common-sense understanding of gender — not my own idea of gender, but the fantastical one that I project into the minds of Real 'Muricans, or whatever — suggests that the song could not have been meant in that way.  And this in turn shapes my experience of the song.  It would be quite a different matter if the song were about a different group:  consider a song called — yikes! — "Run the World (Jews)."  That would go over differently, is all that I'm saying.  And the difference lies not so much in how we perceive these groups, but rather in our sense of how these groups are generally perceived by others.
Does this mean it would be impossible to write a song that is informationally or aspirationally about women running the world?  Not at all — but you'd have to make an effort to prevent its being misunderstood.  And this song doesn't.
Then there's the music.  Boy, this beat is crazy.