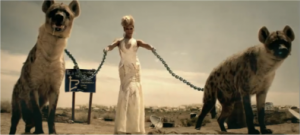 The most interesting and enjoyable thing about "Run the World" is how off-kilter it sounds.  It's a very, very uneasy blend of Beyoncé's typical R&B style with a much more raw and off-putting sound sampled from the dancehall inflected avant-house of Major Lazer's "Pon de Floor." (Embedding is disabled, unfortunately, so click here to start it playing, and then come back and read.) You could see the aggressive, avant-garde stuff as representing actual female strength, if you wanted to, and the more R&B tinged elements as representing "femininity."  Notably, the prechorus — that's the "my persuasion/ can build a nation" part, the most lyrically problematic section — cuts out the militaristic drum beat and the squealing monosynths in favor of deluxe R&B production, sweetened backing vocals, and the faintly exotic (and classically "weak" and "decorative") iv-I chord progression, all of which depicts a seducer-destroyer feminine of the Delilah/Salome model about as strongly as it's possible to do in purely musical terms.  Just like the repetition in the poetic form highlights those lyrics, they're the ones that are most strongly marked as "different" in the music, which again tends to give them a privileged status.
But let's take a step back for a minute and consider "Pon de Floor," because even on its own this music is hella problematic.  You watched the video, right?  Do you – uh. Do you notice anything a little, uh, questionable about the song?  Hang on, let me put it in perspective.  Here's a picture of the musicians behind Major Lazer,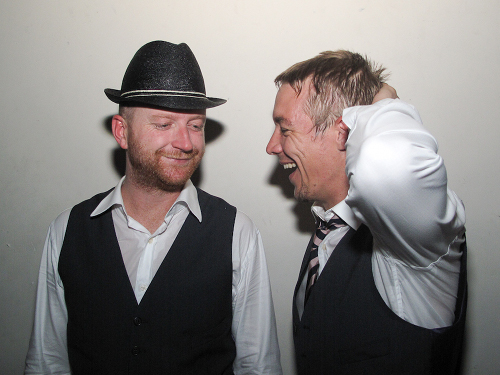 and here's a picture of the director of the video.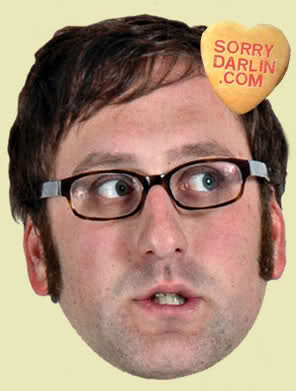 Do you see the problem now?
This isn't really a white/black thing.  I'm sure there are at least a couple of white guys who look pretty much like Diplo and Switch that are totally ensconced in the Jamaican music scene.  But these are not those guys.  Diplo is an American, Switch is British, and both of them have made their careers out of appropriating and remixing music from other (poorer) countries.  This in itself is not a terrible thing:  I believe that these musicians do have a real affection for, and a real understanding of, the music that they're drawing from, and it would be a sad world if we couldn't be inspired by the art of other cultures.  But I am less convinced that most of their fans responded to this song by trying to learn more about actual dancehall music.  By the same token, I don't think that Eric Wareheim is really trying to insult Jamaica here, as the combination of infantile sexuality and self-consciously godawful green-screen effects is pretty much his stock in trade.  But I'm pretty sure that for most of the people who watched this video, the takeaway is that Jamaican music and dancing — and by extension, Jamaican people — are primitive and overly sexualized. And really, really weird.  (And some of this comes through in Beyoncé's use of the sample too — not the primitive sex part, which is more a function of the video, but definitely the weirdness and ethnic otherness.  Check out her pronunciation of "boy," if you have any doubts.)
And this misses a lot of nuance.  Check out the video for Tony Matterhorn's "Dutty Wine."
This is similar in a lot of ways.  Again, you could walk away thinking that it's all about sublimated sex, what with the men judging the dance contest and all.  But it would be very hard for the typical American listener/viewer to walk away from this thinking that it's just weird and sexual, the way that they do from Major Lazer.  You know in this case that there are things going on that you don't quite understand.  And although the dancing is obviously sexual, it also clearly has a lot to do with competition, and even more than that it seems to be about skill, control, and physical mastery.  Now, the dutty wine is a relatively restrained dance compared to "daggering," which is the stuff on display in the "Pon de Floor" video.  But here's the thing:  even daggering is never really all about sex.  Go onto youtube and search for it if you like.  One thing you'll notice is that Wareheim isn't really exaggerating it all that much:  moves like jumping off of a high perch and landing on your partner's pelvis are actually done.  This looks sexual.  But it also looks freaking hard to do, once you realize that it's not a wire stunt or anything. The dichotomy is elegantly captured by wikipedia's description of the dance, which as of this writing defines it as "an artistic form of dance originating from the Caribbean which incorporates wrestling and other forms of frantic movement," but also claims — and I'm just guessing that this might have been written by another editor — that "the penis is used in a dagger like fashion to repeatedly stab at the vagina in violent and plundering manner."  Even in Jamaica, people tend to forget the artistic element:  daggering has been the subject of a moral panic which claims, among other things, that it's all demeaning to women, and that men have been injuring their penises by trying to perform daggering-type moves during actual sexual intercourse.  And it needs to be said that even within Jamaica, this is NOT how people typically dance.  It's a very limited subculture within the broader music scene, associated with the roughest (and, I'm guessing, poorest) elements of society… that is, with people for whom upsetting social norms, even if it's by miming violent sex on the dancefloor, is probably an empowering gesture.  As for the demeaning to women aspect — certainly that's the case for some of it.  Certainly that's the idea you'd get from what's on display in the Major Lazer video.  But check out this performance by dancehall queen Mad Michelle.
The sexual element is still there.  But there are many, many points where skill, strength, and control take center stage.  That jumping business at the beginning?  It's an astonishing display of physicality, but where's the sex appeal there?  And then listen to Lady Saw's "Chat to Mi Back"
This one is a little more ambiguous.  The dancing on display is more straightforwardly sexual, and the lyrics include a line where the singer boasts about how much her man loves/wants her.  But most of the song is about conflict between women, and the dancing is meant to be an extension of the argument.  Basically, Lady Saw claims that when she hears women talking trash, she just spins around and shakes her ass at them, demonstrating demonstrating through her skill (and physical fitness/sexiness, I guess) that her opponents criticism is groundless.  Okay, so I just read that sentence back to myself and I sound like the world's most pedantic white guy, but I don't really know how else to explain it:  that is what's going on.  Dance, then, is politics carried out by other means.  The sex doesn't go away — in any case where you have women dancing for an even partially male audience, objectification is going to be an issue — but it's not the only thing.  And again, the balance can shift over time.  The dignified and sedate art of classical ballet used to be about as respectable as pole dancing.