14) Man.  After all that, it almost seems pointless to talk about Bohemian Rhapsody. "Jupiter Jazz" is a tough act to follow.  But just to fill out my contractual obligations, let's touch on a couple of things.  The crew is searching for a mysterious criminal mastermind who is behind what amounts to an identity theft scheme involving the interstellar transit gates.  (When people pull up to the gate, he uses their EZ-Pass cards to access and drain their bank accounts.  Not too shabby.  They eventually figure out that the man behind the scheme is Chessmaster Hex, a brilliant engineer who was largely responsible for designing the gates to begin with, but was fired after he grew dissatisfied with the system. (It's vaguely implied, but never actually stated, that he realized the gates were unsafe and would wind up blowing up the world the way they did.) To get his revenge, set up an elaborate and fully automated plan to take revenge fifty years down the line.  But in the intervening time, Hex has became completely senile, so that the person who actually committed the crime is, for all intents and purposes, gone.
This isn't played for horror, amazingly enough.  (I may have a slightly more than rational fear of losing my mind.)  Overall the tone of the episode is wacky and fun, sort of in line with "Stray Dog Strut" and "Heavy Metal Queen."  It's also a fun one for playing the "find a Cowboy Bebop logic flaw" game.  For instance, Hex's plan to take revenge on the Gate company wiped out the life savings of many innocent tollbooth users, and mildly inconvenienced the Gate company executives in that they had to answer a lot of angry phone calls. Mission accomplished!  Also, at the end of the episode, when Jet figures it all out, he confronts the gate executives about it.  So far so good.  They ask how much money  it'll take to keep him quiet.   So far so good!  Nothing, says Jet, just don't hassle that senile old man any more.  Let him live out the rest of his life in peace.  Ed has taken to playing chess with him over the internet, and it would make her sad to lose her partner.  Very noble of Jet to put his surrogate daughter's happiness above material gain.  Very dramatically satisfying.  On the other hand, could one perhaps ask for the old man's safety… AND a few hundred million dollars?  Just how much Jet got screwed on this deal becomes apparent in the closing shot of the episode, where, after trouncing Ed at chess one last time, Chessmaster Hex dies.  In peace, granted.  Still, for sacrificing the financial security of his entire crew, Jet bought, like, a week of peaceful, hassle-free existence for an old man who, remember, the Gate company had no real motivation to mess with anyway.  The execs didn't want revenge, after all they just wanted to stop the theft, and Hex was no longer in any position to stop it.  Speaking of which… are we to understand that people are just going to keep on getting their accounts drained from now until the end of the series?
But none of that much matters.  Two things really stand out here.  First is that this episode borrows heavily from the music of earlier episodes.  This isn't the first time a cue has ever been reused, but it's the first time that it's been systemic.  I rather suspect that this means something – not sure what yet – for the next arc of episodes.  Second, Faye has high-heeled shoes on her spacesuit.  Yeesh.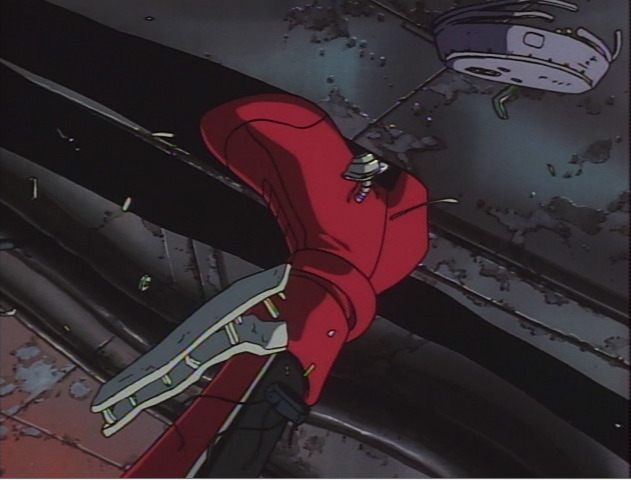 Random, parting thoughts:  Gren's full name is Grencia Mars Elijah Guo Eckener.  So… Gren or Grencia == Glen or Glenda?  Cute, Cowboy Bebop writers.  Real cute.