Reason #3: Cats with human boobs suck

As some of you know, and as I've mentioned on the podcast, I play Magic: The Gathering. Here is a card that was printed in last year's Shards of Alara set. Let's see if you can figure out what's wrong with it. Get out your #2 pencils.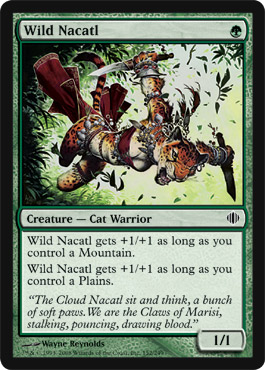 A) Geez, that is way over the curve for just one green mana!
B) Geez, unless I had dual lands and fetches, supporting that would stretch my manabase!
C) Geez, that is a cat with human boobs!
While A and B are insightful, the correct answer is C. There's no accounting for taste, and people's sexual predilections are their own business, but somebody out there mistakenly thinks they have their finger on the pulse of the nerd mind and really have it somewhere else, because the cat with human boobs thing has gotten entirely out of hand.
I'm not talking about Aesop/Fantastic Mr. Fox allegorical use of animals to represent people. I'm not talking about Maple Town / Care Bears style "Let's make our characters animals so they are furry and cute and make good toys" either. I'm talking about this Victoria's Calico Secret, cheesecake made with a saucer of milk craziness.
Again, there's no accounting for taste, and people's sexual predilections are their own business. That notwithstanding, either my rough guesses of how many people are into anthropomorphic animal sexytime are way off, or certain people, incluing Jimmy Cameron, grossly overestimate the share of nerds who are furries ("furries" being the somewhat derogatory term for people who are totally into things like human boobs on cats, which, even though the Avatar alien cat people don't appear to have pelts, seems an accurate enough classification).
It makes me think Cameron is trying to guess the best way to pander to his prayed-for audience rather than the best way to make a good movie. In either case, he's way off the reservation (callback pun!). The indigenous-people-as-animals connection alone gives me a case of the Jar Jars.
We know from the legendary Brunching Shuttlecocks Geek Hierarchy that furries are the nut-low of nerddom. Perhaps unjustly, nobody respects them. They make even Magic players uncomfortable.
Maybe, MAYBE Cameron is a furry himself, and he's finally coming clean after hiding it for decades (in the original Titanic sketchbook, Rose was a snow leopard). But this seems unlikely.
If Avatar is supposed to finally break the barrier of believability in the realization of a computer-generated race of people, if it's supposed to do this unprecedented thing that is totally awesome, why is it doing it with cats with human boobs?
I'll tell you why — it's because Avatar is going to suck.
Reason #2: Sam Worthington sucks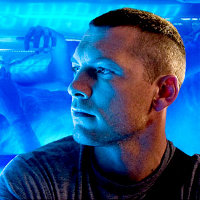 I've been racking my brain trying to figure out why everybody who thinks the guy who played the stupid cyborg in the dumbest movie of the summer is this really great actor we should be excited to see in another much-anticipated action movie — very few people actually saw the movies Sam Worthington was in before Terminator Salvation; there is little evidence the guy can carry an action/sci-fi blockbuster and at least some evidence that he cannot.
Was it the one episode of JAG he did? Is that show still on the USA network every two hours or so?
After days of agonizing, I finally got it.
Somewhere along the line, people started confusing Sam Worthington and Tahmoh Penikett, also known as 'Helo' Agathon from Battlestar Galactica.
I understand why people would make the switch. Tahmoh Penikett is a hard name to remember. He's part Eskimo, and you don't run into all that many big-name Eskimo actors who look like white guys and play spaceship lieutenants. They were born about a year apart, both in Commonwealth nations (Canada and Australia, respectively). They play the same sort of wandering tough-guy characters in grimy sci-fi reboots, and their most famous characters were both heavily modified in development from the original scripts of their properties. They both are involved in fictional robot/human romances. They look quite similar, especially at first glance. They're both right on the line between people who could qualify as actual stars and people who could end up on actual Stargate.
The one difference? Tahmoh Penikett is awesome, and Sam Worthington sucks.
Oh, it's not that Sam Worthington is some terrible actor. The fact that he's at least a decent actor is part of why he sucks. Other than playing a robot in a steaming pile of crap, his main claim to fame is a super-artistic movie that won all sorts of awards, but that he worked on for seven years. He then followed it up with an embarrassment, and is rewarded with deal after deal for his trouble.
In seven years, Sam Worthington made one movie. In seven years, Tahmoh Penikett made the entire run of Battlestar Galactica. He was so awesome in the pilot that audience acclaim brought back his character when he was supposed to be dead before the series started.
Sure, he got thrown on Dollhouse, and we all know how that turned out. But Dollhouse was hardly an embarrassment on the scale of Terminator Salvation. Where is Helo's three-picture deal? Where is Helo's cover of Esquire?
It's been easy to accept Sam Worthington as a star because Tahmoh Penikett deserves to be a star. There's a Penikett-shaped space in the zeitgeist, and Worthington fame-cuckolded him and squeezed right into it. Perhaps Penikett traded his birthright to his twin for a bowl of lentils. Sam Worthington is taking what belongs to Helo, because Sam Worthington sucks.
Of course, if Avatar sucks as badly as the indicators suggest, Helo will have been lucky to have been left on Caprica instead of brought on board.
And the #1 reason Avatar will suck . . .