By now, you've heard the murmurings. You're polite, so you don't want to believe it. You have faith in James Cameron. You haven't seen the movie yet — almost nobody has, and they might still be putting in a few tweaks here and there. It's not fair to condemn a film before you see it, right? But you probably feel it somewhere yourself. As Galadriel said in her own huge-budget fantasy-fest, "I feel it in the water. I feel it in the earth. I smell it in the air." As the biggest movie of the winter approaches, I think we all feel a little like Galadriel – or at least that we hear the whispers of prophesy.
Avatar is going to suck.
Maybe it will be entertaining. Maybe it will have fun parts. Maybe, in the end, it will be worth the $11.50 or whatever it costs for you to see a movie these days. But it's still going to suck.
Like me, I'm sure you hope you're wrong; but it's time to discount the possibility — roll it around in our minds and get used to it — so that, when the movie actually comes out, if it turns out to be about as good as it probably will be, it is met with pleasant surprise rather than crushing disappointment.
This process seems to already have begun in the Jungian collective subconscious, but I don't mind jogging it along a bit.
Have you ever heard the wolf cry to the Blue Corn Moon? Have you ever watched the lesser Gundam properties? The top five reasons why Avatar will suck await . . .

Reason #5: Avatars suck

An avatar used to be something cool — the descent of a god or other powerful being to earth in a strange form to do mighty things on the planet. But outside Hinduism, they sure aren't cool anymore. For example, look at the avatar I use on this site:

That sucks. It's stupid. Who do I think I am, some kinda ninja? What am I, 12?
But what would you expect? An avatar is a "descent" — that's what the word means. The avatars of Vishnu are cool, because Vishnu starts out at a pretty high place and has a lot of room to descend. Our various online avatars, whether they're 70×70 pixilated signatures or the Japanese schoolgirl we use to fly around Second Life (TMI?), are all descents as well. Except we start lower, and we end much lower still.
The usual home of avatars — internet message board conversations — usually suck, as much as I love them. They are full of vitriol, home to all manner of rampant misinformation, and are either echo chambers of self-congratulation or pits of flamewar that would make any incarnation of any god shake its head and weep.
So, for the title of his movie, James Cameron picked a word that, for a non-Hindu audience, refers to some of the most pathetic and unimpressive expressions of identity in human experience.
I mean, maybe when James Cameron thinks "avatar," he thinks "cool, technologically advanced thing with religious resonance." Well, when I think "avatar," I think "Sailor Moon says 9/11 is an inside job and those British hacked e-mails are proof that global warming is a conspiracy." Not promising.
An avatar has the power to turn an otherwise decent, functional person into either a raving idiot or a certifiable freakshow. Naming the movie after one implies similar debasement — such a flick is already fighting an uphill battle against suckitude.
To reinforce this, from what I've heard, M. Night Shamalyan is doing his best to correct the mistakes that the auteurs of Avatar: The Last Airbender made when they produced a decent cartoon. I have every confidence that he will succeed, and that movie will also suck.
Although, upon reading about it, it seems like they aren't using the Avatar name for the movie (Cameron has been working on his project so long he trademarked it first). So I guess there's hope. I dunno, you be the judge: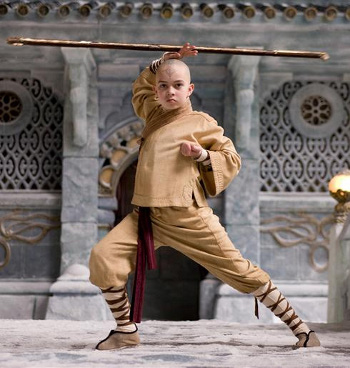 I dunno, man. If I didn't have four more reasons to go, I'd be tempted to express my . . . reservations . . . but there's no time! Onward!
Reason #4: Giant power armor sucks
The only time giant hi-tech bipedal power armor works in stories is when it is there by accident, abandoned by somebody and found by an unlikely hero who has to figure out how to get it to work. How come it is never cool when people actually make it?
Well, people are not stupid enough to actually build bipedal power armor, because people invented a little something called "the wheel" that, it turns out, is better than walking for getting around – so much so that people put wheels on frames and ride on them for locomotion. It also turns out the wheel is better for fighting, unless you are engaging in an Errol Flynn- esque bout of swashbuckling that requires you to ascend a spiral staircase.
So, power armor construction is usually outsourced to aliens with mysterious purposes or to absent humans who perished for their vanity, leaving behind their toys.
And let's admit it, even in those stories where bipedal battle armor works (Neon Genesis Evangelion, Big O, and Aliens come to mind – all of which involve characters scavenging the technology under circumstances that strongly imply self-destructive folly by the people who built the things), it still sucks.
Every time a Power Ranger Megazord shows up, I can feel my hair blown back by the gust of stupid that just surged forth from my television. Even the AT-ATs and AT-STs in Star Wars are remarkable for being really poorly designed and losing in fights against tow trucks and stuffed animals.
Look, Generation Hipster, I'm right there with you loving Voltron for its charms and lions and flaming sword stuff, but I think if we're honest with ourselves, we can all admit that Voltron the robot sucks. Voltron itself is stupid. Voltron the phenomenon is loved in spite of the giant bipedal robot, not because of it.
The video games that have Mech armor in them that are any good play from the inside of the mech armor, in first person, such that, if you really want to, you can imagine the thing has wheels and it doesn't affect gameplay much.
To top it off, the dumbest of power armors is the exoskeletal power armor of the sort that has been featured in the buzz-generating teaser material for Avatar. Because, you know, nobody is going to shoot or direct smashitude at the part of your automated steel battlesuit that is either glass or totally exposed, right? If they did, you'd want to encase it in something that would offer you meaningful protection, and that would be too smart.
Now, of course, power armor probably isn't even all that important to Avatar. There's every indication that Avatar is really about the special kind of love that can only be shared by Blue Native American Cat-People and its ability to save the last rainforest from evil Unobtanium miners (I feel like I could end the article with that sentence and cut to credits, but I promised five reasons, so five reasons there will be!).
The fact that the mecha was shown off so early tells us that James Cameron thinks the giant power armor is one of the parts of Avatar that sucks least. That it's a highlight. This is not encouraging.
But what comes next is even worse . . .