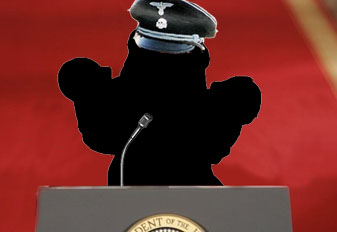 The moral values that have held together this country and this world are in an advanced stage of decay. From schools to shops to our own homes, we turn on one another — race against race, religion against religion, nation against nation and brother against brother. Feuds great and small divide us. I say, no more!
In such times, we need strong leadership! We need a Lord Protector who guides with his gut to dispel this discord and disagreement that has sapped the world's vitality and capacity for greatness! I am proud to say, I am that Lord Protector. And I have a plan.
Our true enemy is excessive and destructive emotional freedom — recklessly granted in the well-meaning spirit of progress, it has been abused to the point of madness.
It's time for a new moral authority, one of tenderness, true, but one supported by the only thing human beings seem to understand — force.
Stare into our brave new world, after the jump —
The new world order will operate from an undetectable, unassailable airborne citadel — mobile, mighty, a fortress in the clouds. It will be a realm, a symbol and seat of our power that by its very name will conjure adoration, obedience and, when we choose, fear.
Our powerful computer system will monitor all human activity on earth, down to people's very thoughts.
OUR AIR FORCE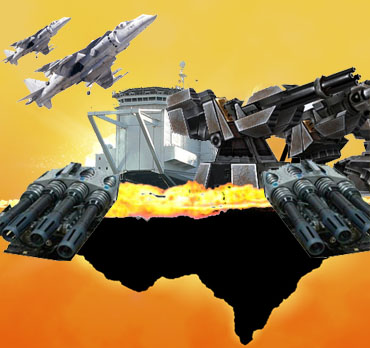 Our citadel will be equipped with a fleet of advanced mobile attack/transport craft capable of deploying to global targets in a matter of minutes. Equipped with specialized stealth and advanced AI, they will be invisible to radar and capable of operating either with a pilot or autonomously — perfect for infiltration and extraction of operatives.
No one but our targets will ever know we were there.
OUR ARMY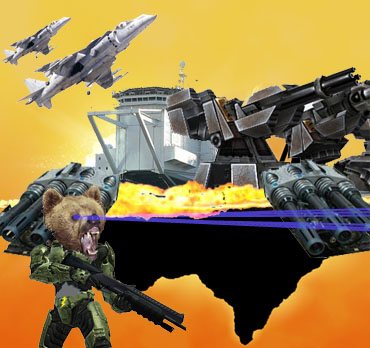 I am proud to say our troops are a true achievement in genetic design. We've been able to engineer intelligence, reasoning and speech, deception, espionage capabilities, pilot skills and advanced strategic thinking into an army of hundreds of loyal beast-warriors. The prototype has been advanced to mass production — experiments with other species are underway.
Each troop has been branded with a unique biometric marker that will allow us to easily track their movements and their mission-specific capabilities to assure optimum deployment.
Through RNA retro-sequencing and bioatomics, each "Super Soldier" emerges from its incu-tank with the fully developed ability to project a powerful psychoparticle beam as a primary weapon with two chief capabilities:
1. Concussive force
2. Mind control
OUR OBJECTIVE — ELIMINATE ROGUE EMOTION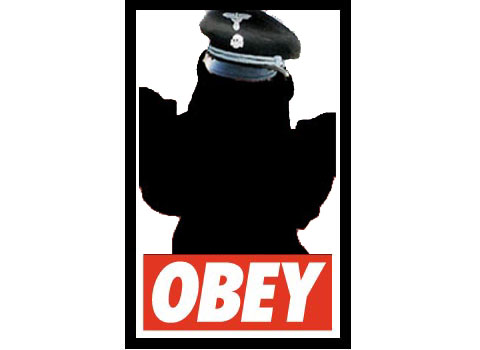 Hatred starts small. Today's unhappy loner is tomorrow's enemy of the state.
There is certainly a wide range of acceptable emotions, thoughts and activities. But there's an equally wide range of emotions that lead to hatred and crime — and none of them are enjoyable to have. If we were to remove the negative emotions from humanity, we would be doing them a favor.
It is critical that our new world order identify rogue emotions and eliminate them, and that we focus on targeting children to assure maximum probability of victory for our long-term plans.
OUR METHODS —
1. MONITOR DISSENT AND SEDITION
2. TARGET CHILDREN WITH MIND-CONTROL
3. INFILTRATE THE POPULATION
4. ISOLATE AND CONDEMN RADICAL ELEMENTS
Our most powerful weapon will be the "Stare" — the full force of our moral condemnation strong enough to coerce anyone with unacceptable emotions to conform to our will.
OUR SECRET WEAPON — MERCHANDISING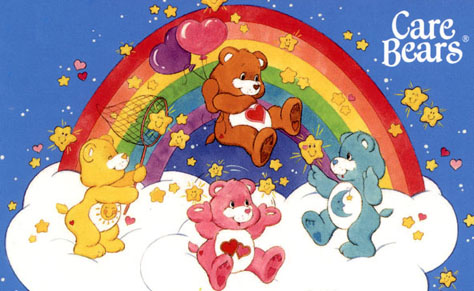 Of course, all of this doesn't come cheap — but we're in luck! Our branding and marketing department has come up with a great look/feel for our New World Order that will get us the money we need to launch the operation, help us put an operative in every American home.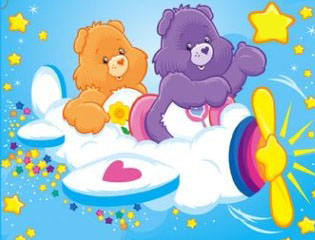 So, go buy yourself a Care Bear®!
They're cuddly, they're reasonably priced, and if you show any displeasure with our regime, they will arrive in force and stare you down until you once more skip in lockstep with the masses!
– Generalissimo Tenderheart Bear, 1984