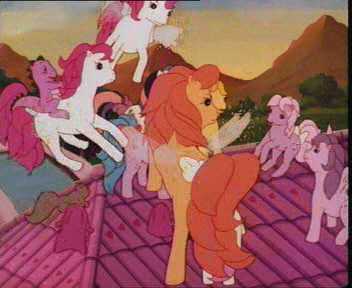 Cleaning it up
We tighten up some of the themes and weave together the plots. The ponies are pretty, so it makes sense for something ugly to be set against the ponies – so we make the witches ugly, even though they really don't matter. It'll be a cue to the kids that these are bad guys. We throw in a bunch of parts for humans, because who wants to listen to a bunch of horses talk for an hour and a half. We sure don't!
But we still have one big problem.
Our movie is supposed to be G-rated, and our Ponies are in the midst of a full-on Global Extinction Event, where all the little bunny rabbits in the forest are killed by a flood of vengeance.
Plus, we only have a couple of songs, and most of them are pretty phoned-in. We laugh to ourselves as we realize the solution. We are truly great writers.
We'll make the world-killing ooze sing!
A world-killing ooze probably bumps you to a PG – We'd certainly want to guide our kids though a meditation on the inevitability of the death of all things – but a singing world-killing ooze? Heck, let's give it rockabilly influences. Heck, let's make it a purple one with googly eyes! They'd never bump that above a G. Not in a million years.
In Tribute to George Arthur Bloom
Of course, this isn't probably the exact thought process of the mad genius George Arthur Bloom, who wrote the My Little Pony movie. By the time My Little Pony: The Movie rolled around, Bloom had a 20-year career in film and television writing, including stints with Welcome Back Kotter, Chico and the Man, The Incredible Hulk. Bloom was nominated for an Emmy in 1973 for The Julie Andrews Hour (and you wonder how he wrote all those wacky show tunes). But it would be nearly another 20 years before Bloom actually won an Emmy – a Daytime Emmy for a broadband show called Cyberchase.
Most notably, at the time of My Little Pony: The Movie, Bloom had been writing for My Little Pony the TV show and for Transformers for a few years already. He would go on to write for other plastic-toy-inspired cartoons, including Potato Head Kids, Jem and the Holograms, and, one of my personal favorites, Bucky O'Hare and the Toad Wars!
http://www.youtube.com/watch?v=k6Mh7hhaqhk
To imagine the vast leaps of insanity necessary to put together one My Little Pony plot, I have to imagine a borderline vision quest – a journey into the heart of darkness. Yet Bloom pumped out literally dozens of them.
He had a certain special kind of crazy, which I was glad to see put to productive use for society in his writing for The Magic School Bus, because I fear the rest of his genius may be lost in time. And certainly further study is needed to determine exactly how he did what he did.
Although, you know, I do stand by about 80% of my own narrativization. Especially the part about the Grundle King.