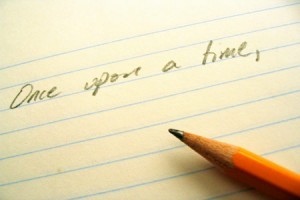 But first, there is writing to do!
The main driving force behind the movie is not going to be a conflict between the My Little Ponies and the Flutter Ponies. Neither of them is going to be the villain — they look too similar, they're going to be identified with each other no matter what we do.
But, the two groups starting out with some petty differences and then becoming friends in the face of a common enemy sounds like a pretty good B-plot.
So, assuming the My Little Ponies and the Flutter Ponies meet each other over the course of the movie, and the My Little Ponies are homeless refugees (My Little Hobos, 'natch) for much of the movie, and we have to fill 90 minutes of time where the ponies do nothing other than walk around and chit chat, let's say that the My Little Ponies and Flutter Ponies live far away from each other, so there's a lot of ground to cover.
Heck, let's make them live on opposite ends of the world. We're epic screenwriters, let's raise the stakes. The Flutter Ponies live in a faraway magical land where horses have wings for some reason. Fairy Dust Pegasus-land or what have you. And the My Little Ponies need to travel to Fairy Dust Pegasus-land because they are homeless refugees looking for a better life.
You know, I don't think a Mattel-inspired version of The Grapes of Wrath is going to work here. Besides, we want to write high adventure! We need a villain! Somebody for them to fight and defeat!
But ponies can't fight. Ponies don't do anything other than walk around. Well, the Flutter Ponies can fly. They can do that much. Maybe the My Little Ponies need to fly somewhere? Eh, that seems pretty lame — to walk halfway around the world just so you can fly up a mountain right next to where you started. Besides, why would the Flutter Ponies care?
My Little Albatross
So, we stay up late and you write some outline drafts. We put our little plot idea cards up on our corkboard – mapping out potential midpoints, jump-to-third-acts, denouements, but it's all crap, and it all goes in the trash.
Perhaps the best way to think of a villain is just to pick the opposite of the hero. It worked for He-Man, right? (Actually, no "He-Man with a Modular Skull Head" doesn't make any sense, but that goes into the "happy accidents" file, and we'll talk about it some other time).
We try My Big Ponies, but they just crush the little ones into pulp.
We try My Little Alligators, but they eat them. You try My Little Full-Grown Horses, but then you can't tell anything apart.
You try "Your Little Ponies" as the villain, and then you get pissed at Pixar years later when they come up with Toy Story and prove that your meta-toy-marketing idea was not, as you had thought at the time, total bullshit.
"Your Big Ponies" or "Your Full-Grown Horses" just starts sounding dirty. We write some pornographic fanfiction to amuse ourselves, but we throw it away, because, at the time, there was no electronic repository available to us for erotic My Little Pony fanfiction. Oh, how the times have changed.
Just making half the ponies dark and evil-looking would solve our problem (and save money on animation cells), but it would be idiotic, and we're not happy at all with the implied racism. Plus, they'd just kick the My Little Pony's asses anyway.
It drives us to despair. We just wish it could all be over. Thankfully, this helps us write one of the musical numbers from the movie, which really has nothing to do with ponies or anything, but it works in an old-timey show-tune kind of way that we don't really see in movies anymore, so we keep it around.
http://www.youtube.com/watch?v=pH33Ncy1b1U
We put a dragon and a bunch of goblins in it, because we're starting to hallucinate. We fight the hallucinations with whiskey. We fight the whiskey with vomit. We fight the vomit with more hallucinations.
"Maybe what this movie needs is a Grundle King," we say to ourselves. The Grundle King makes it into the final script.