More ponies, more problems
Perhaps fittingly, providing an historical perspective has prompted me to approach things backwards. Especially since the final product is so mired in crap (or Smoozed, as it were), going backward is going to be a smelly process. It's a bit fresher to start at the beginning and work forward.
Say you sit down to write My Little Pony: The Movie. You're a fan of fantasy stories, you like to write epic tales of heroism and dastardly deeds; the kind of tales that have horses in them a lot. The producers gave you three main restrictions in writing this movie:
It needs to have the My Little Ponies in it. The My Little Ponies are pretty horses that don't do anything and have logos on their butts (sorry, haunches) that signify their personalities.
You need to introduce two new products:
Paradise Estates, the new My Little Pony ranch compound, developed to make up for flagging sales of the My Little Ponies castle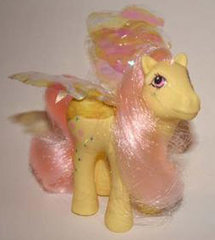 The Flutter Ponies, which are just like the My Little Ponies, except they have little plastic wings on them, probably because the ponies are made in the same factory in Taiwan where they make butterfly pencil-tops or outrageous 80s hair clips.
It needs to be a 90 minute, G-rated, animated musical.
So, unlike my "Dream Factory" post describing Disney's Tale Spin, let's try to follow a reasonable train of thought (and not the kind of train of thought that sets Gummy Bears in Medieval France).
Okay, the My Little Ponies have a new home. Why do they have a new home? Well, something either caused them to move, or they got a second home, or something happened to their old home. The third of these is by far the most interesting from a dramatic perspective. Fine. Something happens to the My Little Pony castle, so the My Little Ponies need to move to Paradise Estates. That covers restriction #1 (the My Little Ponies are in the movie) and the first half of restriction #2 (Mommy, buy me that plastic ranch!).
So, we need to introduce the Flutter ponies somehow. Maybe they live where the new home is?
You know, I don't think a Mattel-inspired version of The 'Burbs is going to work here. Besides, we want to write high adventure! That's why we signed on to write this movie about children's toys and horses! That and the cool 500 smackers we're probably making once we finish 100 pages or so — somebody's getting a new white suit and coral collarless shirt combo for the wardrobe! Don Johnson, eat your heart out!
Mattel gave you some prototypes of these toys to look at while you write, so you hand them to your 4-year old daughter and watch her play with them.
"Oh hi!"
"HIIIIII!!" (she strikes the My Little Pony with the Flutter Pony on the head) "Let's be friends!"
"Okay, I want to make presents!"
"I want to drink orange juice!"
"Horses don't drink orange juice! Horses drink grass!"
"Let's drink orange juice!"
"I love tea party! Let's go to the DOO DOO DOO."
"Oh, it's a cave!"
"Don't go in the cave, it's haunted!"
"Oh noooooooooooooooooooooooooo . . ."
"Haaaa."
"Haaaa." (the two horses nuzzle for about five minutes while she makes random noises)
"Orange juice orange juice!"
The dialogue could use some work, but the relationships are clear: in every game she plays, the My Little Ponies and the Flutter ponies don't start as friends, but they become friends. She recognizes that they are different, but it's hard to avoid the essential similarities once she starts playing with them. Any conflicts are usually petty and short-lived. Also, she is apparently always thirsty. We should do something about that.