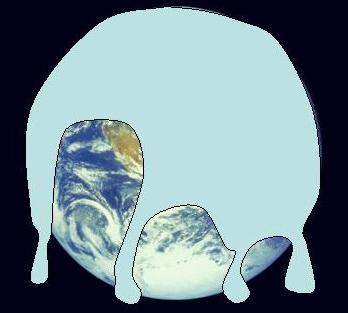 Smooze Clues
For those of you who have not seen this movie (which, based on box office figures, is probably about 99.7% of the U.S. population, 99.9% if you factor in immigration and emigration since 1986), the Smooze was quite a staggering villain to put the ponies up against. But then again, it would be kind of staggering to put the ponies up against a barn door with a dead bolt.
The Smooze is a planet killer — a Grey Goo / Von Neumann Machine / Ice-9 / stable strangelet analog, except it's sort of purple with big googlie eyes and sings like the Big Bopper. Heck since we are a tremendously popular Web site that might reach people who haven't heard of such things, let me explain them:
Grey Goo — Grey Goo is a nightmare scenario related to the study and development of nanotechnology. In this scenario, a self-replicating nanobot is developed that can use basic materials — like, say, carbon, nitrogen and water — to reproduce itself. It then does so to an unlimited and accelerating degree, swallowing all life on the surface of the Earth.
Von Neumann Machine — A Von Neumann Machine is the more general concept, advanced by the Evil Nazi Scientist turned Awesome American Scientist Very Much Not A Nazi Who Fled The Country Before The War turned Awesome American Scientist and early game theorist John Von Neumann. It speaks to a machine that can self-replicate with commonly available materials, swallowing either the Earth or the Universe (as the Manfred Drones do in the Canadian-Sci-Fi-show-I-reference-too-much-because-nobody-has-seen-it-and-those-who-have-didn't-like-it Lexx).
(I guess Von Neuman Machines, being largely theoretical, could possibly sing like the Big Bopper in practice. It's also possible that the Big Bopper himself was a Von Neuman machine, and that's why he had to die in that tragic plane crash. Neither of these conjectures are likely.)
Ice-9 — In the Kurt Vonnegut novel Cat's Cradle, Ice-9 is a crystal structure for water that is solid at a temperature higher than that of conventional ice (this is based on fact — crystal structures often do form solids of the same material at different potential energies). Crystals propagate themselves when placed in fluid of the same composition and a suitable temperature, so if Ice-9 were to get into the world's water supply, all the water on Earth would freeze over, effectively killing all life on the planet.
Stable strangelet — "Strange" is one of the flavors of quarks (along with "Up," "Down," "Top," "Bottom," and "Charm"), and a "strangelet" is a mass composed entirely of strange quarks that have collapsed on each other. Such a mass would have no atomic or molecular structure and would be very dense, with a very low potential energy. Stable ones are generally believed to be impossible — they revert to other types of matter in a normal environment, and in extreme ones, the repulsion of strange quarks' positive electrical charge prevents them from forming — but if one were to exist, it could have the potential to convert any matter near it into "strange matter" similarly to how a crystal propagates in a suitable fluid.
If the folks at the Large Hadron Collider manage to produce a stable strangelet, there is a nonzero probability that it could plunge into the center of the Earth and swallow it whole, leaving a golf-ball-sized blot the same mass as our home planet (As The Tick says, "But that's where I keep all my stuff!") orbiting the sun. From reading reams and reams of anger on Internet message boards, I've determined that this is why Ron Paul wants us to return to the gold standard.
I don't know about you all, but I have had weeks' worth of nightmares about each of these things, so the Smooze is in good company.
A bunch of witches concoct the Smooze from magical ingredients to use as a weapon against the My Little Ponies (who show little interest in fighting back), and then let it loose on the world, where it sweeps across the terrain, growing as it consumes more and more territory, until it looks likely to cover the entire world.
Once it covers an area, because of a flaw in its formulation — a lazy witch leaves out a key ingredient, "flume," in a blunder reminiscent of the unfortunately prophetic Richard-Pryor-screws-up-while-making-kryptonite scene in Superman III — the Smooze loses its viscosity and crusts over with an impenetrable shell. This slows down its advance somewhat, but only temporarily, as the googly-eyed part of it still marches forward — and maybe the witches get flume in it at some point. I'm just a bit too lazy to fact-check that right now. Hope that doesn't ruin your day.
At any rate, the Pony world looks likely to spend the last few billion years of its life before it is pulled into the expanding Pony sun as a barren purple-grey rock face — unless these ornamental horses can stop the Smooze. And as the song says, Nothing Can Stop the Smooze!
Considering how many happy woodland creatures are trying to erect crude barricades before being swept aside and murdered by this stuff, My Little Pony: The Movie probably rocked 1986 with a higher death toll than Top Gun, Platoon and Aliens put together.