Like the other P, of course, it's not that simple. As video games grow more sophisticated, the distinction grows blurrier.
Games like Oblivion and Fallout 3 blend FPS and RPG elements.
RPGs like Shadow Hearts put an added premium on timing your attacks, stopping a needle within a spinning "Judgment Ring" for maximum damage.
And even tabletop RPGs – the games that started it all – incorporate more elements from their video game descendents. The most recent edition of Dungeons & Dragons defines party roles explicitly. You've got your tanked-up defenders (fighters), your roving healers (clerics), your high-damage strikers (rogues) and your battlefield controllers (wizards).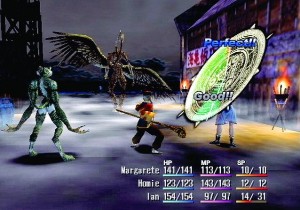 What does this mean? In this correspondent's opinion: only good things. Console RPGs and action-packed games speak to different parts of the brain: the one which demands long-term problem solving and the one which demands instant stimulation. A game which can satisfy both of these areas should, if done well, create a richer gameplay experience.
But nostalgia's a powerful lure. Even as the lines between role-playing and action fade, we can't help but wish for the simpler days of a blinking cursor, four little options, and enemies that waited their turn.