To determine what makes a console RPG an RPG, we need to talk about a game's criteria for success and failure.
My success or failure in Super Mario Bros. hinges on hand-eye coordination and reaction time. Whether or not I kill that Koopa or get killed by him depends on how quickly I hit the A button. In HALO, my success or failure depends on how accurately I can shoot at targets and how well I can make use of cover. If I shoot better, or with a better weapon, and keep my opponents from shooting me too much first, I'll progress along just fine.
In Final Fantasy, my success or failure hinges on which party I select and how I outfit them. I have a wide variety of weapons, armor, magic powers and miscellaneous items to choose from. Later games in the series have introduced more development choices as I advance: which powers should I train in when I level up? Which piece of Magicite should I equip? How should I split up the party at this decision branch?
Timing is never as much of an issue as choice is. In Dragon Quest, as in baseball, there is no clock.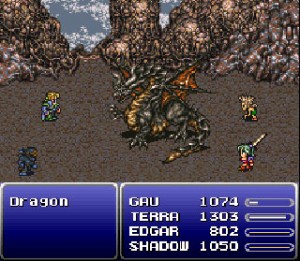 In most RPGs, execution is automatic. When I enter a battle, several choices pop up in a menu in front of me. I can choose to attack an opponent, or I can choose to do something else (use a power, use an item, etc). But once I make the choice to attack, it's out of my hands. An algorithm I never see, taking into account the weapons I equipped and the training I selected, determines whether or not I slay the monster. There's no such algorithm in Super Mario Bros. If I land on the turtle's head, it dies.
So while platform jumpers, first-person shooters and fighting games prize quick reflexes and good coordination, RPGs prize resource management. That doesn't sound very sexy, so let me rephrase: RPGs prize choices. RPGs reward players who can deliberate over decisions. RPGs value the choices you make in the armchair.
The apotheosis of this type of thinking comes in World of Warcraft, the most successful RPG (video game or otherwise) in the history of human civilization. World of Warcraft feels like a very frantic game when you're playing it, clicking all around the screen. But the difference between successful and unsuccessful WoW players has nothing to do with how fast you click. It has everything to do with which talents you select when you level up and which items you equip. The game even spells out a lot of this information for you, in terms of refresh rates and percentage buffs.
An RPG is a video game which values choices prior to the heat of the moment more than choices in the heat of the moment.