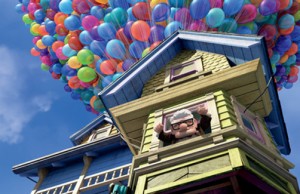 I started writing this as a rebuttal of Fenzel's "Paradise Lost at Paradise Falls."  In the process of writing it, my thoughts have gotten a little more organized, and I've realized that (as usual) I don't actually disagree with what he wrote as such.  I just have a much more cynical spin on it.  You'll see where our readings overlap… and where they conflict. I encourage you to help us fight it out in the comments!
I do still have one major bone to pick with Fenzel, and since this is an argument on the internet, there are certain protocols that must be observed. Therefore, I will start by rephrasing his argument in the most overstated and reductive way that I possibly can, to that it's easier for me to find fault with it.   As I understand it, Fenzel's post boils down to this:  Up is valuable because it addresses a central part of our life experience that is largely ignored by Hollywood:  the question of how we should live once we've moved past the teleological process of "growing up." He adds almost as an afterthought that in some cases people simply graft themselves onto the narrative of their children's adolescence…   but this, to me, is strange, because it's a rather crucial detail.  The question is not really "how should I live," but rather "how should I live in the absence of children?" Now, maybe this is still one of the hard questions, but the film provides the easiest possible answer:   it simply rejects the questions premises, claiming that any life without children is hollow.
Bold claims!  Can I back this up?  I dunno, but I sure did spend about a thousand words trying.  And if you're interested, you can read them!  It's like we were made for eachother.  You complete me, internet.  You.. complete… me.