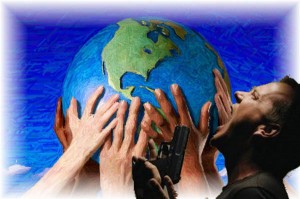 America accepts its waning primacy

Jack Bauer was strangely at peace for much of this season — accepting punishment for his crimes, accepting the disadvantaged positions he had to work from, accepting countless double-crosses, accepting his own death, accepting the end of his relationship with his daughter, and then accepting a pretty mediocre conclusion to events of the season. Jack has been operating at pretty high levels before, but he seemed to be flagging. He's been comfortable jumping much lower bars (and then hitting guys with them).
Here, the connection is especially thematic, rather than direct.  Bauer's own role in the nation's defense and grand strategy (which is "about 90% of it") stands in as a proxy for American foreign policy and domestic security policy.
In 1945, the rest of the world was speckled with smoldering craters, and the United States was a largely unscathed industrial powerhouse, the only nation on earth to hold the ultimate weapon of destruction. Power and influence are relative, and it's really hard to top that.
In fact, America has been declining in power and influence from that point for some time; that's no great failure — it was a very atypical sort of situation, to say the least. No country should expect it will be the only one to actually get to do stuff.
But America has also burned into its cultural fabric the notion that this primacy not only still exists, but is necessary.
And the coming of Obama — on the heels of a debate about American exceptionalism — threatens to unravel that square of the American quilt as well. Threatens to bring about not the decline of the United States, but a new attitude that acknowledges and accept that this decline has already happened, and that we live in a world where a lot of the myths from the postwar and Cold War eras are no longer true, and we have to reconsider our role in the world.
This is a lot scarier to a lot of people than I think some people recognize. Because, as much as 24 is over the top in its alarmism, the world can be a pretty scary, hostile place, and accepting scary, hostile things without being able to do anything about them is a pretty bleak way to spend your time.