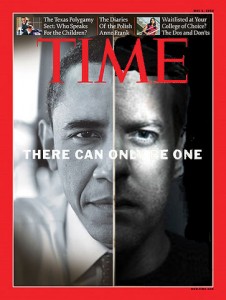 There will be spoilers. However, if you wanted to watch this season of 24, you probably already have. If you haven't seen it, have no fear — read on.
In a world of excellent television, it may be neither as shiny nor as mysterious as today's cutting-edge, DVR-demanding serialized hits (Lost, Battlestar Galactica, Gossip Girl, Man Versus Food). Its season wrap-up wasn't in the running for "best TV I've ever seen" (The Shield, The Wire, Ninja Warrior), but Jack Bauer and 24 still stand astride TV like a colossus — a hoarse, belligerent colossus that clasps men by the lapels and thrusts them floorward, but a colossus nonetheless.
If you missed this season, you missed Jack and what remains of the CTU crew confronting their most daunting enemy yet. No, not a ruthless African dictator with crack commando squats sloshing through the DC sewers — no, not John Voight or Methos from Highlander: The Series. In season seven of 24, Jack Bauer confronted the biggest threat to his existence yet:
President Barack Obama.
Twenty-four is dream-like — the ideas that matter emerge from a surreal, violent and emotionally charged collage. It's rich with social commentary and thematic material, but we have to be careful analyzing it, because:
Plot twists come with an absurdity* and velocity that makes them the norm, not the exception.
It repudiates itself a few times every season by throwing bones to people who would criticize its politics.
Beware incongruous counterexamples and discussing high-level matters of form. They hide what the show is really about.
This year, it was all about Obama. Jack Bauer rarely gets the support he needs from fictionalized government institutions, but this season was the first when he didn't enjoy the implicit backing of the real-life federal government — and it showed.
For those of us who were on the receiving end of the last administration, it is hard to find much to trouble us about the rise of Obama, even amid considerable public difficulty. But we are not everybody, and no change is without its anxieties.
Look outside Obama Nation (excluding the right-wing hype machine) and there still remain a good number of people who have real anxieties about what it means to live in Obama's world.
Jack Bauer is one of those people. Call them the Left Behind — not by God, not by Kirk Cameron, but by a vision of their country that collapsed around them because someone else didn't keep the faith. In today's America, they feel far from home.
The seventh season of 24 isn't about this theme — it isn't about the betrayal of America by its leadership — at least, not to any greater a degree than previous seasons of 24. This isn't the 24 season about the end of Bush.
No, this is the season about the new world that replaced it — the culture, the shifting values, the socioeconomic trends, and the things we see in ourselves that may have been lingering for some time, but, because of the rise of Obama, can no longer be ignored or easily overpowered, and now pose a new threat, however minor by comparison to previous ones, to a certain way of life.
And while it is easy to dismiss that way of life, it is not correct, at least from the standpoint of understanding America. If that way of life were irrelevant, 24 would not exist — nor would much of pop culture, nor would much of America itself.