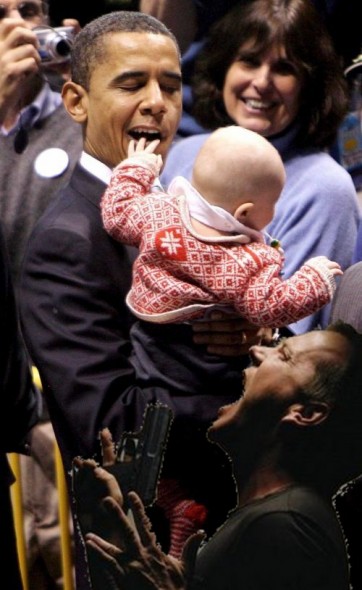 Your children will not save you

WARNING: The spoilers pick up in this section.
Cross-generational alienation is not new to 24. We've all had our fill of the Bauer family by this point. Kim Bauer's return felt tedious not long after it started, although it was a lot of fun when she caught on fire. The show crossed a lot of this territory before.
This season, though, it followed a specific theme that speaks to the anxieties of the day. There were five (one is arguable) major parent/child plotlines in this season of 24:
The President's husband attempts to investigate his son's murder, while accompanied by a sort of surrogate son — a young Secret Service Agent who placates him and humors him for a time, then tries to murder him.
The President's estranged, treacherous daughter is briefly welcomed back into her family's good graces shortly before she effs it all up again.
An African military officer is murdered by his commanding general while convalescing in a hospital. His unknowing son continues to fight for his murderer.
Bill Buchanan, Jack's surrogate father and a shadow of his former self, asks for Jack's help in one last mission and ends up getting killed while Jack is watching.
Jack and his surrogate son/little brother Tony Almeida engage in elaborate quintuple-crosses during which Jack is always a step behind.
The Obama/McCain election traced a lot of fissures through American culture, but perhaps the most pronounced was generational — this was, above all, an election won by younger people (say, under 40), who consolidated disparate interest groups and got a bit of a thrill from overthrowing the status quo.
"Change" is a pretty vague word. It connects much more cleanly and directly to generational sectionalism (which changes because it must — aging is not optional) than it does to the current right/left political continuum (which doesn't match the parties well right now), or indeed to any particular issue. Many historically conservative areas (think Iowa and North Carolina) went blue not on the force of issues, but on the force of generational politics — the young mobilizing the countryside.
And the Obama/McCain election was a war. People and materiel moved thousands of miles across the country, handled by an elaborate chain of command and directed by logistical HQs that conducted all matter of simulation and analysis, all in an effort to win.
Again I ask people like me to step outside themselves and consider what it is like for a parent to go to war with a child, especially if the child is powerful enough to pull off the win. Incredibly disorienting, I'd wager. Disturbing. It at once recalls mortality and the passage of time and undermines one's one authority, self-worth and self-respect.
Now, if the parents and children were on the same side of the party divide, this probably wasn't a problem last year, but remember that for much of the country, this was not the case. Many parents went through more than a year of political enmity with their kids.
In the Age of Obama, obedient children who support your ideals and carry through what you believe into the next generation are not going to be there — that's the anxiety. They will take things you think are sacred, and they will destroy them, because they have grown into adults who can no longer be controlled, and because even if you could stop them, it breaks your heart to do so.
And even if they are not at war with you, the reminder is that they're different from you. They're separate. And it's not coming, it's already happened. You are going to go die at some points, and your kids will live their own lives without you. That is a more pressing concern for baby boomers at this point — facing retirement and an ascendant generation of offspring looking to remake their parents' country in their image — than it has been for an American demographic in forty years.
The big cliffhanger for this season of 24 is whether Jack and Kim will survive an experimental operation to harvest stem cells from Kim and use them to cure Jack's neurodegenerative condition (brought on by a biological weapon).
Earlier on in the season, Jack asked Kim to let him die, and I believed him.
My money is not on both of them surviving into next season, at least not unscathed. The culture war between parents and children doesn't proceed without casualties. We no longer live in a country where children become their parents and take their place — if we ever did. Instead we live in a country where each generation revolts against the one before it, and the results are always painful.
That was how this season of 24 played it out, anyway.