We Built This City
I'm a firm believer in the importance of epic — that most heroic stories are about setting down the foundation of a civilization or way of living — that a heroic story is a foundational act. Aeneas founds Rome, King Arthur founds Britain and Adam and Eve found the human race. Batman founds Gotham City – our own dark and rich citizenship of common pursuit of individual gain.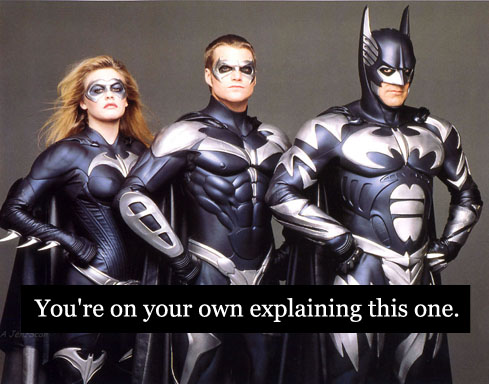 And the way he does it is by a redirected ascetism.
He gives up time he might spend as a billionaire in a hedonistic lifestyle and dedicates himself to helping others, just as Schopenhauer might suggest someone should do in order to get away from the Will always pushing him, always tormenting him, always making him suffer for not having everything he wants and reproducing to fill up the whole world.
But instead of quelling his part of the Will and his own representation of it, he recognizes its mightest benefit — it helps him outcompete others like him. It enables him to survive. It has this facet that looks like a Bat that scares the shit out of people and is totally awesome and sometimes gets him to the warehouse before it blows up (although sometimes it doesn't).
The problem with this for Bruce Wayne is that in embracing the part of himself that is like the Joker – the part of himself that doesn't want to give up his post to Harvey Dent and lead a simpler life, the part that wants to keep that armor on and keep striking that visage – he's going to be subjecting himself to suffering, and he's not going to rise that far above the corruption that's around him. If he seeks to remain separate, he won't succeed. It'll stick to him. He'll flee for his survival from the very people he's sworn to protect.
But he recognizes through this journey and in vanquishing this nemesis (who may be recast in a sequel, who knows), that this quality of his is strong enough and precious enough to use to set an example for everybody else to live by, or at least live alongside.
And he still doesn't escape from the fate of a world always plagued by corruption and common, but not mutual interest, which as Schopenhauer knows, is generally that it will come to a bad end.
. . . eventually.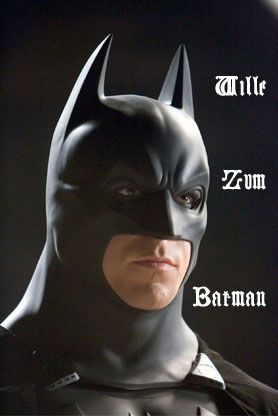 But that's also part of Gotham's charm — it doesn't offer you much in the way of sunsets and happy endings. We identify with it so intuitively because we recognize the brutality and competition in our on world and know we can't so much escape it as we can strive to do the best we can.
So, through the Will and Representation, through creating a villain along the lines of Schopenhauer and confronting the need to defeat him, we arrive at the philosophy of The Dark Knight:
To distract ourselves from own desire for pleasure by creating artistic objects in our own image, but also to harness our obsessive hungers. To stamp our own impression on ourselves and the world around us because we think it is a good impression (and because it is a proxy for making babies). To compete with evil even as we see ourselves in it, and, sure, living long enough to see ourselves become the villain — but recognizing that, while our own subjective experience of being the hero is not something anyone else can experience or understand, it is still part of our existence inseparable from the perceived consequences of our actions.