Christopher Nolan's Movie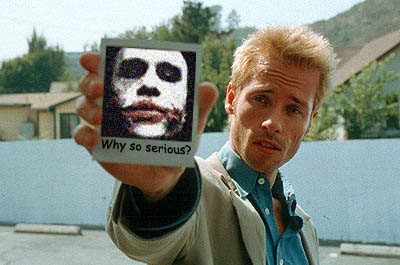 Because we're talking about Schopenhauer!
I'm sorry, Memento Guy, I know it's confusing. Don't worry, you won't remember it anyway.

Most of the above would go for pretty much any interpretation of Batman (especially in Batman Beyond), but this post is about The Dark Knight. I wouldn't have brought this all up if it weren't specifically pertinent to this movie.
Because at some point, Batman isn't just a form of mystery or obscurity. He isn't just a hiding place or a tool to do good. At some point, Batman develops an heroic identity. And if we're proceeding from a world in which things happen because of the Will, it's pretty hard to have heroes. Well, it's easy to have tragic ones, but it's hard to have ones that get to ride their Batpods off into the mist in triumph over evil.
I'm not talking about Nietzsche's Will to Power — it's easy to have heroes there, and there's a whole other way of looking at Batman through that, though I don't think it really hits it on the head, especially not for The Dark Knight.
Schopenhauer describes a world in which individuals, with their principle of sufficient reason, break up the Will (which is one big thing, not a separate thing for each person, not an intention or willpower) into a whole mess of tiny shards that find themselves striving against one another for survival and procreation.
The Will is this massive, incomprehensible, impersonal force that drives the universe to move forward by its nature and inseparably from its substance. The universe has no larger, benevolent guiding hand (although he ends up an ethics conveniently similar to Christianity). People each have the Will as an aspect of their own being, so they're destined to always want more and want to have more babies and consume each other and themselves and never be satisfied. The more they achieve, the more they want and the more they suffer. It's another way of coming to a Hobbesian war of all against all, except also with sex.
Gotham City in The Dark Knight is this world. Corruption is everywhere — but not because everyone is a villain. Everybody is equally helpless against a common but not mutual self-interest. Every time somebody does something, there's something selfish about it that ruins it for everybody else. No precinct is free of corrupt cops. Every politician has a skeleton in his closet (dude that mayor guy who played Batmanuel in The Tick sure was creepy!). The city needs one honest man, but when it has him in Commissioner Gordon, even he's pretty close to hopeless.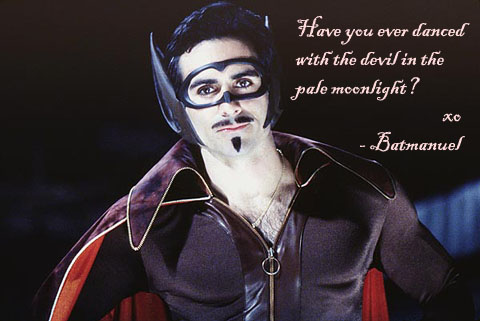 Schopenhauer posits that the way to escape this petty and ultimately deeply unsatisfying existence (suffering, really) is to use your capacity for reason to contemplate platonic forms. He recommends a quiet life of art and music, where you try not to want too much, be all civilized, do unto others and all that, and liberate yourself from your own desires by putting your mind to things other than your own satisfaction. This is the origin of compassion, which he thinks is pretty good.
Needless to say, Batman comes to a slightly different conclusion.