"Haha, now I REALLY want to know what The Dark Knight has to do with Schopenhauer."
–mlawski
Alright. You asked for it.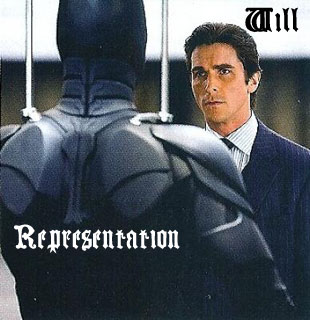 Mlawski's own fine post on utilitarianism and The Dark Knight, "The Philosophy of Batman" inspired me — can we delve deeper into the philosophy at the heart of The Dark Knight? I figured I'd go to the well and hash out some German philosophy for this one, partially because I thought it fit, and partially because, like Bruce Wayne, I'm just that crazy.
Now, that time is upon us, and you can decide whether or not I was wise.
Find out about more about the WIll-to-Batman and the Will-to-Joker, after the jump —
Are you there, God? It's me, Batman.
To me, Batman origin stories have always seemed forced. Something about them didn't quite fit. So, I'm very glad The Dark Knight didn't reference Batman's origin story at all.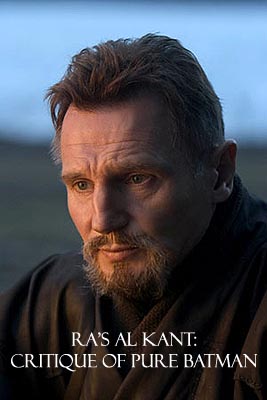 Okay, raise your hand if, the first time you encountered Batman, you thought, "You know, there's an orphan who's gone through considerable ninja training!"
I can't count the hands, and if they're all up right now I'm kinda screwed, so I'm going to assume there aren't a lot of hands out there right now and run with it.
Most of us were introduced to Batman midstream. The old Adam West show. Superfriends. Batman the Animated Series. A comic. A pair of our own underpants. He didn't come with an explanation, but we understood him immediately.
Arthur Schopenhauer was a German philosopher who came out of the Kantian school but ended up carving out his own little niche that was then carved up by Nietzsche. But before that happened, he talked about the Will a lot. The Will-to-Life, and the Will as distinguished from Representation.
Schopenhauer is complicated and difficult to explain. Kinda like Batman. He's like the Dark Knight of early 19th century Berlin philosophers. Like the Batman to Hegel's Superman. Sort of.
A Batman In Full
Batman doesn't need explanation (even though I'm going to go to great lengths to do it anyway), because the story of Batman does not aspire to explain a person. He is also not an allegory. What is Batman? Batman is a hero for a civilization that has cast aside external agency as a first principle. He's a superhero who is his own cause in a world of supervillains who are their own causes, but they're all vaguely aspects of the same drive.
Batman is an intuitive, but not simple, symbol of an aspect of Will.
Batman doesn't have to do the things he does — nothing really causes him to do them. He does it "Because he can take it" — because there's a quality of him that is inherently motivated, that is driven to survival in an extraordinary way and that strives alongside the other projections of Will in the universe. Bruce Wayne didn't "make" Batman. He is Batman on a deep level not even he truly understands — because sure, there's the representation of it, the suit, the batarangs, the batmobile — it's more than adequately represented. There's the image. But there's also the Will of it — not the Batman-in-itself, separate from and bossing around Batman and controlling everything he does (Alfred is a servant, not a master), but the guy actually out there in his suit with nothing but his wits, his batterangs, and maybe his Bat shark repellant.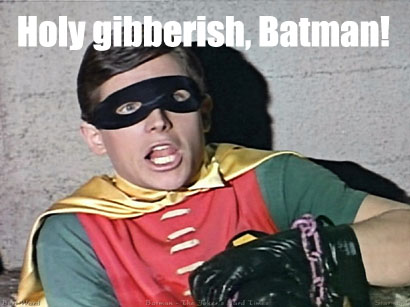 Hang in there, old chum.
Let's talk about the difference between Kant and Schopenhauer for a hot second. Kant argued that for each person there was a "thing in itself" that was separate from the universe we could perceive with our senses and that is the ultimate cause of what we think and do. Sort of like a soul, but not really. More like a mind. (I'm boiling this way down, and so forgive me and flame me in the comments if you like) Schopenhauer argued that there was no reason to separate this function — the part of us that makes decisions and adds value to things — from what was already in the universe. That the thing in itself wasn't distinct, its functions were just an invisible, separate aspect of ourselves. The subjective versus the objective. The will vs. the representation.
Ra's Al Ghul's in Batman Begins is like the Kantian thing-in-itself — he stands separate from the League of Shadows, invisible, undetectable, indestructible, immortal, not subject himself to any of the demands of the universe, but he expresses his own authority over all material and immaterial truth surrounding the League of Shadows and is its ultimate cause. (And here I am saying I'm not getting into origin stories! Sheesh!)
Bruce Wayne is similar — he is masked, undetectable, powerful, unrecognizable as himself, but still Batman's ultimate arbiter. But Bruce Wayne, or, more precisely, the expression of Will that makes Batman happen, is not distinct from Batman. He's in the suit, you just won't be able to take his mask off. When Batman punches somebody, that's the same as Bruce Wayne punching somebody, that's the same as Bruce Wayne's desire to be Batman striving for justice.
The relationship between Bruce Wayne and Batman is not cause-and-effect. The Will expressed through Batman is present with and in Batman all the time — you just can't see it; or rather, you see aspects of it through Batman's actions, but there's a facet of it that remains mysterious and outside perception.