As of this very minute, as I'm writing, the number one and number three songs on the Billboard Hot 100 are about clothes:  Macklemore's "Thrift Shop" and Justin Timberlake's "Suit and Tie." (Number two, naturally, is "The Harlem Shake.")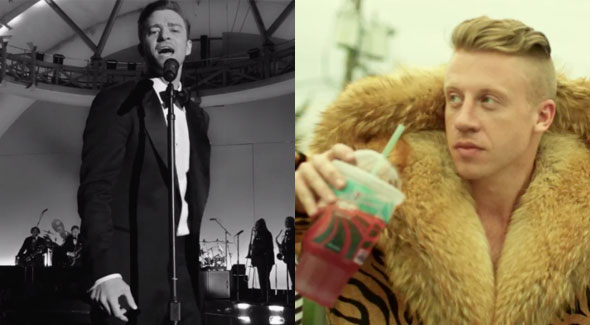 There's something kind of perfect about this pairing. Obviously, "Thrift Shop" is meant as a jokey commentary on the generally materialistic nature of hip hop, so there are thousands of songs about bling, status, and designer labels that it could be balanced against, but "Suit and Tie" is a better fit than most. Consider:  one is basically a R&B song with a guest rapper, while the other is basically a rap song with a guest R&B singer.* In both cases, the lead artist is white, and has a relatively high voice; the guest artist is black, with a relatively low voice. Musically, the end of each song is marked by a moody breakdown where the music gets rhythmically stripped-down and harmonically beefed up.  (Although "Thrift Shop" is generally the more interesting song, there's something kind of special about "Suit and Tie's" breakdown:  the change in the rhythmic surface is so severe that when the vocal hook comes back in, the song effectively transforms into a slow jam, thus inscribing the essential script of every Justin Timberlake song — i.e., "after we dance to this club hit, I'm gonna take you home for hot sexings" — into the music itself.)
Finally, if we consider the lyrics of the songs more closely, we find that they are opposed to each other in a more interesting and specific way that then simple materialism/antimaterialism argument that's implicit in the songs' titles.
Let's start with "Suit and Tie."
Thesis
Most materialistic rap and R&B songs are about conspicuous consumption, and have a very clear understanding of the point of conspicuous consumption. When people fly in a G6, or drink Cristal, or whatever, it's not because they are aficionados of champagne and high-end aircraft. The whole making it rain thing — look, I don't know enough about strip clubs to know why (or even whether) people actually make it rain, but as it's presented to us in music videos, the goal is not to coax a more energetic performance out of the ecdysiasts. It's to show off the fact that you can make it rain. "Suit & Tie" is quite unusual, then, in that the affluent surface is actually meant to demonstrate something other than wealth:  at the end of each verse, the lyrics swerve away from the materialistic to the idealistic, and more specifically the romantic.  By throwing on a suit and tie, Timberlake is attempting to "show [us] a few thangs about love," (emphasis added). Not wealth, not style. Love. This is not exactly a new message — it is for instance the main way that diamonds have ever been marketed. But it's new in hip-hop, even for a diamond merchant like Paul Wall, whose greatest couplet is "people's feelings get hurt/ when they realize what I'm worth," not "people's feelings get hurt/ when they realize how much I love my wife."
"Suit and Tie" is not even a materialistic song, really. Rather, it's… Calvinist might be the word that I'm looking for? Certainly that's what begins to emerge towards the end of Jay-Z's verse, where he tries to get Beyoncé's parents to bless their union by pointing out that, as a couple, they'll go farther in their chosen careers. This is why Timberlake's being on his suit and tie [expletive] qualifies him to teach us something about love, I think:  the signifiers of wealth don't just mark him as wealthy, they mark him as part of the spiritual elect. But note that it is only "as long as [he's] got his suit and tie" that Timberlake is qualified to teach us anything about love. When he takes them off — as he does for sizable chunks of the video — we have no reason to believe him about anything. Clothes make the man… capable of exemplary romantic sentiment.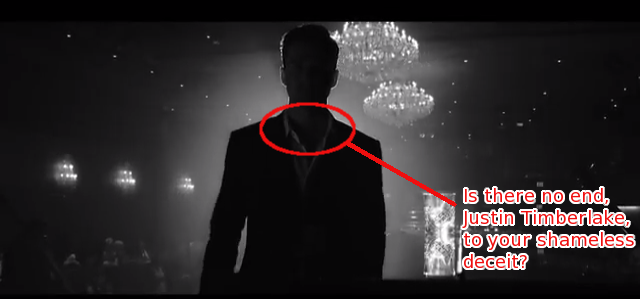 As exclusive clubs go, however, the Suit and Tie club is pretty easy to get into.The ritziest products mentioned in the song are Alexander Wang dresses, which go on eBay for something like $200-$500. That's more than I'd generally pay for an outfit — but as a pricetag for love, it's quite a markdown from traditional market values like "all the stars in the sky" or "unconditional acceptance." And again, that's the MOST expensive product they talk about. All Timberlake wants is a suit and tie. The thing we're supposed to learn about love, I guess, is that as long as you're willing to do your shopping online, it costs about $100 plus tax?
This, in the end, may be why "Suit & Tie" is such an effective pop song. It's democratic. You too can teach people something about love! You don't need to break the bank or anything — just put in a little effort. As long as you don't roll into the club wearing nothing but a grungy undershirt and a ketchup-stained pear of sweatpants, it'll be an educational evening for everyone concerned. This is, incidentally, the most bourgeois version of egalitarianism imaginable. You too can be affluent enough to serve as a shining beacon to the great unwashed! Live the dream, American.
Antithesis
But if "Suit and Tie" argues that clothes make the man, "Thrift Shop" argues that man makes the clothes. The first time I heard "Thrift Shop," I bobbed along with the music because I thought "Hey, shopping for party outfits at a thrift store! I can relate to that." But the more carefully I listened, the more I became aware that thrift shopping, for Macklemore, is not really about the thing that thrift shopping always was about for me. I would dig through those mounds of trash hoping to find some rare and wonderful outfit that, through its funky kickiness, would transform me into the sort of person that kicks funk unstoppably. Ideally I was looking for something inherently cool, something no sane person would ever have thrown out. But if we are to believe Macklemore's lyrics, he goes about it in quite a different way.  The most telling line in the song is "they had a broken keyboard; I bought a broken keyboard." A broken keyboard is hardly a find! But Macklemore buys it anyway. He buys whatever they have, pretty much. How does that make him cool? Well, it doesn't, because it doesn't have to. He's cool already. Consider the Pro Wing sneakers:  Macklemore asserts that he could "make them cool, sell those" (emphasis added). He is not transformed by his thrift shop clothes, rather, the thrift shop clothes are transformed by him.
The song is not about finding surprisingly good clothes in the thrift shop. It can't be, because it is inimical to the very idea that clothes can be good! Macklemore lists a lot of clothes, but he doesn't make any positive or negative aesthetic judgements about any of them. This is true even of the clothes that he rejects:  he "passes up on those moccasins someone else has been walkin' in," and suggests that wearing the same shirt as six other people in this club is "a hella don't." The aesthetic merits of the clothing are irrelevant. What matters is that someone else is associated with the clothing, making it less irreducibly linked to Macklemore himself — for it is only by being linked with Macklemore that clothing takes on value. What looks incredible? I look incredible. I might be in a big-ass coat, but that's beside the point.
Synthesis
So far, ironically enough, the materialistic song has turned out to be democratic, while the antimaterialistic song has turned out to be meritocratic. On the face of it, "Suit and Tie" and "Thrift Shop" seem to offer contradictory ideas about how fashion works. But one could also argue that neither idea is coherent without the other.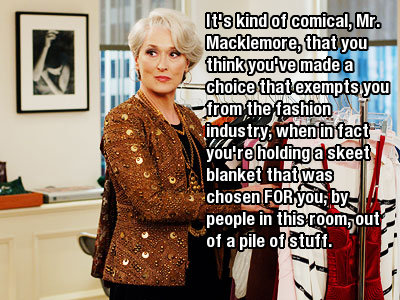 It may seem risible that an Alexander Wang dress can show us something about as private an emotion as love, but if some part of what makes the dress noteworthy is the unknowable essence of its wearer — Beyoncé, in this case — then the clothing's ability to communicate is no longer so mysterious. By the same token, the reaction that Macklemore posits in his audience is not the sort of meta-aware one I've been suggesting here. The sneaker-heads would not be like "damn, he's wearing some fundamentally stupid and outdated apparel, but the outsized force of his personality, coupled with the peacock-effect of wearing something nobody else is wearing, causes me to reevaluate his aesthetically jarring fashion choice as a 'come up'." No, they're like "Velcros? Well dang, I bet those have didactic value for my love life." So rather than showing us two different ideas about the nature of fashion, these songs show us two stages on the lifestyle of a fashion trend. And of course, that's sort of how it works with coolness, isn't it? Not just with fashion trends, but with hip hop music, and music in general, and really almost anything else. Nothing is ab nihilo trendy. Someone must cause it to trend.
*Actually calling "Suit & Tie" an R&B song isn't quite specific enough. It's a disco song. In fact, it's a Bee Gees song. Listen to those electric piano arpeggios. Listen to that little brass section fill in the second part of the chorus. Listen to the close-voiced vocal harmonies. Listen to the way JT shifts into the extreme high register on "I guess they're just mad cause they wish they had it." Between this, and the "Call Me Maybe" beat, and Daft Punk issuing a collaboration with Gorgio Moroder, it seems like Disco may be having a covert little cultural moment.