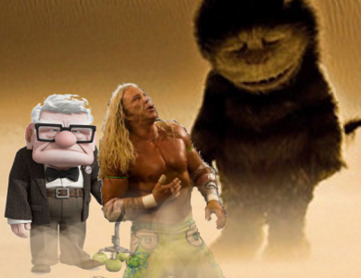 I've cried at the movies in 2009 more than in any year I can remember. Partly, this is because, while The Wrestler was one of those movies that came out at like 11:59.99 9/10 o'clock on 12/31/08 to be considered with last year's Oscar contenders, I saw it early this year. It was easy to forget it was an Aronofsky movie until all the men in the audience realized it was slowly climbing the turnbuckle to deliver an emotional flying bionic elbow (holding a folding chair) — and deliver it did.
Partly, it is because Pixar is a bunch of toolbags who have nothing better to do than make evocative, complex, heart-wrenching animated films that reduce even grown men to tears — haven't you guys heard of special forces guinea pigs, for crying out loud?! At least throw your name behind an action-packed, rock 'em/sock 'em Christmas Carol-themed Jim Kerry-fueled stream of urine all over Charles Dickens's grave in 3D. Frickin' Pixar and its love and loss and the mature employment of its craft in the search for emotional and existential truth — it's like they never even saw Shrek 2. The nerve of some people!
But the latest maybe-it's-still-on-ceulluloid-maybe-it's-digital-I-am-not-that-kind-of-movie-buff emotional wrecking ball is Best Picture contender Where the Wild Things Are.
(With an increase to 10 Best Picture nominees announced for the upcoming Oscars, I'm calling a nomination, but not a win, right now. This movie is the real deal — a serious/significant work of serious/significant art — and not even the special Oscar-laundering cinemas that stay open all night can open ten different movies on New Year's Eve.)
I'm somewhat shocked the other Overthinkers haven't tackled this film more yet — so much so that I'm going to break my post up into smaller pieces rather than barf it all out all at once, as is my usual custom.
Why is 2009 the year of tears? What did the movies discover in the last 12 months or so that turned on the faucets for such cultural luminaries as Fenzel from Overthinking It and "Rowdy" Roddy Piper?
It all starts with growing up, growing old, and early childhood development, taught by psychedelic Tony Soprano. . .
They're in the Pine Barrens
There's a lot of overthinking to do on Where the Wild Things Are, but let's start with the basics. Both the book and the movie are about a boy who uses imagination to come to terms with his emotions. Both the book and the movie are told in the third person, but are positioned from the boy's perspective, showing things that happen only in his imagination. In both works, the boy is angry at the lack of control and power he has in his own life, and he explores that by imagining an island of wild monsters that make him their king.
And in the movie, the main one, Carol, is voiced by James Gandolfini, who does a marvelous job (calling him for a best supporting actor nomination, right now). But that's neither here nor there (there being where they are, they being the eponymous wild things).
The biggest difference between the book and the movie? The book is ten sentences and less than 40 pages long, while the movie has to fill 90 minutes and change.
How to deal with this problem? Well, you could insult the intelligence and dignity of your audience by filling the remaining 80 minutes of your movie with unmitigated crap, like in The Cat in the Hat. That's an option. You could also be only 10 minutes long but have nobody find out because nobody saw you, like in the Curious George movie. That's also an option
Okay — I have no proof that is true, but it seems possible. Until some brave soul watches Curious George, we will never know.
Instead, Where the Wild Things Are the movie decides that, to help flesh out its plot, it's going to be a little heavier on conflict and add some specifics and character development. (Basic screenwriting, people! I love it!)