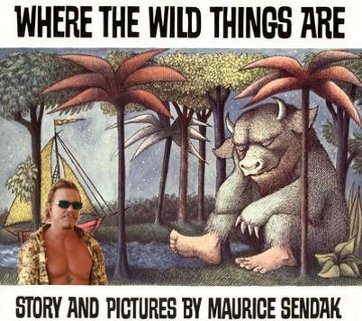 Adaptation, by Spike Jonez
In the book, little Max is upset, but he's not really upset. The book doesn't waste precious pages giving him lots of specific things to be upset about, and the wild things reflect this by themselves being a menagerie of isolated images. Maurice Sendak, the author (who was a producer on the movie and endorses the book-to-movie conversion with more vigor than I've seen from an author since Howard Stern was pitching Private Parts) modeled them after his extended family, so there is some detail and a suggestion they are part pure imagination, part reflection of real people, but it's just a suggestion. The wild things in the book are visually compelling and expressive — they have a lot of personality, but they don't have their own stories.
In the movie, little Max is really upset, and he's upset about a bunch of specific things. He's also awash with other emotions. The first 20 minutes of the movie play out like the opening to a Harold (a popular long-form improvisational format played frequently by, among other people, me) — Max encounters a bunch of emotionally charged scenarios IRL, then the rest of the movie goes on a rambling journey through the subconscious implications of all this, drawing on images, motifs, characters and themes from the opening to build out the rest of what happens, with an idea of finding essential truths behind the ideas expressed at the beginning.
The wild things are also hooked into Max's emotional life — each one represents aspects of Max's experience of the world, people Max knows, and emotions Max feels in complex synthesis. One wild thing is the "ignored Max" — a small, sheepish (literally a ram) fellow nobody listens to who just wants to be acknowledged. Another wild thing is "the object of Max's love for his sister and mother." A third is "Max's idealization of his unmet need for friendship." A fourth is "Forrest Whitaker voices a Jewish stereotype." Yeah, that one I haven't quite figured out.
(Actually, I have — "Ira" is an amalgam of somebody from Max's memory whom we do not meet in the opening, probably an uncle or grandfather; the notion of a faithful, attendant husband that Max's absent father does not provide to his mother — although we do not know if Max's father is a deadbeat or just vanilla dead; and Max's memory from earlier that afternoon of the pleasure of digging holes in the snow.)
At any rate, the wild things conflict with one another and with Max, and there is a lot more specificity as to why Max is upset — although it doesn't go to Johnny Depp as Willy Wonka levels of overexplanation — with the result that the movie is less uniformly festive than the book. In fact, it can be very sad.
Of course, it's easy to miss just how emotionally tumultuous the book is, as well as how sad it is at times, because it's so short and colorful. It's easy to bypass the sad moments by just quickly turning the page — not so the movie. People who see the book as a lighthearted flight of fancy oversimplify it — the toothy monsters are not just there for giggles — but the movie is definitely sadder for longer than the book is. It digs deeper into the emotions behind Max's self-imposed exile to the land of the wild things.
And one more note before I circle back and talk about my main points (yeah, you'll believe it when you see it, right?) — the most obvious thing that needs to be said about this movie is that the criticisms that it paints the life of the mind of a child as too complex, too scary, too insightful, too violent, too moody, too crazy, too dark, and generally not My Little Pony-ish enough are thoroughly illegitimate.
I'm not the first person to say this and I won't be the last, but the "Think about the children and their fragile, joyful minds, populated only by rainbows and tulip-flavored ice cream sandwiches delivered on the backs of golden unicorns" need to shut their Fudgie the Whale-holes and pay attention to what children actually say and do, let alone try to remember how they think. If adults weren't around, human children would be the smartest, most dangerous animals on the planet.
Granted, kids are not all Lord of the Flies characters, and not every child is as lonely or sad as Max is in this movie — but even happy, well adjusted children who confront no meaningful dangers or major losses in their lives face a huge, very scary world, which provokes imitations and reflections in the imagination.
Okay, that's about 1500 words – there is much more to write on this topic, but it has been suggested to me recently that this is the limit on what people are generally willing to read in one sitting.
So, CONTINUED IN PART 2!!!
(Was cutting this in parts and leaving you wanting more – hopefully – a good or bad move? Should I divide monster posts in the future? Let me know in the comments!)