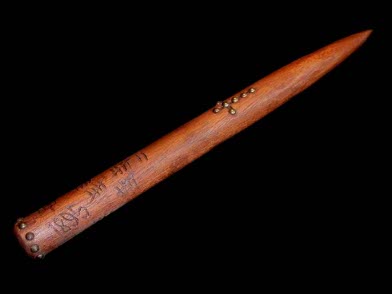 Stakes (Stokes)
You know, I was going to write about something more outré.  Something like "leaving a pile of grain on the doorstep," or "the love of a good woman" (for which see either version of Nosferatu).   I mean, stakes through the heart?  Who gets vanilla ice cream at Ben and Jerry's? But then I got to pondering, and I decided that having a think tank about vampire killing that didn't mention stakes would be like having a think tank about key changes that didn't mention Living on a Prayer.  Here's why they're the best:
1)  They provide mechanical advantage.  I'm not sure how to calculate exactly how much (Shechner, you still out there?  Drop some science on us!), but it's more than a little.  After all what is a stake but a specialized inclined plane?  Speaking of which, I used to know a guy in college that people called "The Inclined Plane," because he was simple, and kind of a tool.
2)  In a pinch, you can use them to hold up a tent.  Try doing that with the love of a good woman.
3)  They are attested to by folkloric accounts.  Were you aware that the original purpose of the stake was simply to pop the vampire, which, gorged on blood, had swollen to Mr. Creosote-like proportions?  Do you find this image highly disgusting?
4)  If you are designing a comic book character who fights vampires, you can give him a totally flipping sweet missile launcher that shoots stakes instead of missiles, or maybe even stake-missles that shoot stakes, like, everywhere when they explode.  (Whether this counts as an advantage depends on whether or not you are currently a twelve year old boy.)
5) Most importantly, they work.  A recent poll by the Pew Research Center found that out of 100 corpses staked through the heart in a controlled, double blind study, not one rose from the dead to feast on the blood of the living.  So there.  The stake is the best method.  I just proved it.  Statistically.