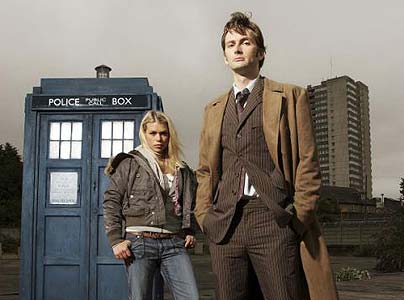 Deus. Me Say Day Me Say Day Me Say Day Me Say Day Me Say Deeeeus
To go back to The Jim's question, I don't think the Deus Ex Machina is a crutch for lazy writing. Using it often is definitely a crutch for lazy writing. It's a tool that has certain uses for which it is perfectly suited and many uses for which it will work, but is awkward, forced, unsatisfying or just lazy.
Deus Ex Machinae work when you are trying to reinforce that the world the characters live in has rules and scope beyond their immediate experience — that a character's individual will is not as significant as the character thinks it is, or is perhaps as insignificant as the character thinks it is. So, in classic morality tales or even Greek tragedies, it's not that bad.
In space exploration shows, it is sometimes okay, because you want there to be an element of surprise and discovery — that's what the characters are up to, after all. But explorer characters are often strong-willed people who have big personalities and want to leave their stamps on the world. If those characters are too often involved in Deus Ex Machinae, it can get disappointing. You don't want to see Captain Kirk get in a fightfight and have it be interrupted by a computer that fixes everything more than once or twice – it gets lame quickly.
And if the reason your story exist has nothing specifically important to do with the relative importance of individual will and expectation in the larger universe, then a Deus Ex Machina is almost always a bad idea. Thankfully, most comedies and tragedies fit this bill, but there are always matters of degree — but it also reinforces why the Deus Ex Machina with the Architect in the Matrix Reloaded is just so unbearably awful. Yes, it is poorly executed, but it is also a big refutation of the importance of individual will in a power fantasy about reclaiming individual will in modern civilization. It works against everything good or interesting that has already been established in the movie.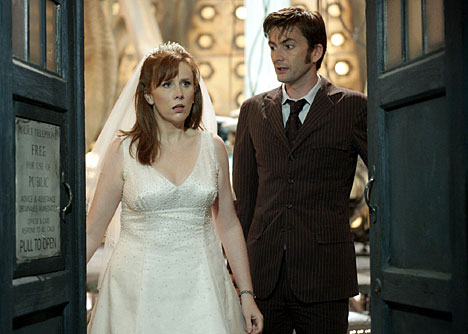 It's as if, at the end of an Indiana Jones movie, there were a half hour of him just hanging out in a library, because it turns out that going out and doing things in the world on your own isn't important or valuable as traditional academic research. It's a betrayal, pure and simple.
Bottom line: It's important to be aware of the themes that a Deus Ex Machina will always bring out, and keep them in mind before you turn to this plot device. Form and function are always connected — certain poetical meters are better suited for telling certain kinds of stories, and certain stock plot devices are better suited for communicating certain kinds of ideas.
What this means in Doctor Who
The core of Dr. Who is the relationship between The Doctor and his Companion (his Scully, his non-sexual girlfriend). That's what makes this show special — that this fanciful time traveler goes all over the place with a normal, regular person in tow, and that they have a compassionate, personal friendship that is set against the exotic madness in the rest of the universe.
The Companion character is meant to bring the perspective of the audience into events — the Doctor can't really be the one saying "Wow" when he sees an alien spaceship; he's seen thousands, if not millions, of them. There is a huge gap between what the Doctor knows and thinks about and what the Companion knows and thinks about — that's the "game " the show plays more than any other.
This isn't like Wing Commander or Alien, where the fantasy is about being somebody in a future world who has the competency to face bizarre, futuristic, deadly perils. In Doctor Who, the fantasy is about being taken out of the world as you currently are and facing all this stuff from your own perspective. From the individual's perspective, all this stuff that is far from home is so far from expectation that it makes sense a lot of it is wacky and funny and outlandish.
It's very similar to a stock British perception of the rest of the Globe — they have their happy, content little island where people do sensible things, stand in queues and have lunch breaks during sporting events, and then the rest of the world is just balls crazy. You can stay home and be scared of it, or you can adopt that trademark British sense of humor, get a bit of a stiff upper lip about it, and run out there and see what you can find. The "Cheerio, Can Do" self-sacrifice mythology is also pretty characteristically British, reminiscent of the mentality of the Somme and other famous modern British battles, where the good Briton is the first one up over the top into no man's land should do it with spirit, and mustn't complain.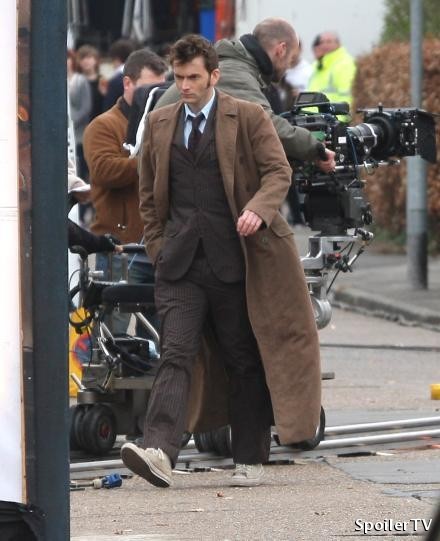 With this sort of thematic content, it makes sense that the show has a lot of Deus Ex Machinas — because the main point of it is how much bigger and wilder and stranger the universe is than normal people expect it to be. The Doctor is more guide than hero, staying mysterious because the show isn't really about him, it's about the people who go with him or get caught up in the crazy stuff that he tends to run into. He facilitates the audience's reach beyond its own limited perspective and vision — he puts a human face on how alienating the universe can seem sometimes.
The best Deus Ex Machinae in Dr. Who are funny ones — where you can sit back and chuckle, "Of course it works like that! Why not, right?" It's the wacky side of there being "More things in Heaven and Earth than are dreamt of in your philosophy, Horatio."
The worst ones are the serious ones, because if the Doctor gets too human during a Deus Ex Machina, or suffers too much personally, then the lack of agency that the individual seems to have in relation to the universe becomes less about exploration and broadening perspective and more about existential angst and depression. That's a fine thing to explore from time to time, but it's not why the show has been successful, and it's not what the show is really about.
So, "The Jim:"
Is it a running joke? Yes, definitely, complete with running! It's part of the show's charm and perspective on things.
Is it something to be embraced? Not uncritically. The show doesn't have quite a good enough thematic track record for me to believe that they are making the right choice most of the time with their liberal application of technobabble. But when you see a good one, give it a little hug.
Is the use of the deus ex machina in popular culture always a crutch for lazy writing, or do appropriate situations exist in which the use of a deus ex machina is called for?
The latter, but they are not as common as people think.
Just like the Doctor Who universe (or, as the kids call it, the Whoniverse), the world is too varied and strange for the same plot device to cover this much of it. There is more homogeneity in the explanation than there ought to be. But, all in all, they do a pretty good job, and I hope you like the show!
Do you like Dr. Who? Have you Thought it even Overer? Questions/comments on this? Have you seen the older ones (I haven't). Sound off in the comments!