Machina Ex Machina
Expanding beyond a single, powerful agent making a dramatic entrance, a Deus Ex Machina can take a wide variety of forms. One of the most common these days is nonce science, affectionately known as "technobabble." The kind of Deus Ex Machina The Jim is talking about in his letter is very common in Star Trek, especially Star Trek: The Next Generation and afterwards.
"Oh, crud, nothing can beat this monster! And the episode is almost over!"
"Captain, I have an idea!"
"Commander Data, where have you been?"
"I was . . . 'Kicking it up a notch' (Holodeck-powered guest star Emeril Lagasse smiles and winks over his shoulder).
If we reconfigure the main deflector dish to shoot hyperfiction particles, it should reverse the structural field and convert the entity's mass into gluons. The star's nova cycle would decyclify, the colony would survive, and our double-encoded, irreversible self-destruct sequence would automatically deactivate."
"Make it so!"
(Knowing look from Emeril Lagasse)
"Captain, I believe the correct expression is … 'Bam!'"
When a movie or show picks up the big red phone labeled "FAKE SCIENCE" at the last minute, that's a form of Deus Ex Machina. The competent people on this spaceship have had access to the same information all along and have had a lot of time to think already; if using this particle were a reasonable option, they probably would have done it a long time ago. Even if they were distracted by the B-plot, if they had a solid option in their pockets, they would never have considered their plight as hopeless as it seemed just moments ago. It just doesn't make sense that everything important ever discovered was found in minute 50 on a moving spaceship.
In narrative function, it is as if a god that you weren't sure were real just showed up and started changing the way existence works. It recontextualizes the agency of the characters, provides a modicum of surprise and lets everybody go home early.
It's another mark of a technobabble deus ex machina that the unlikely last-minute solution that overcomes an insurmountable problem one week is never attempted again in subsequent weeks. Even when the Enterprise encounters another giant space entity immune to phasers, photon torpedoes or telepathic hourglass figures in unitards, nobody is going to consider whether they ought to try shooting hyperfiction particles at it from the get-go. No, they'll spend half an hour taking tricorder readings; beaming up, down and sideways; and exchanging slow closed-mouth kisses with the sexy natives, only to come up with whole new kinds of particles just in time to start the theme song to The Adventures of Brisco County Jr.
(An aside, Brisco County was thebetter show, but I just love the theme song to Jack of All Trades. I watched it the other day on YouTube and it made me smile. So, I'll break up my overthinking to give you that same chance:
The "technobabble cycle" is like missing the last subway home and walking for an hour before remembering that cabs exist and are available immediately via cell phone at a reasonable cost.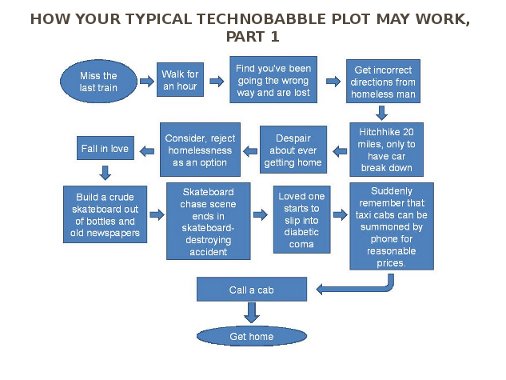 Then, the next week, you miss the last bus home, and you walk for an hour thinking that getting home is impossible, and, in a fit of inspiration, you call a limousine service.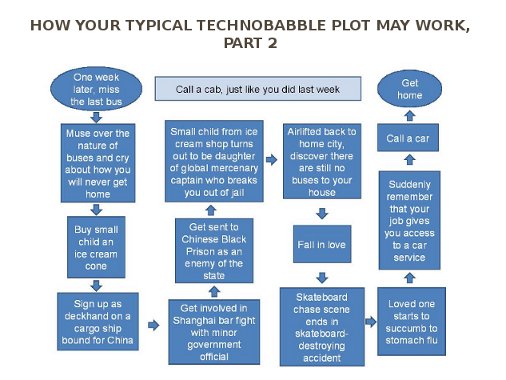 You can see why "The Jim" is derisive of such things. Used anything more than sparingly, they're hogwash and serve no purpose other than letting the audience move on with their lives.
Let's talk about one of the times when it does a little bit more than that.