Finally, Doctor Who
One of my goals in writing this was to make sure people who weren't familiar with Doctor Who knew I was on their side and that I wouldn't drown them in specifics, so while I apologize for taking this long to get to our main subject, I don't apologize very hard. Allow me to introduce some of you to "The Doctor."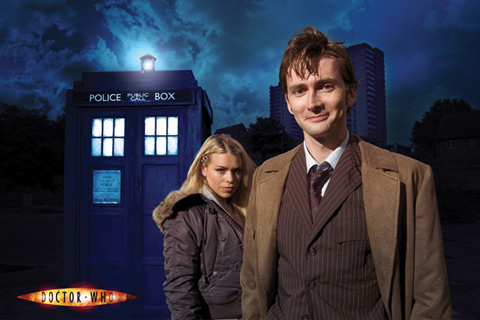 Doctor Who is a really old British science fiction show. The BBC has aired it off and on for more than forty years (the Guinness Book of World Records lists it as the longest-running science fiction show in history), it has more than 750 episodes (plus books, and comic books, lunchboxes, Franklin Mint plates, etc. etc.), and they rebooted it three or four years ago into a slick, modern sci-fi show that's pretty fun to watch. It's somewhat obscure in America, but it's doesn't deserve to be ghettoized in the same cultural purgatory as Stargate: Atlantis. It's a major cultural property.
The show is basically a cross between Star Trek and Bill & Ted's Excellent Adventure, except it predates both of them.
The hero has a spaceship/time machine that looks like a phone booth. It's technically a police box, but you don't miss much by thinking of it as a phone booth if that's more familiar. If you're a youngin who doesn't know what a phone booth is, just think of it as a really big T-Mobile Sidekick.
Sometimes he goes to other planets, sometimes he goes through history. So, one episode, he's fighting alien robots, and the next one, he's hanging out with Shakespeare. In a third, he's protecting Shakespeare from alien robots. The premise is open-ended enough that they can write most of whatever they want.
The most confusing part of the show is that the hero doesn't have a normal name. You'd think it would be "Doctor Who," but no, that would make too much sense. He's just "The Doctor."
It's sort of like how you want to call the monster "Frankenstein," but Frankenstein is the creator and the guy with the bolts in his neck is "Frankenstein's Monster." And you sort of don't care and call him Frankenstein anyway, and then that jerk corrects you, and you explain you were using a shorthand, but he criticizes you for imprecision, and you say everybody knew what you were talking about and he's just being a busybody, and he says don't use that language with him and you don't know which word he had a problem with and why can't we all just have Thanksgiving dinner like a normal family?
The second most confusing thing about the show is that they keep changing the actor who plays "The Doctor" (which makes sense; not even our most vigorous, musky, indefatigable performers can play the same role forever), but they do the audience the favor of justifying it with fake science.
I won't go to the trouble of explaining exactly how, because the third most confusing thing about Doctor Who is that, after a half-century of making things up as it went along, it has a really complicated continuity that is full of holes, errors and inconsistencies. Its fan base gives it massive benefit of the doubt.
But all of that doesn't matter, because, while it has serious moments (and scary ones), it's historically been a campy show that hasn't taken itself too seriously. I recommend it, especially if you like sci-fi action hours. In Britain, it's a crossover hit and one of the most popular shows on television, and it has tons of spin-offs.
Most of the time, "The Doctor" also has a nonsexual girlfriend whom he hangs out with and who doesn't believe a lot of the things he says until she sees the aliens. Think of it as The X Files meets The Dick Van Dyke Show.
Or as Stargate SG-1 meets Blackadder meets Scarecrow and Mrs. King.
Or as Firefly meets The Father Dowling Mysteries.
Or as Sliders meets Antiques Roadshow.
Or as Ace of Cakes meets Sky Captain and the World of Tomorrow meets Alan Alda Presents Scientific American Frontiers.
Or as Time Trax in tweed instead of leather.