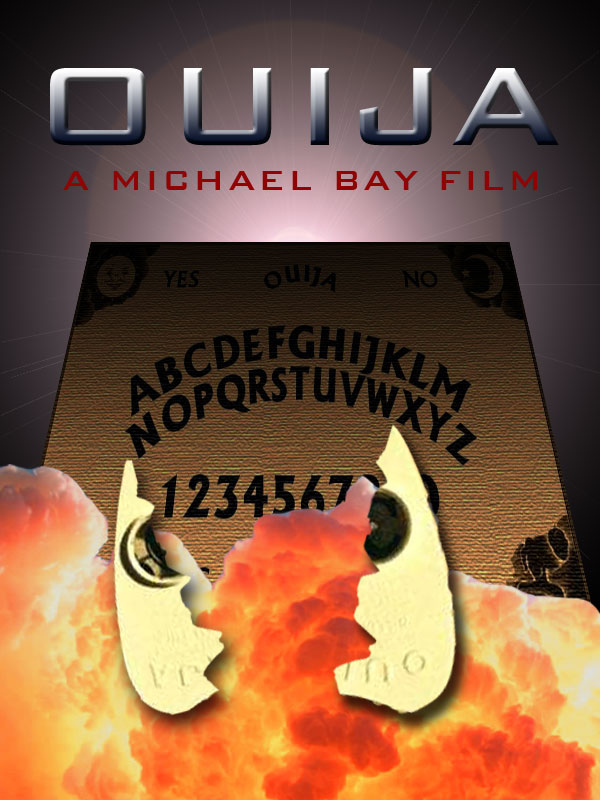 Graphic courtesy of the photoshop-savvy Mr. Lee
Michael Bay has been contracted by Hasbro to create a movie version of the Ouija board. I don't know quite what to expect… a PG-13 horror version of Jumanji only with %100 more explosions and %100 less Robin Williams? Bad Boys II, but instead of fighting crime, Detectives Lowrey and Burnett just push a planchette around for two hours? ("It's moving, it's moving!" "Okay, T… H… I… S… S… H… I… T… J… U… S… T… G… O… T… R… E… A… L." "Daaamn, Gina, we so haunted.")
One things for sure, though: I'm expecting it to suck. Don't get me wrong: I like Michael Bay. (Yeah, yeah, you're revoking my overthinking license, whatever. Explosions are rad. Deal with it.) I just don't see how this is going to be anything other than a catastrophe.
Below the jump: Five board game themed movie pitches that would be better than the Michael Bay Ouija film, plus Ouija boards as a film trope throughout history.
1) Eli Roth's "Mouse Trap." An evil serial killer dispatches his nubile victims through a series of brightly colored plastic death traps. Tagline: "The trap is set, here comes the net!" Starring Cary Elwes as the man in the rub-a-dub tub.
2) Michael Moore's "Hungry Hungry Hippos" A scathing expose/piece-of-agitprop about the incompetence, corruption, and animal cruelty that lurks in the heart of America's zoo system. Fox News turns out to be responsible, for some reason.
3) Lars von Trier's "Checkers" Shot on the director's cell phone camera in a dimly lit Bucharest soundstage, this film is just an hour-long game of checkers played with human pieces, punctuated occasionally by cutaway shots of von Trier savagely flipping the bird to the audience, his cast and crew, and the world in general. Björk and Bryce Dallas Howard star as "Black" and "Red," respectively.
4) M. Night Shyamalan's "Connect Four" In a shocking twist ending, Sis is revealed to have been planning a diagonal line all along. (Actually, come to think of it, M. Night Shyamalan's "Ouija" would still be better than Michael Bay's "Ouija.")
5) Jonathan Lynn's "Clue" Actually exists, of course, and is freaking awesome.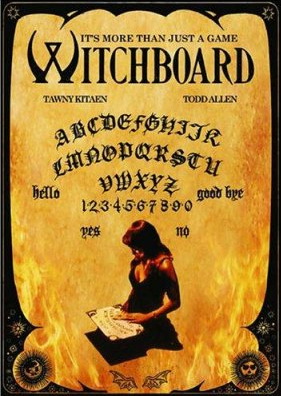 Oh, and also in the category of "actually exists?" Multiple earlier movies based on the Ouija board. There's a jazz-age Max Fleischer cartoon, a 1997 Dutch short film by Dennis Bots (who went on to direct "Zoop in Afrika"), a 2003 Spanish version (IMDB user quote: "Some films should not exist), a 2006 Egyptian version (IMDB plot summary: "At the heart of the mystery lies a mystic board with an ability to kill"), and a smash-hit 2007 version from the Phillipines. By far my favorite, though, is "Witchboard," a 1986 movie from the good old US of A, which stars – wait for it – Tawny Kitaen. That one shot at 1:51 is Whitesnake-tastic, no? Presumably the name "Witchboard" came about because the filmmakers didn't feel like shelling out a percentage of the gross to Hasbro (actually to Kenner, at the time), but you've got to wonder who exactly they thought they were going to fool.