Welcome back to "Best of the Blogs," a feature dedicated to decreasing the amount of original content on Overthinking It.
Today's honoree is "Resurgence of the Soul Sample." The story of how I came across this website is worth relating. The other day, The Onion Avclub had an interview with Dolph "Ivan Drago" Lundgren, in which he mentioned that he used to date Grace Jones. I was all like, "WHAT?!" And then I googled their names, and came across this post, and I was hooked instantly. God bless the internet.
Like the last honoree, this is a media blog, but with music this time instead of images. The basic idea behind "Resurgence of the Soul Sample" is simple. As you know, a lot of hiphop/R&B these days uses samples from classic soul. The blog runner, who goes by the name Mr. Papagiorgio, simply posts mp3s of the sampled songs side by side with mp3s of the modern tracks we already know and love.
Like I said, it's a simple idea. It's also really, really awesome. Remember Crazy in Love? Remember how insanely awesome that horn lick is in it? Now you can hear the Chi-Lites song that it's sampled from. And while anything that lets you hear a Chi-Lites song is res ipsa loquitur awesome, this has the added advantage of being thought provoking. Because that insanely awesome horn lick, which is all over the Beyonce song, only pops up in the Chi-Lites track, like, twice. Which is a better approach? Does the Chi-Lites version pack more punch by doling out the awesomeness sparingly? Or is this one of those cases where you can't have too much of a good thing? Luckily, we don't have to choose between them—but it's an interesting thing to think about. And similar questions will pop up with almost every song that you play. Simple, yes. And awesome.
Mr. Papagiorgio favors a no frills approach. He writes well, (in a concise, clear style), but generally limits himself to a thumbnail sketch of the musicians' career (if any exists). Occasionally he'll provide some fascinating industry gossip. But really, you'll be coming to the site for the music. Sometimes the blog is useful for tracking down a prominent sample that you were curious about, like that piano loop from the first song on Kanye West's Late Registration.
More frequently, you'll learn that a song you like was more sample-driven than you realized. (For instance, T.I.'s "What You Know About That" turns out to be drawn from a killer, KILLER Roberta Flack song called "Gone Away") Very occasionally (because the blog tends to focus on obscurities), you'll be tickled pink to learn that someone has been sampling a song you know and love. (Puff Daddy, of all people? No, actually, that makes perfect sense).
Even after the novelty wears off, you'll probably find yourself checking back to the blog often, just because it's a reliable source of incredible music. When I was scouring through the archives looking for exciting examples to link to, my problem was that I came up with too MUCH material. A sample from someone OTHER than P-Funk in "Gin and Juice"? A sample from the inexplicably-hard-to-find Sly Stone album "A Whole New Thing," rapped over by Ladies Love Cool James? A spaghetti western soundtrack sampled by Danger Mouse and Cee-Lo?
Oh, heck, I'm not going to bother explaining them. Just click here and here and here and here. And I'll leave you with his tribute to Kanye West, arguably the man responsible for the soul sample's eponymous resurgence. Mr. Papagiorgio, for putting a glide in our stride and a dip in our hip (not to mention sticking it to the RIAA), overthinkingit.com salutes you!
Note: I still haven't gotten over the Grace Jones/Dolph Lundgren thing… although I've got to admit, they look good together. If distressingly angular.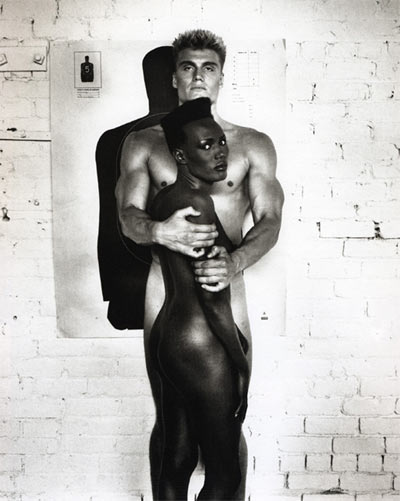 God, can you imagine if they'd had a kid?