The pitched battle for OTI Reader's Choice 2011 continues in an earlier post, but the poll there may be methodologically unsound. When you ask people what they like—as any Nielsen family will tell you—they'll report they like PBS and love brussels sprouts. To figure out what they're actually doing, you've got to spy on them. And that's just what we've been doing.
In 2011, Overthinking It served some 2.6 million pages to about one million unique vistors from 217 countries or territories including Qatar, Saint Vincent and the Grenadines, and the Isle of Man. They used the usual crop of browsers, including Firefox (35.02%), Chrome (25.33%), Safari (17.13%), and Internet Explorer (15.66%, including 8,640 visits from IE6, the bane of my front-end development existence until I decided just to ignore it)—but also something called Rockmelt, and more than a few visits from the browser on somebody's Playstation 3. Two thirds of our visitors use Windows; one fifth use Mac OS X; one fiftieth use Linux. Of the mobile platforms, 6.71% of our visits were from iOS devices, 2.30% from Android, 0.21% from BlackBerry.
And here's what they wanted to see.
#5: The Pseudoscientific Philosophy of Source Code
Its science is preposterous. Does that matter, as long as everyone treats it with the greatest urgency? After all, space travel beyond the solar system is preposterous, and yet we couldn't do without 'Star Trek.'"

—Roger Ebert on Source Code

Does that matter? Does that matter? At Overthinking It, it always matters!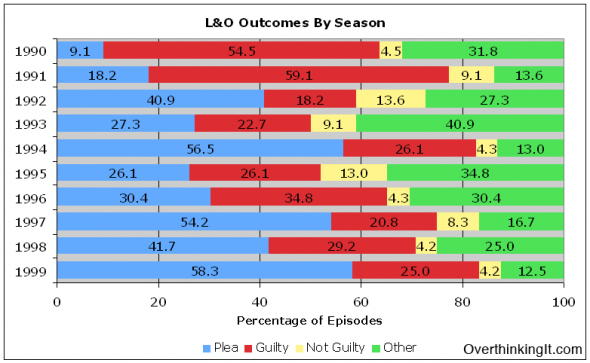 #4: The Law and Order Database: Seasons 1-10
It's kind of amazing this wasn't a bigger viral hit all over the internet. Belinkie's typically ambitious project—to catalog the outcome of every episode of Law and Order—was taken up by an extremely dedicated coterie of citizen ficto-criminologists, and his analysis correlated the data with the actual NYC murder rate and the controversial policing strategies of the Giuliani administration. Belinkie has never been afraid of taking on gargantuan projects, but this truly boggles the mind.
#3: Solidarity is Illusion: The Political Economy of My Little Pony: Friendship is Magic
The strong feminist themes of the series are built on a foundation of political contradictions. The most fantastic element of the show is not that ponies can talk or that dragons exist; it is the illusion that an egalitarian society can be maintained among groups with massive biologically inherent gaps in ability and economic utility. By even the most cursory of sociological and economic analyses, the society in MLP: FiM should be highly stratified along class and racial lines. And there are clear signs of that stratification, except they are obscured by a propagandistic focus on the power of "friendship".
#2: Grand Theft Auto and the Problem of Evil
In a world where it is impossible to do evil, it would also be impossible to do good. And this is where it gets really interesting. Because if that really is the case…

…then Grand Theft Auto is not evil. In fact, Grand Theft Auto is the most moral video game ever created. After all, no other game allows us to choose not to murder prostitutes.
#1: Think Tank: The Economics of Death Star Planet Destruction
OK, maybe my intro was a little overblown, since as I type, this post is currently leading the Reader's Choice poll as well as heading up this list. What can I say? Maybe the Internet has pretty good taste after all.
It's been a great 2011, overthinkers! See you on the flip side.