Happy Independence Day weekend, Overthinkers! For the rest of the world—hey, there's a rest of the world? News to us. Let's open up a thread.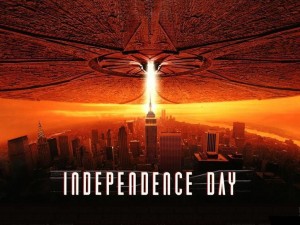 First, if you haven't been following us on Twitter or RSS or Facebook or any other content aggregator, then allow us to repeat ourselves: we just released a new Overview for Independence Day, the 1996 sci-fi disaster classic. It's available for $1.99, like all our other downloads.
BUT… if you haven't checked out our alternative DVD commentary tracks yet, then there's never been a better time! You can download all four Overviews—Starship Troopers, The Karate Kid, Ghostbusters 2 and now Independence Day—for the price of 3! That's four commentary tracks for only $5.97! But don't wait… on July 5, this deal—like our celebratory fireworks—goes up in smoke.
To take advantage of the July 4-for-3, head on over to the Overthinking It Store, add all 4 tracks to your cart, and use the code USAUSA when you check out to claim your discount.
(Add in the free copy of Twilight's commentary track that we've got hanging around, and I think your holiday weekend just planned itself.)
Second, what's going on in the world of pop? Michael Bay wrote an open letter to theater projectionists, begging them to keep 3D alive. Jay-Z and Kanye West may have a new album coming out this weekend. Stephen Colbert finally got permission to start a SuperPAC (which is hard to do, even if you have one of the world's largest media conglomerates behind you). And Javier Colon won The Voice.
Comment of the Week goes to Blake on this week's announcement of our contest with 604Republic, and one of the T-shirts that was up for grabs:
It doesn't make much sense to have Plato debating Socrates. Whatever differences there were between them were minor.
While a picture of fire could suggest many things about what "Plato" may be saying, fire would most commonly be associated with Heraclitus. Heraclitus was the first and most famous to suggest fire as the essence of all things. Hippasus followed him in this claim.
I doubt that Plato would employ a "Super Paradox Combo" in the refutation of anyone. That would more properly be expected of Zeno.

Is it too late to change the philosopher t-shirt design to make more sense?
Yes it is, Blake, but it's never too late to Overthink it!
Speaking of: so, so many of you Tweeted your desire to win a free T-shirt. Which of you won? Our editors stuck their hands deep into the throats of Twitter last night and emerged with two winners, who will each get their favorite t-shirt from 604Republic—thanks, guys, for partnering up with us for this incredible giveaway. The randomly selected victors (check your DMs for more information) are:
Oh baby! What a weekend! Discounts on the Overview, pop culture news, free T-shirts from 604Republic, fireworks, barbecues and beer. Sound off in the comments, for this is your … Open Thread.