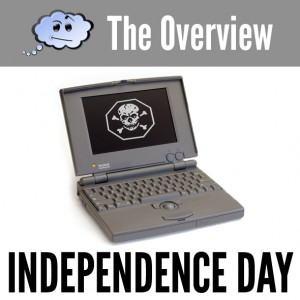 This month we bring you a seasonally appropriate entry of The Overview, our series of alternative commentaries on your favorite movies. Mark Lee, Peter Fenzel, and Josh McNeil team up to whup E.T.'s ass in this alternative commentary celebrating the 15th anniversary of an american classic…
ID4. Independence Day. Boom.
(That "boom" was for emphasis, and it was also the sound of a firework going off. To celebrate Independence Day.)
We chose this movie for its timeliness and to celebrate its anniversary, so unlike most of the movies we cover, this one isn't available on Netflix Instant Streaming. But if you stream Independence Day from Amazon
using this link, you'll be giving Overthinking It a little additional support.
However you watch the movie, make sure you are watching the theatrical version of the movie and not the Limited Special Edition Extended Directors Cut, or the commentary won't sync up.
Kick the tires, light the fires, and strap in for the smart, funny, insightful series that some commenters have called "So good you can listen without even watching the movie."
###
The Overview is a series of alternative commentary tracks from Overthinking It, where the Overthinkers watch and discuss your favorite movies for your edutainment. The commentary is meant to be played while watching the movie, which means you'll need your own copy of the movie and a way to both watch and listen to a MP3 track in order to take full advantage of what you're buying. Find out more in the Overthinking It Store.